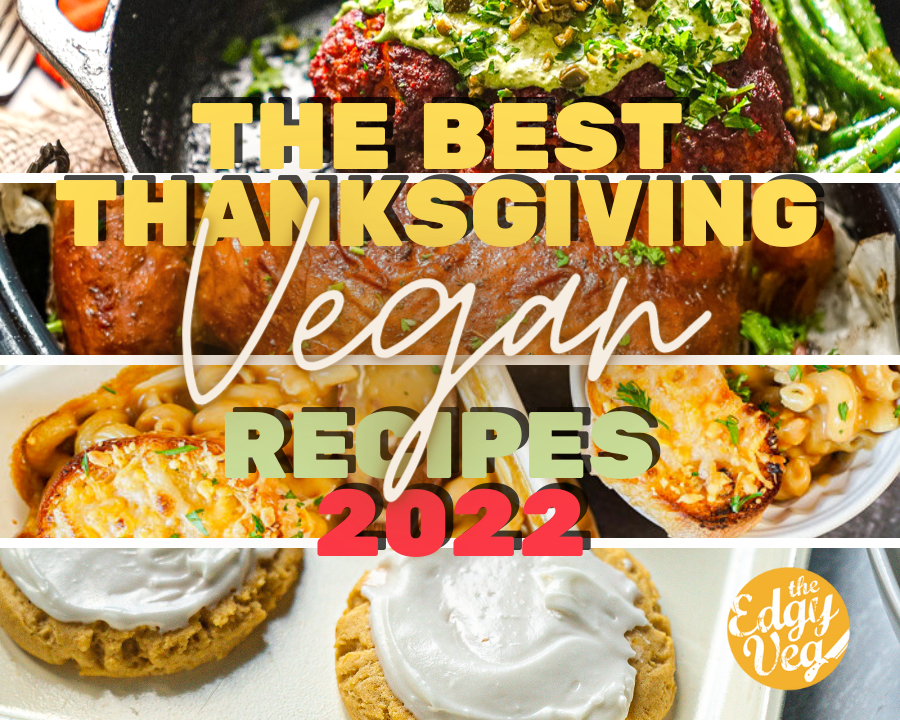 40+ Best Vegan Thanksgiving Recipes 2022
Thanksgiving is a day full of family, festivities and reunions. Whether you are recently vegan or have been struggling to find vegan recipes to bring to your next potluck event, these are some of my favourite vegan recipes you can always count on.
The Best Vegan Thanksgiving Recipes
From mains, appetizers, and desserts, it's time to make your Thanksgiving dairy-free, cruelty-free, and perfect for family members with allergies to animal products as well! Enjoy!
VEGAN THANKSGIVING APPETIZERS
Appetizers should be vibrant! Filled with colours, taste and fresh ingredients. That is why I have compiled some of my favourite charcuterie recipes, dips and antipasto recipe to make your Thanksgiving memorable!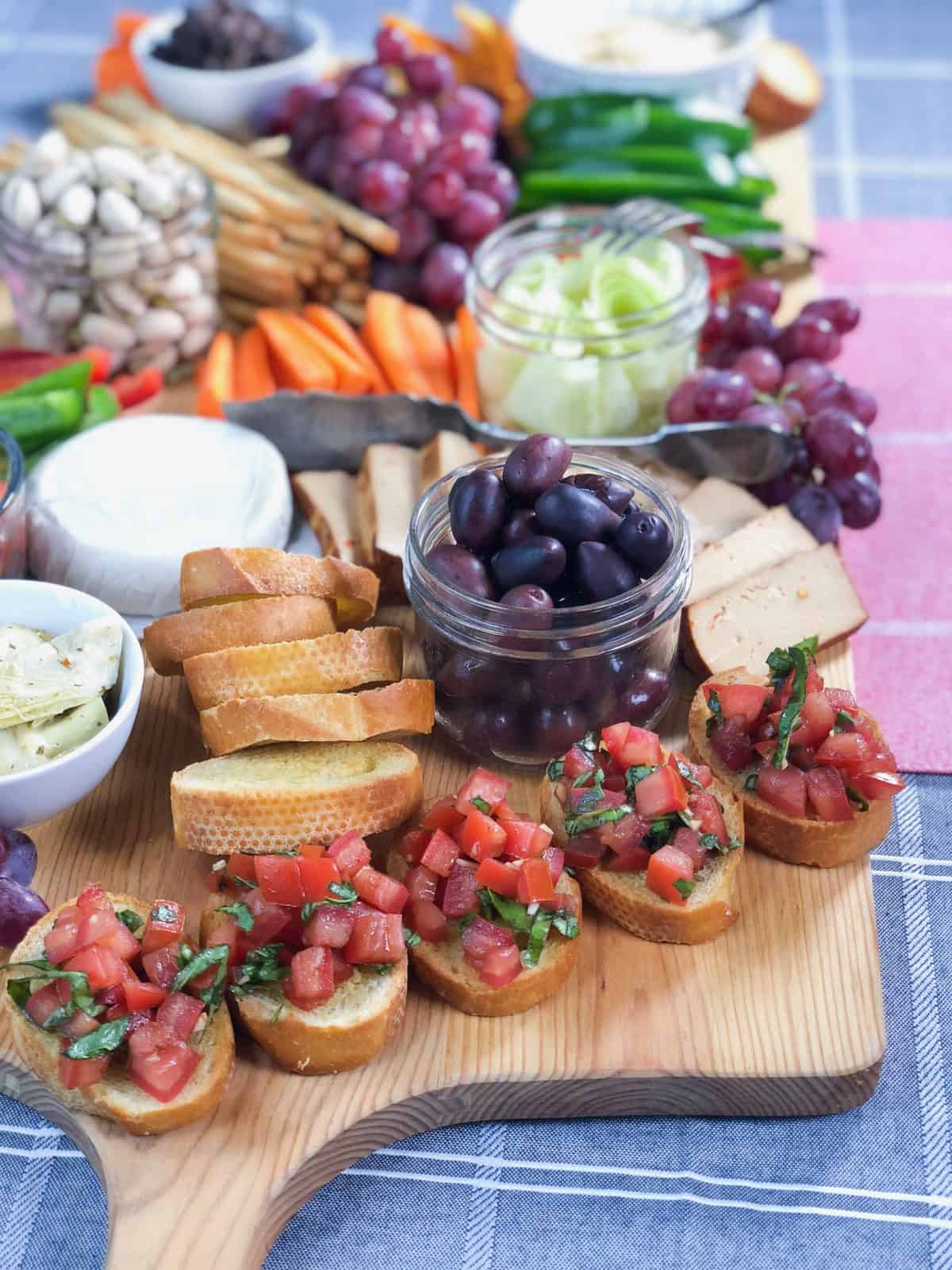 A Thanksgiving grazing table can be thrown together quickly while you can continue hosting your family or guests! So simple but always gets completely picked over before dinner is even served. This is also perfect for families with an array of dietary restrictions, I like to add decorative little signs to show which vegan cheeses I chose and which crackers are gluten-free. Get the recipe here!

This middle-eastern inspired hummus charcuterie board is going to be your go-to recipe for your party favours and you will want to keep elevating this experience over and over again. So delicious and so easy to make! Get the recipe here.

Thanksgiving preparations can get super overwhelming at times, especially if you are serving food for a big group of people. So, one of the cooking hacks is to make great recipes in a short amount of time. This vegan butter board will be your saving grace. Get the recipe here.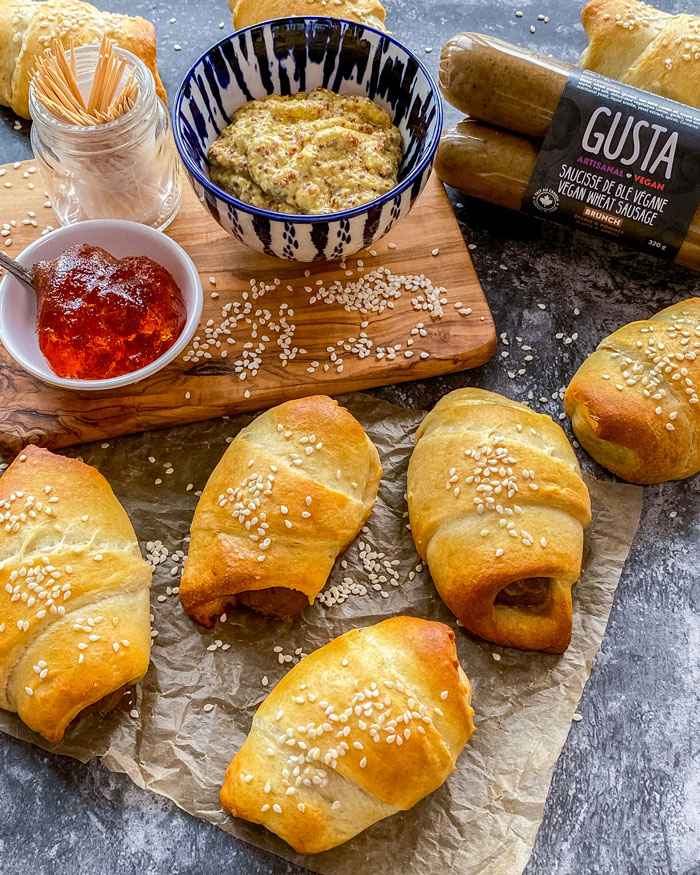 These are super easy to make (especially if you forgot you needed to bring something to dinner). 5 simple ingredients and super yummy, these make a perfect pass-around appetizer while folks are mingling or watching the game. Get the recipe here!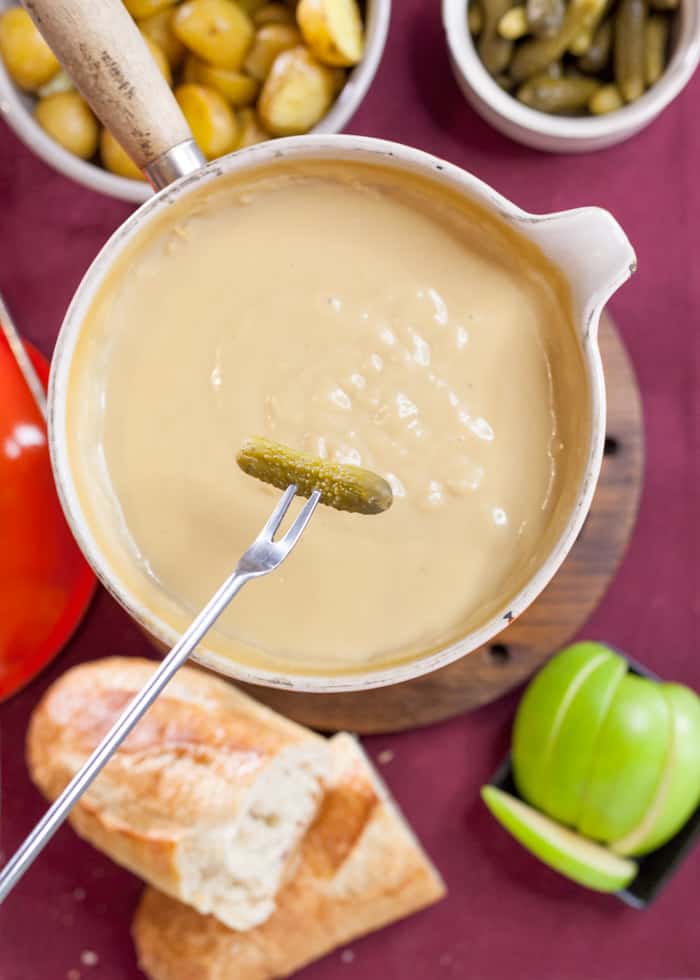 This is the best vegan fondue recipe out there! This dairy-free cheese fondue is perfect for thanksgiving whether you're having a group of people for dinner or dinner for two. Everyone can dip whatever they want into this gooey deliciousness! Get the recipe here!

This vegan creamy baked spinach dip is super easy to make and perfect as a snack, or for your dinner party. Pair with the buffalo 'chicken' dip for a set of vegan and gluten-free dips made in heaven. Get the recipe here!

This mushroom crostini recipe is the perfect appetizer to serve up for any holiday or event. Even the most chichi guest will dig it. Since this recipe takes around 35 minutes to put together, you can spend more time putting together your fabulous outfit than standing in the kitchen. Get the recipe here!


This recipe is sure to show your family that they can have a plant-based Thanksgiving meal without the need for meat, eggs or dairy. Oh boy, this is decadent. Get the recipe here!
If you're looking for something unique to bring to Thanksgiving at someone else's house or to put out for guests to nibble on before dinner, this is perfect. It's unintentionally vegan so no one will give you heck about vegan alternatives, and the olive-squash combination is perfect for this time of year. Pair with fresh french bread or crackers for a perfect appetizer. Get the recipe here!

Vegan cheesy cornbread is not just a fantasy, but brace yourself, because once this cheesy goodness comes out of the oven, it is hard not to devour it all. The slightly spicy kick will leave a taste in everyone's mouth that will leave them wanting more. Best to make a double batch. Get the recipe here!
VEGAN THANKSGIVING MAINS
Mains are what everyone looks forward to during Thanksgiving. Unfortunately, this is the part where vegans most likely run to the bathroom or skip right to the dessert. Well, for this year, do not fear, because I've got you on all the best vegan "meat" recipes.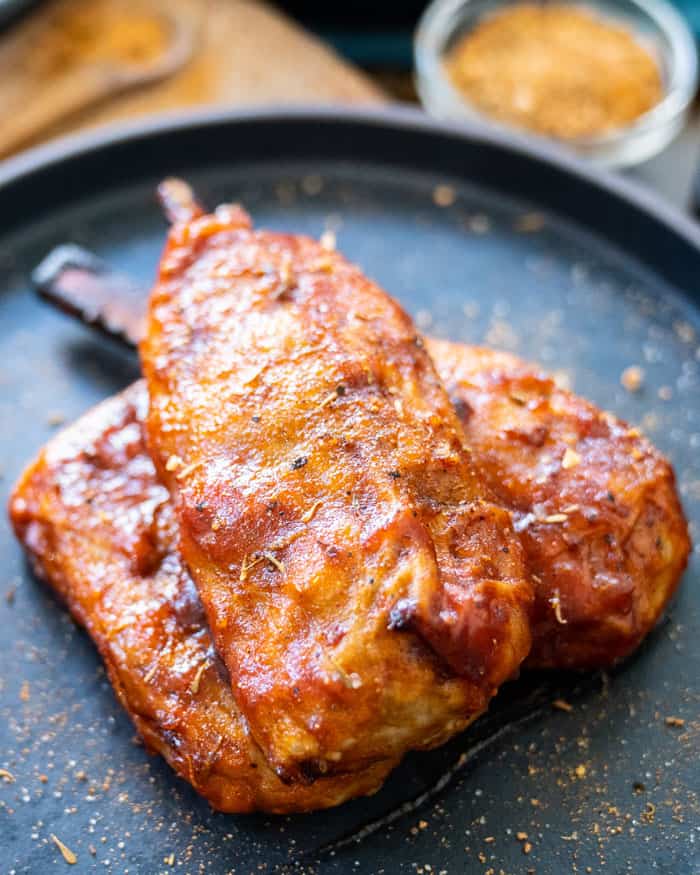 Turn this realistic vegan drumstick recipe into a Vegan Turkey Drumstick by swapping out the seasonings here for classic turkey seasonings like fresh sage and rosemary. I promise while you cook these your kitchen will smell like a homey Thanksgiving feast. Without the breading stage, these are both Thanksgiving tasting and gluten-free! Get the recipe here!

For the ultimate vegan Thanksgiving experience, make this vegan roast that looks like, smells like, and tastes like a turkey! It is made of a combination of techniques into an amazing seitan, stuffed with vegan stuffing, bamboo "bones" for drumsticks, covered in rice paper "skin" and basted just like a real turkey. This is a guaranteed showstopper. Get the recipe here!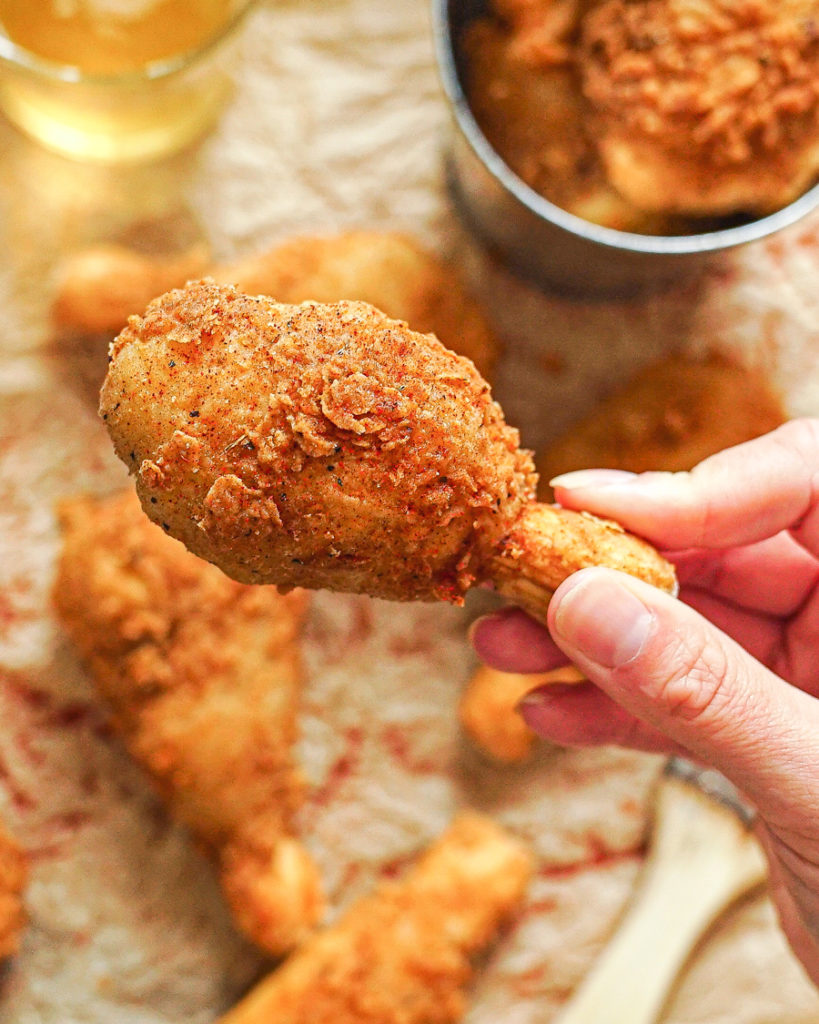 I discovered how to make an easy vegan turkey roast that's quick & tasty! I wanted to make it easy for you to make a vegan roast for the holidays, so I'm going to show you how to take a $5 store-bought vegan roast (like tofurkey) and take it to the next level by roasting it with veggies and seasoning!Get the recipes here!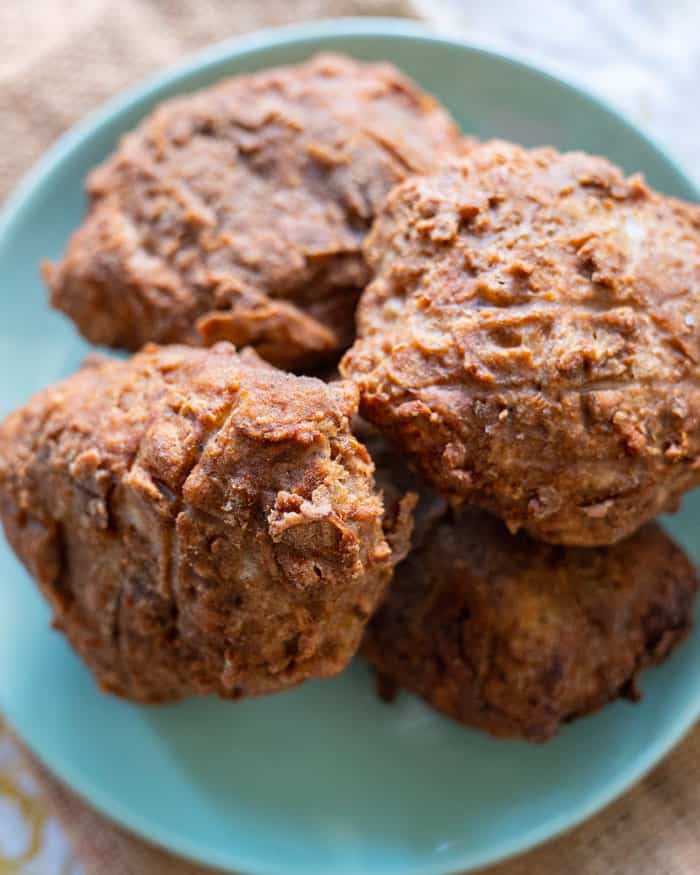 I've unfortunately seen families order KFC chicken for thanksgiving, so I wanted to give a vegan KFC chicken alternative for families! Also, I'm the queen of vegan fast food copycats, so needed to share not only my KFC vegan chicken recipe but also my recipe for Vegan Popcorn Chicken and Vegan KFC Fried Chicken recipe. Get the recipes here!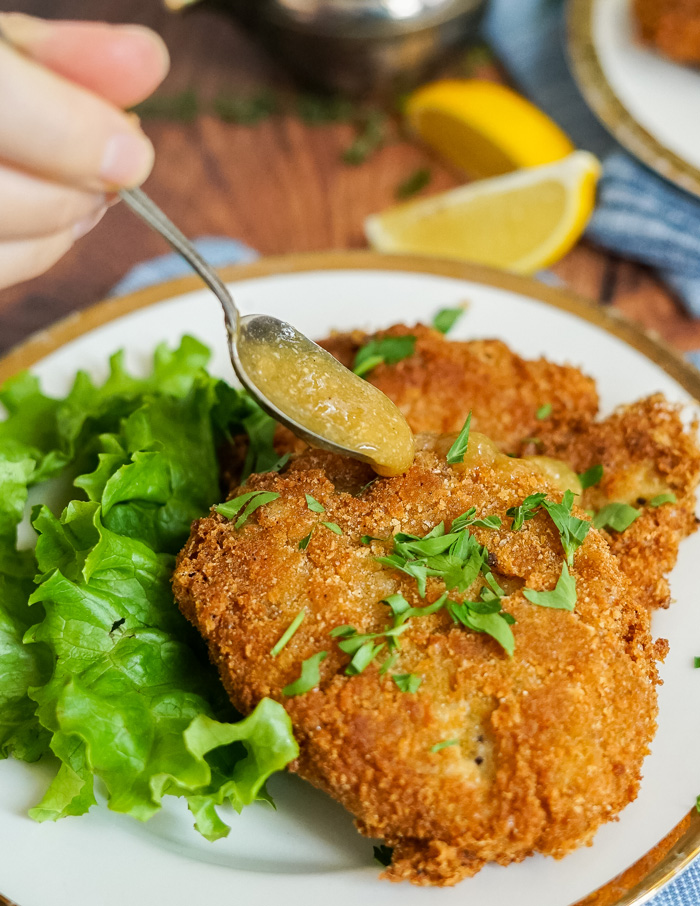 If classic turkey vibes just aren't for you, but you still want something meaty on your vegan Thanksgiving plate, opt for this flavourful schnitzel for something like a cutlet. Get the recipe here!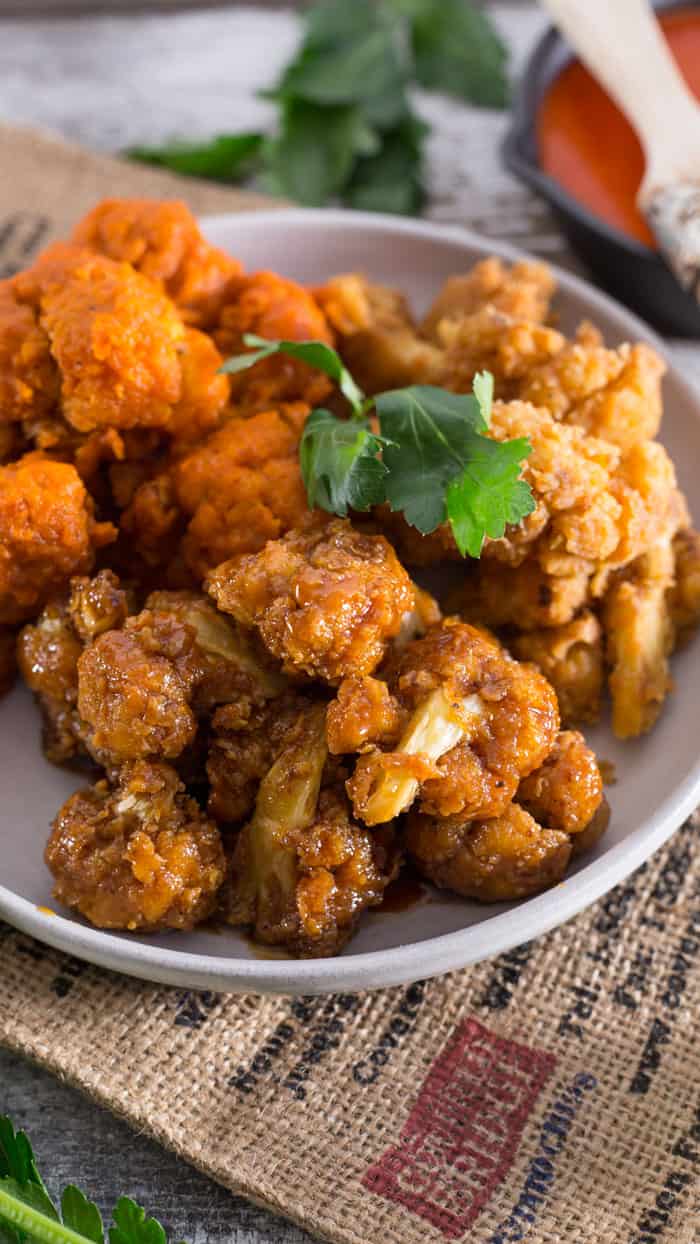 These are the most delicious buffalo cauliflower wings you will ever have! These vegan cauliflower wings are a crowd-pleaser that you can feel good about. Cauliflower wings perfectly match the football game energy in the house! Get the recipe here!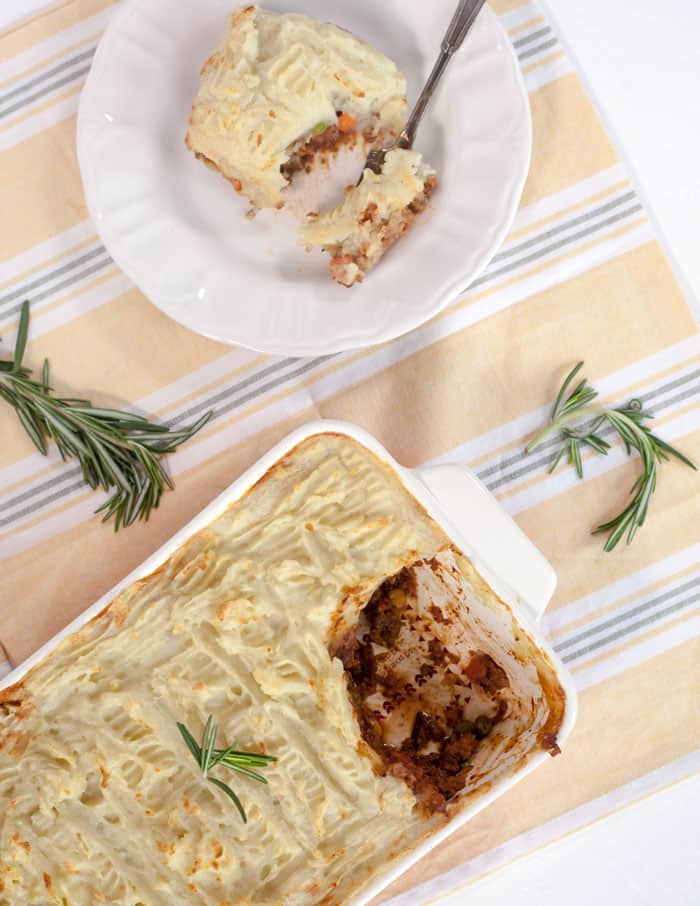 This dish is perfect if you're the only vegan going to a Thanksgiving meal. A meaty, hearty and easy veggie Shepherd's Pie; made with a saucy mushroom and ground round stew, filled with corn, peas and carrots, and topped with fluffy mashed potato. It's great to prepare ahead and bake when you're ready and it's gluten-free! Get the recipe here!

These vegan pot pies are perfect for smaller thanksgiving gatherings, or to make with Thanksgiving leftovers! Repurpose your vegan turkey and veggies into these individual pot pies. Add Thanksgiving flavours like rosemary and sage to make these even more like turkey pot pies. Get the recipe here!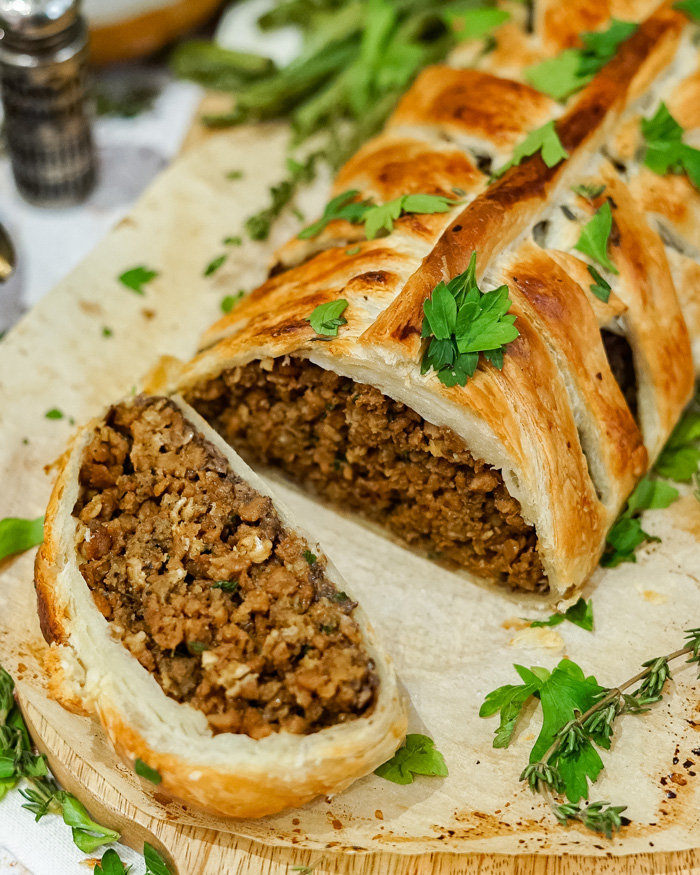 A wellington is prepared meaty filling with a thin layer of mushroom paste, wrapped in a puff pastry. Interesting fact: The name comes from the finished product looking like a wellington rain boot. This is a perfect main if you're not looking for something to be a Thanksgiving main but not a turkey. Get the recipe here!
VEGAN THANKSGIVING SIDE DISHES
A party is not complete with some side dishes to go with your mains!
French onion soup is a famous dish that is time-consuming but well-loved by many. Using the store-bought dried soup mix (which is often accidentally vegan), you can make this french onion-inspired meal that combines the deep flavours of french onion soup with the perfection of mac & cheese. Get the recipe here!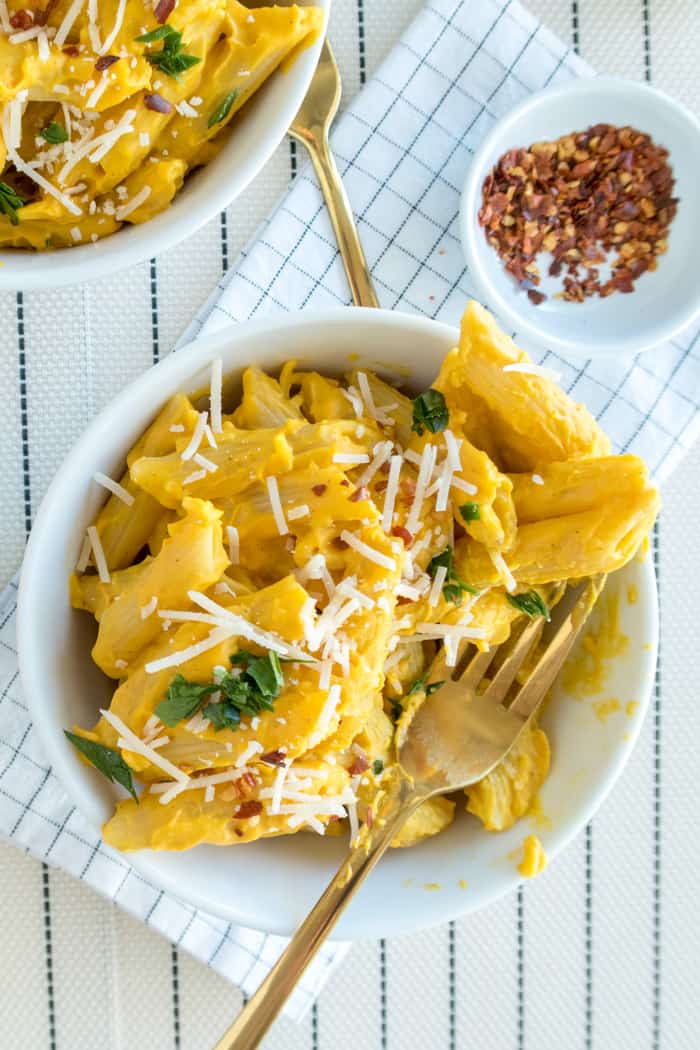 This easy, fall-flavour mac & cheese is the perfect pasta for Thanksgiving. It has a traditional mac and cheese flavour with an added squash kick. It pairs perfectly with a Thanksgiving Dinner. Swap for gluten-free pasta if needed! Get the recipe here!

If you're looking for a vegan brussels sprouts recipe with roasted, garlic brussels sprouts and vegan bacon and sausage, you've found the best recipe! These are easily the best veggie side on your Thanksgiving table, and they're gluten-free. Get the recipe here!

These are hands-down the best vegan mashed potatoes you'll ever have! My vegan mashed potatoes recipe uses 5 ingredients and can be made in under 20 mins. I also share my tip on how to make it extra creamy!Get the recipe here!

Vegan Gravy (10 mins + Gluten-Free)
You can't have a vegan thanksgiving without vegan gravy! This 10-mins easy vegan gravy recipe uses 10 simple ingredients & makes the best vegan gravy for thanksgiving. It uses a broth base and cornstarch mixture to replicate the flavour and thickness of classic gravy.Get the recipe here!

The pumpkin in this veggie chilli is light and nicely balanced. It gives this traditional recipe a nice and earthy element perfect for Thanksgiving. Plus it can be whipped up in just 30 mins or less! This big, warming bowl of veggies is gluten-free. Get the recipe here!

This soup-er simple side is warming and full of classic Thanksgiving flavours like sage and pumpkin. It's an amazing gluten-free option and a great way to get veggies on the table in a new way. Get the recipe here!
I love to pair this salad with a large savoury meal because it balances those rich flavours with a freshness and tang that is usually missing from the Thanksgiving table. The cucumber and onions are crisp and refreshing and the vinegar dressing is tart, keeping your tastebuds interested between bites of beige food. Get the recipe here!
Cornbread is a Thanksgiving staple, it is rarely skipped in the Thanksgiving spread, this year, make a twist on a classic with this cornbread pudding. It has the traditional flavour and colour of cornbread but with a different texture! Get the recipe here!
If you're looking for something heartier to replace mashed potatoes on your table this year, try Irish Colcannon! This recipe is an Irish classic that adds hearty greens like kale to a mashed potato base for a healthier, heartier side dish. Get the recipe here!
VEGAN THANKSGIVING DESSERTS
Finally, we are at the dessert section! Here is a list of my favourite vegan Thanksgiving desserts you can make to end the night on a high note! These recipes are guaranteed for another round of Vegan Thanksgiving recipes request for next year.

I love vegan pecan pie! What makes this recipe different from the traditional pecan pie recipe is the vegan pastry dough base, the brown rice syrup to replace corn syrup, coconut sugar to replace regular refined sugar, and flax meal to substitute for eggs. I also highly recommend a vegan whipped cream or vegan vanilla iced cream to top it off. Get the recipe here!

Thanksgiving is primarily known as the one day of the year you can eat as much Pumpkin Pie as you want without feeling the least bit guilty about it. The original Thanksgiving dessert, this vegan pumpkin pie is so delicious and tastes exactly like a non-vegan version. You'll get everything you're looking for in this vegan pumpkin pie! Get the recipe here!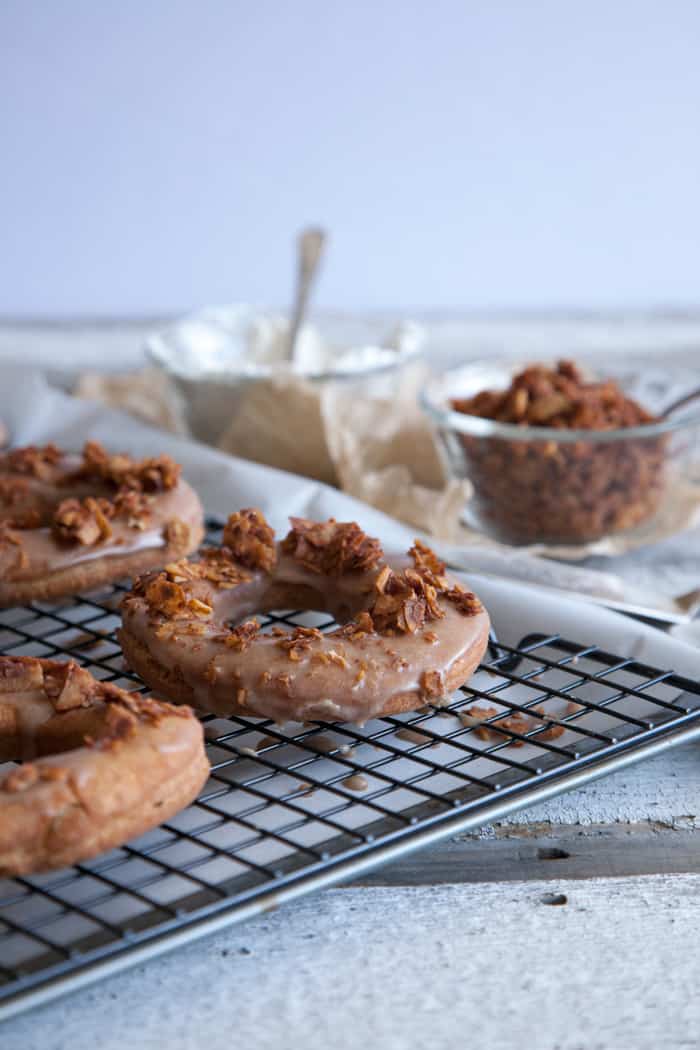 Love pumpkin spice? Try these vegan pumpkin spice donuts for a twist on a classic Thanksgiving dessert. Think of these as a pumpkin spice latte you can eat! Get the recipe here!
These pumpkin spice cookies scream fall! If you love Taylor Swift as much as I do, you know that not only is her music a banger, but her dessert recipes are even better! I have veganized this experience so you don't have to miss out on this special day. Get the recipe here!
VEGAN THANKSGIVING DRINKS
What is a party without some drinks to enjoy during the night? So here is my list of vegan thanksgiving drinks you can make! You can also make them non-alcoholic!
This vegan pumpkin spice latte is better than Starbucks! And it's perfect for pre-dinner drinks or you could serve it with dessert! Get the recipe here!

This simple vegan Irish cream replaces the Bailey's Irish Cream that people add to their coffee. For those who want coffee after dinner, you can ask if they'd like some bailey's add to their drink. Get the recipe here!

Cranberries are so thanksgivin-ey. My recipe for cranberry mimosa's are vegan and uses no additives! Enjoy with dinner or with dessert! Get the recipe here!

Impress your guests with this vegan whiskey sour recipe. The secret ingredient for the classic whiskey sour foam will surprise you! Get the recipe here!

This warm and fragrant wine is a nice way to settle into a cozy family evening as the weather gets chilly. When the sun goes down, this warmed wine and a fuzzy blanket are the best ways to end the night. Get the recipe here!

VEGAN GLUTEN-FREE THANKSGIVING RECIPES
If you're looking for only vegan gluten-free Thanksgiving recipes, check out the blog post with all my recipes that could be made gluten-free.
Hope these delicious vegan thanksgiving recipes fill up your tummy with love & deliciousness!
\Hi! I'm Candice aka The Edgy Veg!  I veganize popular food recipes for vegans, plant-based diets, eco-conscious eaters & people who are trying to eat more plants over… y'know animals or by-products of animals. I hope you enjoy this tasty vegan recipe!
---
Looking For More Vegan Recipes?
Made this recipe? Let me know what you think by leaving a ★★★★★ star rating & comment below. It truly helps me & I really appreciate any support! Feel free to share your food photos on social and tag me @edgyveg so I don't miss it!