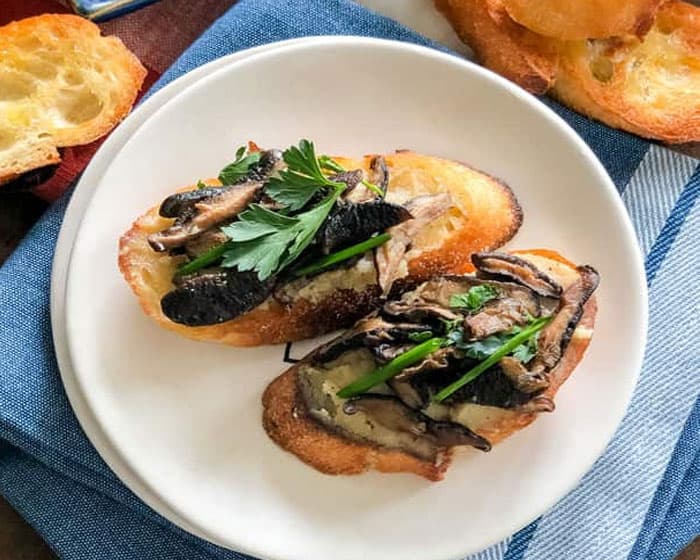 This mushroom crostini recipe is the perfect appetizer to serve up for any holiday or event. Even the most chichi guest will dig it. Since this recipe takes around 35 minutes to put together, you can spend more time putting together your fabulous outfit than standing in the kitchen.
Mushroom Crostini
VEGAN & DAIRY-FREE
Since I've started making this mushroom crostini recipe, it has quickly evolved to be a regular go-to app for me. Given its simple assembly and rave reviews, it has become a signature hors d'oeuvre in my books. So without further ado, let's commence this brisk, culinary masterpiece. Instant gratification guaranteed.
INGREDIENTS FOR MUSHROOM CROSTINIS (VEGAN):
FULL RECIPE DOWN BELOW
Mushroom Crostini Recipe
Mushroom Crostini
This is a super easy vegan appetizer that will keep people coming back for more. In 15 minutes or less, you will have a delicious crowd-pleaser that even the non-vegans will devour.
Instructions
In a large skillet, heat 1 tbsp olive oil over medium heat.
Add the shiitake and cook over med-high heat, stirring until browned for about 5 minutes.
Add the cremini mushrooms and cook until softened and lightly browned for about 8 minutes.
Add the shallot and garlic and cook until fragrant for about 2 minutes.
Stir in thyme and add 1 tbsp of parsley.
Season with salt and pepper.
Brush the bread with olive oil on both sides and place on a grill rack or baking sheet lined with parchment.
In a toaster oven, or in a full-sized oven, preheated to 450F. Toast the baguette until golden for about 5 mins on each side.
Remove from the oven and set aside.
Spread a tbsp of vegan cream cheese on each toast slice.
Spoon the mushrooms on top and sprinkle with coarse salt, tarragon, chives and additional parsley.
Drizzle with olive oil and serve.
---
Hey I'm Candice aka The Edgy Veg – I veganize popular food recipes for vegans, plant-based diets, eco-conscious eaters & people who are trying to eat more plants over… y'know animals or their by-products. I hope you enjoy this tasty vegan recipe!
---
Made this recipe? Let me know what you think by leaving a ★★★★★ star rating & comment below. It truly helps me & I really appreciate any support! Feel free to share your food photos on social and tag me @edgyveg so I don't miss it!
Share How To Make Mushroom Crostinis on Pinterest!