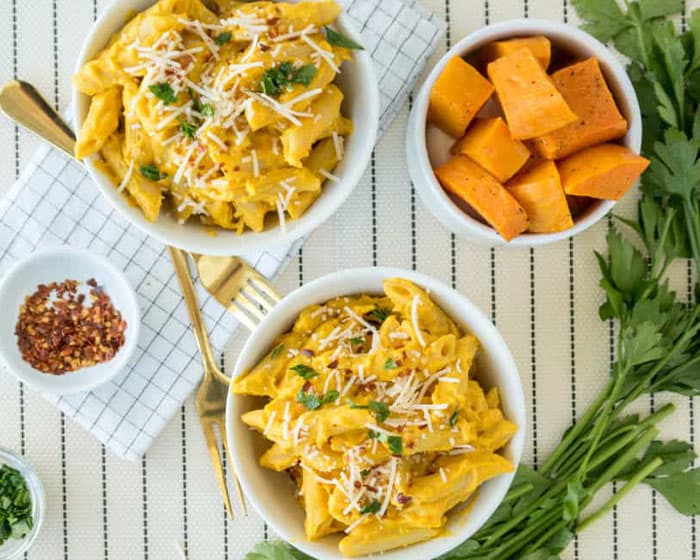 Butternut Squash Mac and Cheese (Vegan, Nut Free, Soy Free)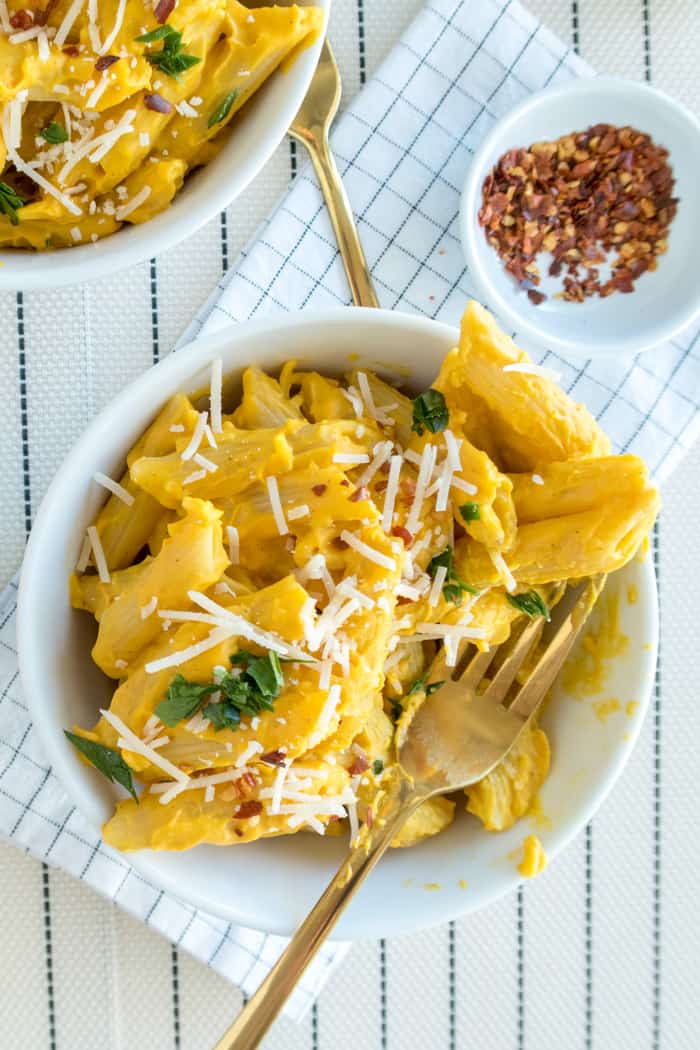 Not only is this Butternut Squash Mac and Cheese vegan, nut free, and soy free… it's also incredibly delicious! And, it's perfect for the whole family no matter the dietary restrictions! The PERFECT vegan mac and cheese! 
I'm obsessed with plant-based mac and cheese recipes. There are just so many great ways to eat this rich, creamy childhood favorite, which is why I have many Vegan mac and cheese recipes on my blog (scroll below).
And this week, I have another one for you! A vegan mac and cheese made with healthy butternut squash!
It can be challenging to find a healthy dinner for you as well as the whole family to enjoy during the holidays. Pleasing vegans, as well as adults and kids with food allergies, can difficult. This is why my nut free, soy free, vegan Butternut Squash Mac and Cheese dish is perfect for anyone!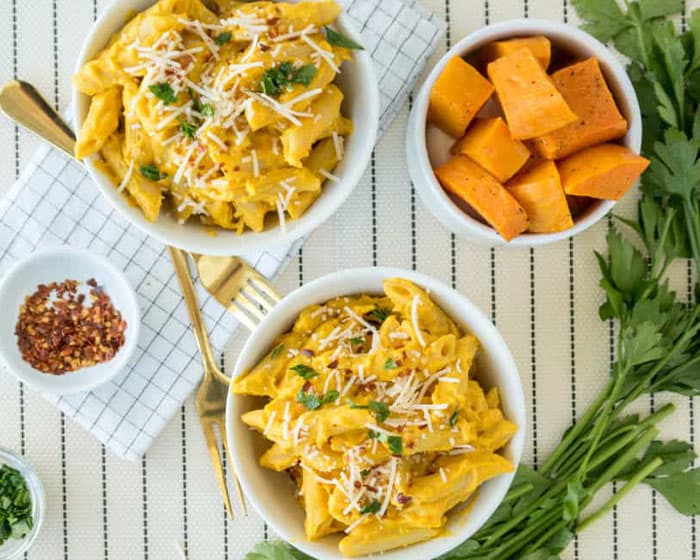 To me, Fall is all about earthy, grounding meals, filled with CARBS!
I'd be lying if I said that I wasn't eating pasta 2-3 times a week these days. That's why I am LOVING this earthy butternut squash mac & cheese. It's got all the ooey-gooey, creaminess of vegan mac and cheese but with an earthiness, and slightly sweet flavour that screams fall comfort.
The squash adds an extra level of gravitas that elevates this dish from childhood favourite to an impressive but simple weeknight meal. PLUS, it makes a great main or side for holiday dinners!
BUTTERNUT SQUASH MAC AND CHEESE (Vegan, Nut Free, Soy Free)
Butternut Squash Mac and Cheese (Vegan, Nut Free, Soy Free)
This is how to make a simple Vegan Mac and Cheese with Butternut Squash that's nut free, soy free and dairy free. This Butternut Squash Mac and cheese is the perfect dish for any holiday and is really simple to make. Take your regular vegan mac and cheese up a notch!
Instructions
Bring a large stockpot of salted water to a boil.
In the boiling water, cook pasta as directed on the package.
Meanwhile, in a blender add butternut squash, ½ cup soy milk, starch, nutritional yeast, onion powder, garlic powder, mustard, lemon juice, olive oil, salt and paprika.
Blend until smooth. Add more soy milk as needed.
Season to taste with salt and cayenne.
Place into a small saucepot, over medium heat and cook, stirring constantly until sauce has heated through.
Drain pasta in a colander and transfer back into the stockpot.
Add the cheese-sauce to the pasta, along with vegan parm if using, and stir until combined.
Serve pasta topped with vegan parmesan cheese, chili flakes and parsley.
**How to Roast a butternut Squash: Preheat oven to 350F. Halve 1 large or 2 small butternut squashes and place them on a baking sheet flesh side up. Drizzle some oil over the squash, and season with a bit of salt and pepper. Roast for 45-50 minutes, or until the squash is golden brown and/or tender. **
You guys must try this vegan Butternut Squash Mac and Cheese. You will love it! Once you try it, come back and leave me a comment below with your feedback and star rating! You can also find me on social media. Be sure to tag me @edgyveg and #theedgyveg so I don't miss your post!
If you like this Butternut Squash Mac and Cheese, you might also like these: