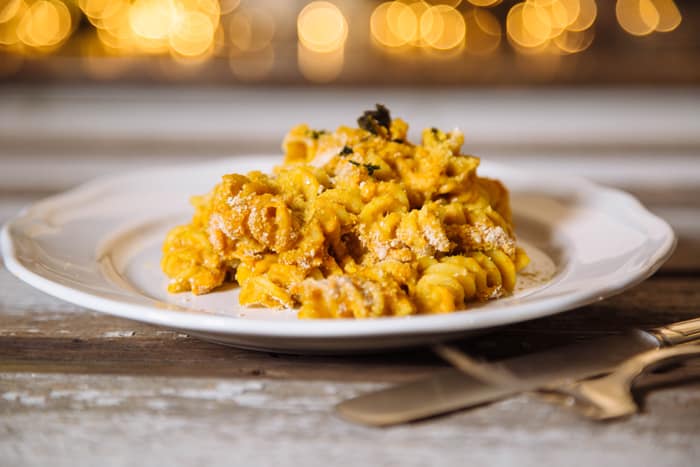 Pumpkin Mac and Cheese Recipe
I have like 6 mac and cheese recipes. So needless to say, I love love love mac and cheese. There are just so many great ways to eat this rich, creamy childhood favourite. So, I obviously have another one for you…
This mac and cheese is one that veers off the beaten path a little bit! Regular mac and cheese is great on it's own, but what happens when you add the magic of pumpkin?! MAGIC! That's what! The pumpkin adds an extra level of rich moisture and creaminess to any cheese sauce you love. Plus, a nice fall, earthy flavor that is just a little bit sweet without the added fat.

Pumpkin Mac and Cheese Recipe
Learn how to make a really simple Vegan Pumpkin Mac and Cheese. This Pumpkin Mac and cheese is the perfect dish for any holiday, and is really simple to make. Take your regular vegan mac and cheese up a notch with pumpkin!
Ingredients
Elbow macaroni (enough for 4 people)
1 tbsp non-dairy butter
¾ cup unflavoured non-dairy milk
1 tbsp cornstarch
1 tsp minced garlic
¼ tsp onion powder
¼ cup nutritional yeast
2 tsp Dijon mustard
1 cup pumpkin puree
½ tsp salt or to taste
10-12 sage leaves
coconut oil
¼ ½ cup Daiya- optional
Instructions
In a small bowl, whisk together milk, cornstarch, garlic and onion powder until there are no clumps.
Melt vegan butter in a pot over low-medium heat, and add milk mixture and whisk.
Stir in nutritional yeast, Dijon, and salt, whisk over low heat until thickened (about 5-7 minutes or so). While you are waiting for the sauce to thicken, heat 2 tbsp of coconut or olive oil in a small saucepan over med-high heat and add sage.
Fry sage leaves until crisp, 2–3 seconds.
Transfer with a fork to paper towels and pat lightly.
Add sage oil to cheese sauce.
Add in pumpkin puree to the cheese-sauce and stir until combined and heated through. You can now add in Daiya (if using), and mix until melted.
Mix with cooked pasta and garnish with crumpled sage leaves. Serve.
CHEF TIP: Try filling up a baked sweet potato with your mac and cheese and top with crumpled sage leaves.  This is a great, way to eat mac and cheese as a meal without added fats but an extra kick of vitamin C and iron! Yummers!