Best Vegan Stuffing Ever!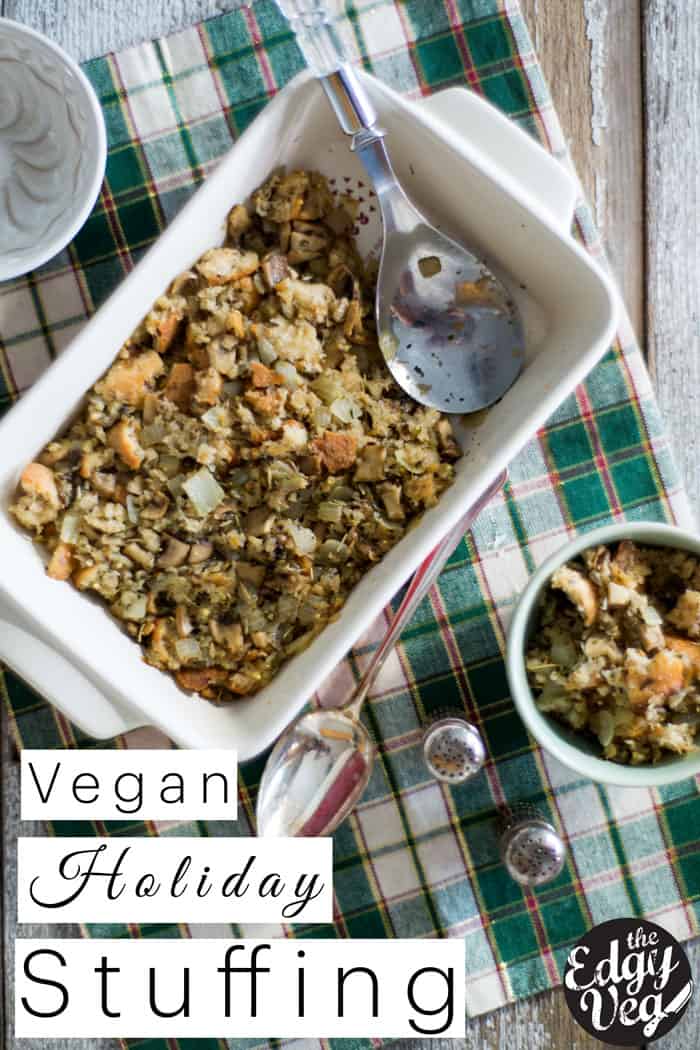 Christmas is almost here and you're probably wondering what sort of side dishes you should whip up this year. No Christmas (or Thanksgiving) dinner is complete without stuffing. This is my go-to recipe for a delicious vegan stuffing that is a perfect addition to any holiday meal, and takes only minutes to make! I'm in charge of all my holiday cooking, so I choose to stick with easy, basic recipes that are full of flavour to ensure I don't end up missing Holiday dinner with the Fam from too much exhaustive cooking. This one is a real crowd-pleaser and even the non-vegans can't resist! It's so fluffy and moist and buttery that you can just show up with this festive dish to a potluck and never have to mention it's vegan! It's honestly the best vegan stuffing you'll ever eat!

Best Vegan Stuffing Recipe Ever
This delicious mushroom stuffing tastes just like traditional Holiday versions that you grew up with, but completely vegan. This vegan stuffing is baked in the oven, and is just as moist and fluffy as the turkey version.
Ingredients
1 small cooking onion, finely chopped, and cooked until translucent
1 cup mushrooms, chopped
2 ribs celery, diced
6 cups bread crumbs, I like to use torn day-old baguette
⅓ cup vegan butter, melted
¾ cup vegetable broth
1 tsp thyme
1 tsp dried basil
1 tsp dried rosemary
1 tsp dried marjoram
sea salt, to taste
Dash of fresh black pepper
Instructions
Preheat oven to 350F.
Heat some olive oil in a pan and cook the onions until translucent, about 5 minutes.
Add mushrooms to the pan, and cook until browned, about 10 minutes.
Transfer to a bowl with the torn bread or bread crumbs.
Add remaining ingredients and mix well, until combined.
Place in a greased casserole dish, cover with aluminum foil, and cook for 15-25 minutes, checking every 10 mins to ensure it isn't drying out.
Serve with mushroom gravy, a holiday roast and mashed potatoes!