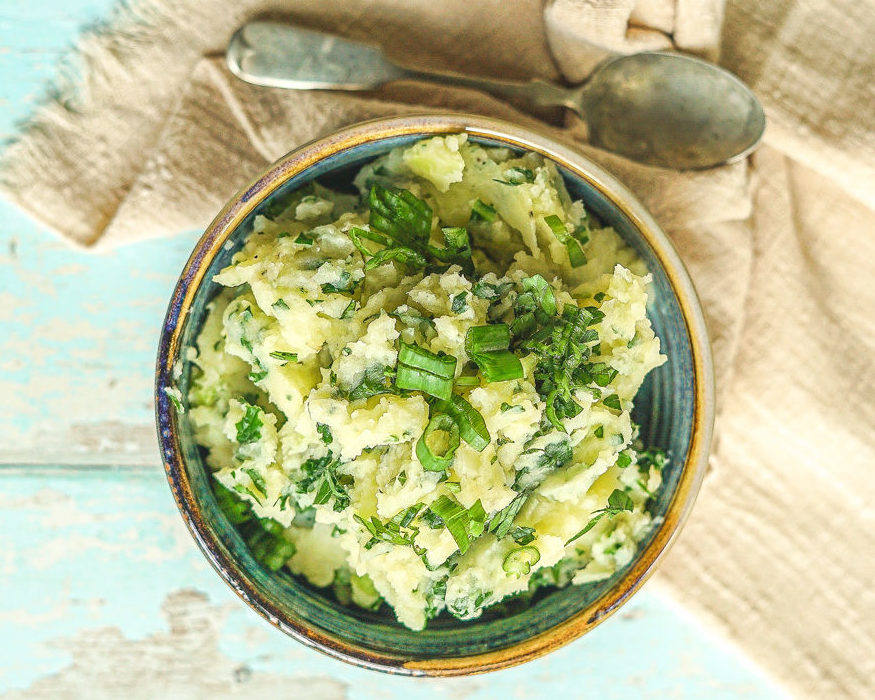 This easy vegan colcannon recipe uses 7-ingredients to make a dairy-free take on a classic Irish dish. What's Colcannon? It's an Irish potato recipe with cabbage or kale that's warm, hearty and delicious.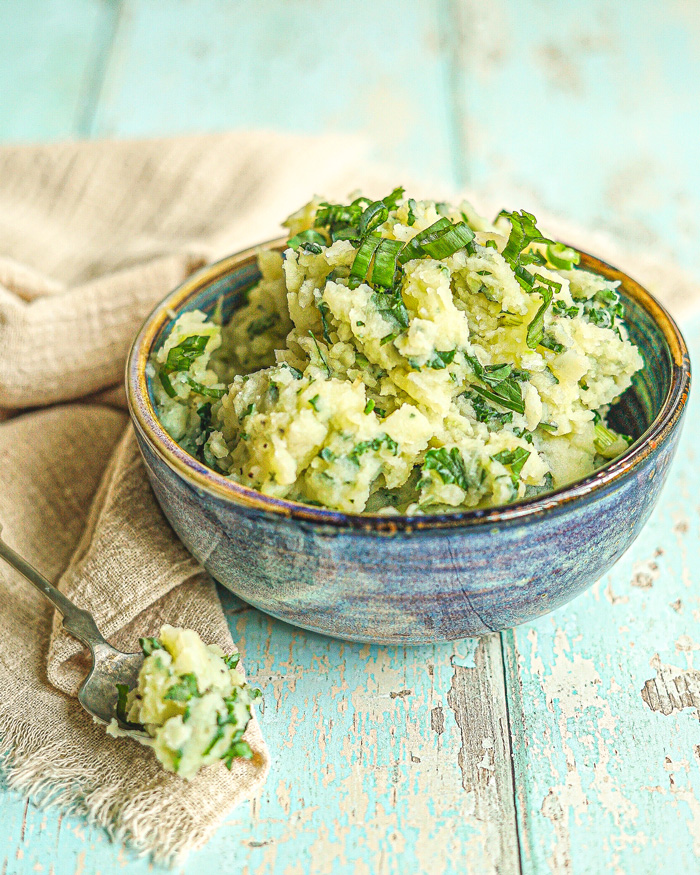 Just boil potatoes, blanch the greens & mash everything together for a simple and delicious Irish Colcannon. In under 20 minutes, you can have a tasty & creamy potato side dish!
Full vegan colcannon recipe down below!

VEGAN COLCANNON
Colcannon is a potato-based side dish commonly served in Irish households year-round. It's like mashed potatoes but with kale or cabbage (in our case both). I served my vegan colcannon with a mushroom steak and celebrated the week of St Patrick's Day making lots of vegan recipes for you guys!
This 20-mins vegan Irish mashed potatoes recipe is great to enjoy when you need to use up some sad-looking greens in the fridge or you want a healthier spin on mashed potatoes. This is a simple way to mix your serving of veggies! It uses 7 ingredients & tastes like potato clouds. So yummy!
Related Recipe: Vegan St Patrick's Day Recipes

INGREDIENTS FOR COLCANNON (VEGAN):
KITCHEN EQUIPMENT I USED:
Vegan Colcannon Recipe
An easy vegan colcannon recipe using 7-ingredients to make a dairy-free take on a classic Irish dish. What's Colcannon? It's an Irish potato recipe with cabbage or kale! (I used both!)
Instructions
Bring a medium-sized pot of water to a boil.
Next, add chopped cabbage and kale into boiling water and blanch for 1-2 mins, or until bright green in colour. Remove greens with a slotted spoon, and place immediately into an ice water bath.
Next, add your peeled and cubed potatoes and 1½ tsp salt to the same pot of water you cooked the greens in, and bring to a boil. Cover, reduce heat and simmer the potatoes for roughly 15-20 mins, or until tender. When it's fork tender, drain potatoes and add them back into the pot.
Add vegan butter or margarine, and allow it to melt. Using a potato masher, mash the potatoes until smooth and butter is combined.
Gradually, add warmed soy milk, stirring. Season with salt & pepper to taste.
Add your cabbage and/or kale and stir again to combine.
Serve garnished with additional green onions and/or parsley.
Nutrition Information
Serving size:
1 serving
Calories:
386
Fat:
12g
Carbohydrates:
55g
Sugar:
5g
Fiber:
10g
Protein:
7.25g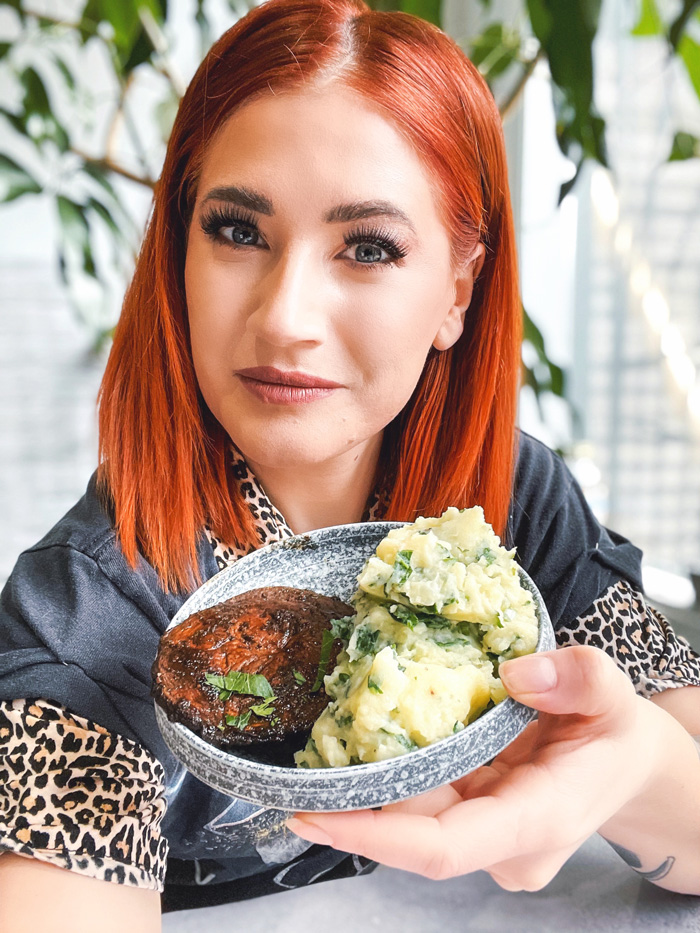 Hey I'm Candice aka The Edgy Veg
– I veganize popular food recipes for vegans, plant-based diets, eco-conscious eaters & people who are trying to eat more plants over… y'know animals or their by-products. I hope you enjoy this tasty vegan recipe!
---
Looking For More Vegan Potato Recipes?
Made this recipe? Let me know what you think by leaving a ★★★★★ star rating & comment below. It truly helps me & I really appreciate any support! Feel free to share your food photos on social and tag me @edgyveg so I don't miss it! 
Share My Recipe on Pinterest!