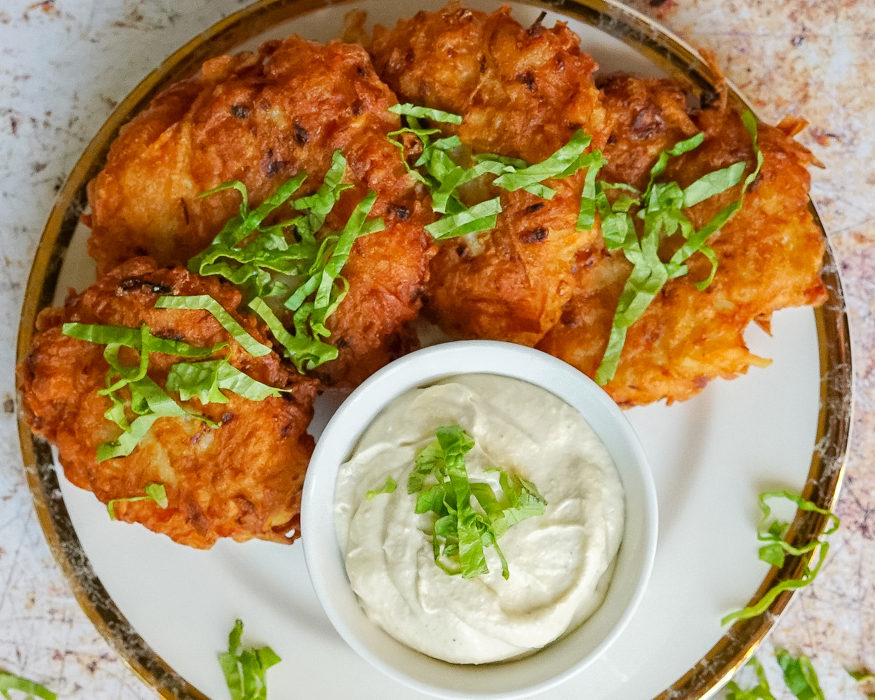 Vegan Latkes (Potato Pancakes)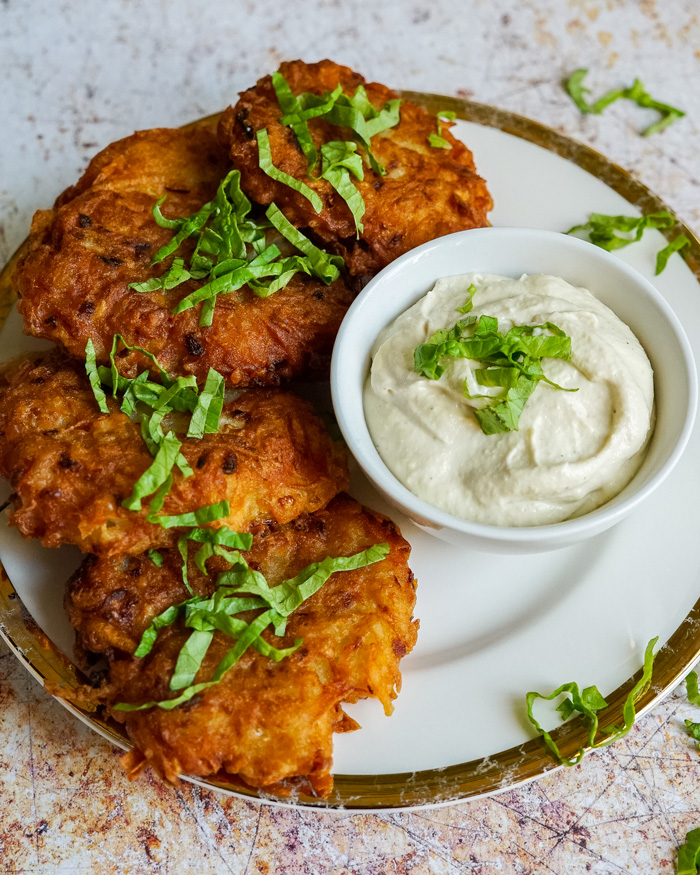 Easy vegan latkes made in 20 mins and look like potato pancakes! These vegan latkes are gluten-free, soy-free and nut-free as well! Serve with apple sauce or vegan sour cream!
If you're wondering why these vegan potato pancakes are called "latkes" scroll below!
Related Recipes: Vegan Pancake Recipe
Vegan Latkes
GLUTEN-FREE & SOY-FREE
The word 'latke' means pancakes in Yiddish. And while many associate potato pancakes strictly with Hanukkah, they actually have a broad and rich origin. They originally come from eastern European countries like; Russia, Germany, Poland & Austria where potatoes were cheap, stored easily & a household staple. So European Jews are to thank for repurposing this tasty dish into a holiday food.
Why are latkes part of the Hanukkah tradition?
Hanukkah is the celebration of the miracle of consecrated, temple oil burning for eight days rather than one day. Eating food fried in oil is part of the custom to honour this event. And what are latkes fried in? …OIL! 🙂
Btw, I'm now Jewish but was born in Europe and this dish brings back so many memories of cooking alongside my mom. Now I make it, simply because it brings comfort and warmth to my European heart during the holidays.
INGREDIENTS FOR VEGAN POTATO LATKES:
KITCHEN EQUIPMENT I USED:
Related Recipe: Vegan Challah Bread
Vegan Potato Latkes
Easy vegan latkes made in 20 mins and look like potato pancakes! These vegan potato latkes are gluten-free, soy-free and nut-free as well!
Instructions
In batches, peel potatoes and grate by hand, or with a grating attachment in a stand mixer or food processor, transferring them to a large bowl of cold water. Repeat, until all your potatoes are grated,
When finished, drain the potatoes well, in a sieve or colander, and squeeze out excess liquid before placing it onto a clean kitchen towel.
Add onions to the kitchen towel, and roll up and squeeze to remove any excess liquid. Add to the potatoes.
Add aquafaba, flour, baking powder, garlic powder, and salt, and mix together until well combined.
Prep a lipped baking sheet with a wire cooling rack and place it next to the stove. If you do not own a wire cooling rack (get one) then you can use a plate and paper towel, but it won't result in crispy latkes.
Heat about 1 cup of oil (about ¼ depth) in a large pan over medium-high heat. Test the oil by adding a bit of the latke mixture-- it should sizzle right away.
In batches of 4, using a ¼ cup measuring cup or an ice cream scoop, scoop the mixture onto a spatula, and flatten and form them into discs with your fingers. You can make 6 large ones or 12 small bite-size ones.
Carefully add or slide the latke into the pan of hot oil, and cook until nicely browned and crispy, about 4-5 mins, flip and cook for another 3-4 mins, or until the second side is also nicely browned and crispy. Allow excess oil to drip off into the pan, and place cooked latkes onto a wire cooling rack, and repeat with the remaining batter.
Serve with a sprinkle of salt, apple sauce and/or vegan sour cream.
Notes
Russet potatoes are high in starch and have a dry texture, making them the best potato for crispy latkes.
A food processor with the shredding disc or KitchenAid with a shredding attachment will make shredding this recipe a lot easier and quicker.
If you want to keep the latkes warm while you cook other dishes, preheat your oven to 200F with a wire cooling rack on a baking tray inside. Once a latke is cooked, place it onto the cooling rack to keep warm until you're ready to serve them all at once.
Reheat leftovers in an air fryer!
Nutrition Information
Serving size:
1 large latke
Calories:
185
Fat:
9.3g
Carbohydrates:
21.8g
Protein:
3g
---
Hey I'm Candice aka The Edgy Veg – I veganize popular food recipes for vegans, plant-based diets, eco-conscious eaters & people who are trying to eat more plants over… y'know animals or their by-products. I hope you enjoy this tasty vegan recipe!
---
Looking For More Vegan Potato Recipes?
Made this recipe? Let me know what you think by leaving a ★★★★★ star rating & comment below. It truly helps me & I really appreciate any support! Feel free to share your food photos on social and tag me @edgyveg so I don't miss it!
Share My Recipe on Pinterest!