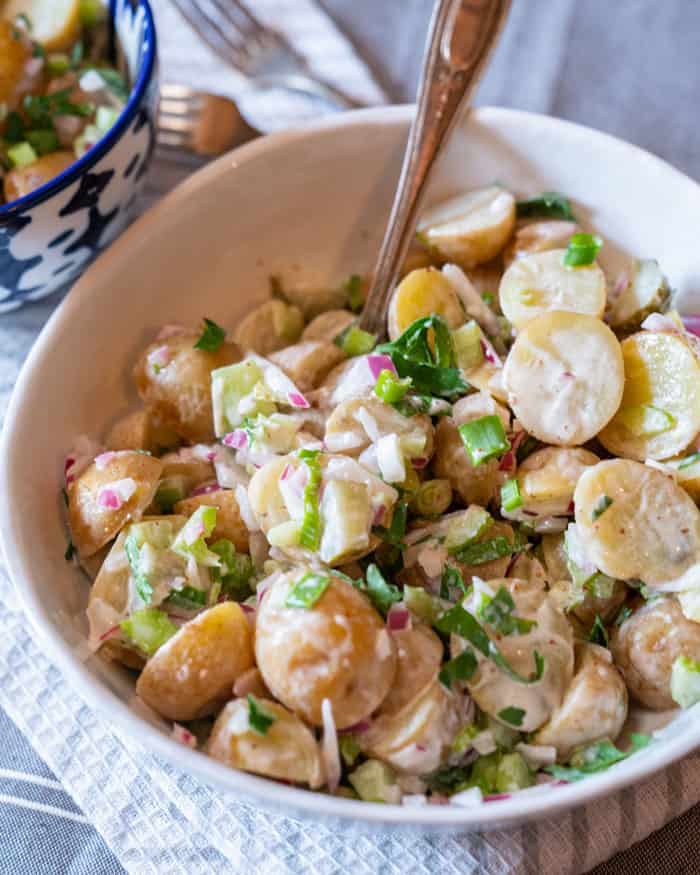 Today I made a creamy vegan potato salad recipe, perfect to fill your plate at a summer barbecue! Bring this side (or my Vegan Watermelon Feta Mint Salad and Vegan Macaroni Salad) to share with vegan and non-vegan friends, making everyone happy and satisfied. Who can say no to potatoes, vegan mayo, and pickles? This recipe is so easy to make, and even easier to share!
Feel free to share & print my recipe below to make your own Vegan Potato Salad! Or you can watch me on YouTube where I show you how to make it!
Never miss a video by clicking here to Subscribe to my Channel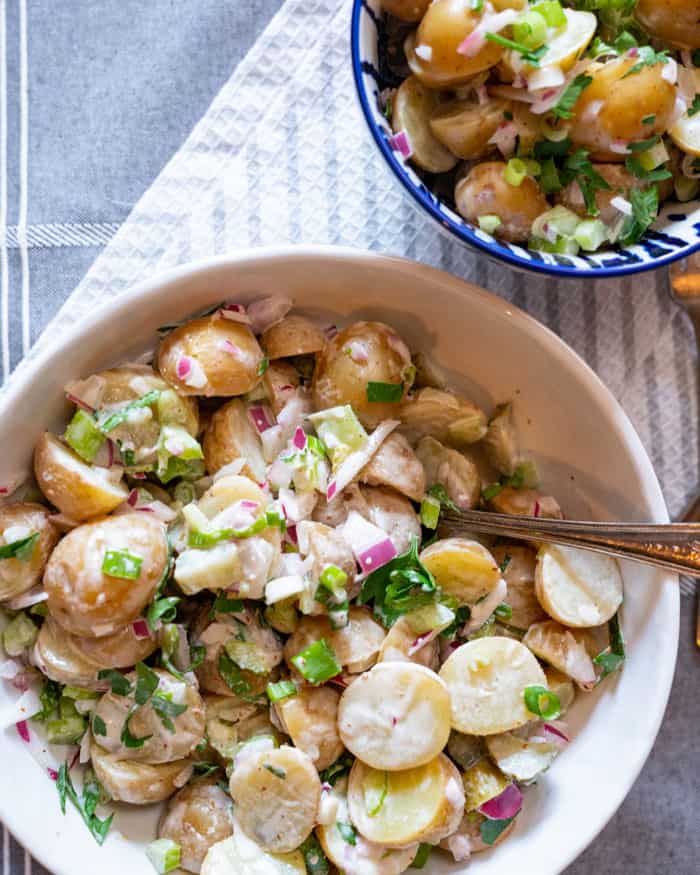 Related Recipe: Vegan Watermelon Feta Mint Salad
About Me: Hello! I'm Candice from The Edgy Veg & I try to veganize popular food for vegans, plant-based diets, eco-conscious eaters & people who are trying to eat more plants over animals or by-products of animals.
Being German there are some staple foods I grew up on. Two of the staple vegan ingredients I've eaten for most of my life are potatoes and pickles. Now, if you add this with onions, mayo, and other seasonings, you have a perfect side dish that can be enjoyed anywhere, from Germany to Canada (where I live now), to wherever you are.
Related Recipe: The Level Up: Vegan Burgers
If you want to view or print the recipe card, just scroll down for the full list of ingredients & simple instructions on how to make this creamy vegan Potato Salad recipe.
How To Make: Vegan Potato Salad
INGREDIENTS FOR VEGAN POTATO SALAD RECIPE
INSTRUCTIONS FOR VEGAN POTATO SALAD RECIPE
To prepare this vegan potato salad, begin by boiling your potatoes until fork tender (see notes below). Then allow them to cool down. Cut them in half, or into smaller bite-sized portions.
In a large mixing bowl whisk together vegan mayo, apple cider vinegar, mustard, pickle juice, salt, and pepper to create the dressing. Add cooled potatoes, red onion, celery, dill pickles, green onions and parsley (saving some for garnish) to the dressing, and toss to coat. Chill for a minimum of 30 mins, and up to 3 days. Serve chilled sprinkled with parsley to garnish.
NOTES: The perfectly boiled potato for potato salad is firm, and not overcooked. Place the potatoes in a pot and just cover them with water and a generous amount of salt. Bring potatoes to a boil, and reduce heat to a simmer and continue cooking for 10 mins. Poke the potatoes with a fork, if they are not quite done, cook for another 5 mins, poking them with a fork every minute or so, until perfect. Drain and chill while you prep the rest of the recipe.
If you want more vegan recipes, click here for my newest recipes.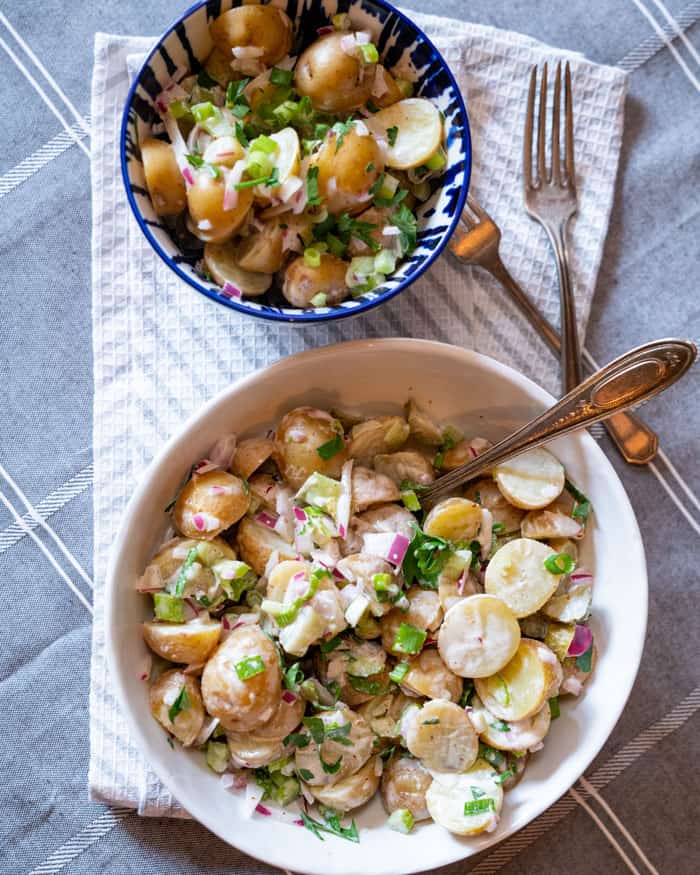 Recipe for Vegan Potato Salad Recipe with Mustard, Vinegar & Dill
Vegan Potato Salad
This classic creamy potato salad is the perfect side at a barbecue to compliment your favorite plant-based burgers and the summer sun.
Instructions
Boil potatoes and allow them to cool. Cut in half.
In a medium mixing bowl whisk together vegan mayo, apple cider vinegar, mustard, pickle juice and season with salt and pepper.
Add red onion, celery, dill pickles and dressing to bowl with potatoes. Toss everything to coat.
Preferably chill at least 30 minutes. Serve cold and sprinkle top with fresh parsley and green onion if desired.
NOTES: To boil the potatoes for the potato salad recipe, you'll need to place the potatoes in a pot and cover them with water (the water should go about an inch above the potatoes). Salt the water generously and bring to a boil. Once boiling, reduce the heat so the water is just simmering and continue cooking for 10 to 15 minutes. After the 10-minute mark, prick the potatoes gently with a fork every minute or so to be sure you're not overcooking them. Once cooked, drain the potatoes and immediately transfer to a large bowl. Cover the bowl with plastic wrap, but leave an edge open to allow heat to escape. Pop the boiled potatoes into the fridge to chill while you make the rest of the creamy potato salad.
___________
___________
You guys must try this Vegan Potato Salad Recipe & let me know what you think! Once you try it, come back and leave me a comment below with your feedback and star rating! If you make this, let me see on social! Tag @edgyveg on your photo & add the hashtag #theedgyveg in your caption so I don't miss it!
For more easy, delicious vegan recipes, check out the links below!