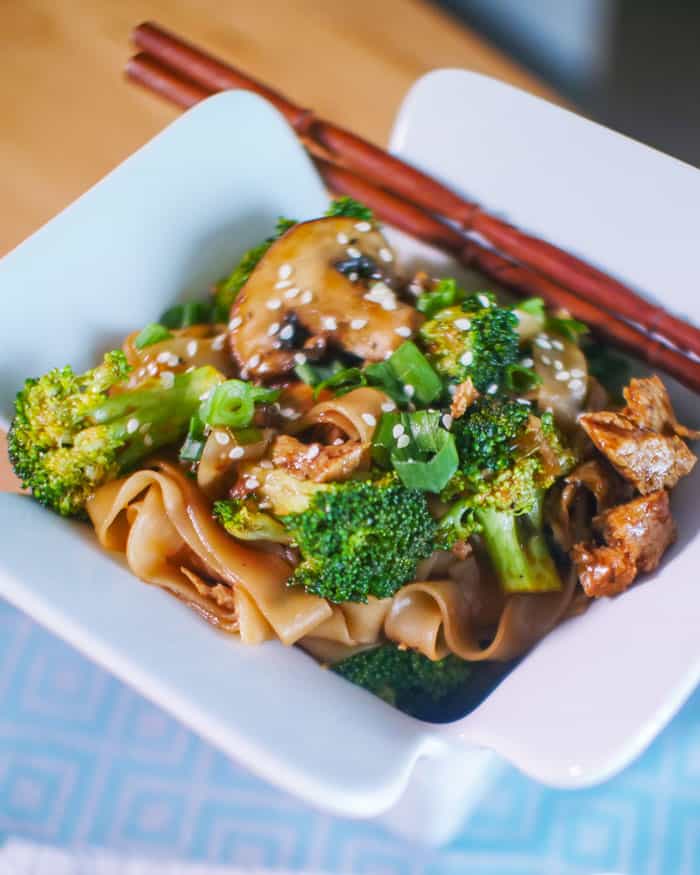 Drunken Noodles That Are Vegan | Thai Recipe (Pad Kee Mao)
This That Drunken Noodle Recipe is an easy vegan Thai recipe that was inspired by Chrissy Teigen's popular Actual Drunken Noodles recipe.  Feel free to view & print my recipe below to make your own Vegan Drunken Noodles for dinner or after a night out! Or watch me on YouTube show you how to make it! ❤️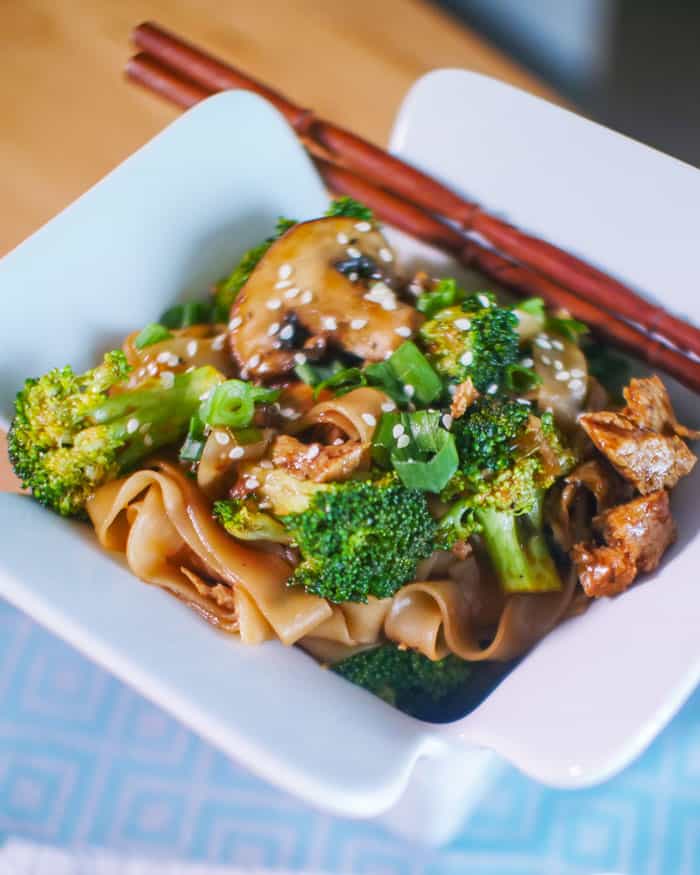 This week on The Edgy Veg, I'm going to show you how to turn Chrissy Teigen's popular Actually Drunken Noodles recipe VEGAN! Chrissy Teigen is one of my favourite humans and her cookbooks are incredibly beautiful. So why not veganize her food? I wanted to see what all the hype was about.
This recipe only needs the following vegan swaps: The eggs, chicken, chicken broth, and the oyster sauce.
For the chicken, I used Tofurky Slow Roasted "Chicken" strips, but you can use any plant-based "Chicken" substitute if want, or even tofu! For the eggs, I swapped with The Vegan Egg for the "scrambled eggs" in the recipe. But again, you can use your favourite scrambled vegan egg substitute, like tofu scramble, The Vegg or Just Egg. When it comes to the chicken broth, I used the not-beef broth cubes, but you can also use any non-meat broth cubes like not-chicken from better than bouillon or vegetable broth cubes. For the oyster sauce, I used vegetarian mushroom oyster sauce that's completely vegan. I found this at my local Asian grocer and it's changed Asian-style cooking for me.
Related Recipe: Pad Thai Carbonara Vegan Recipe
Thai Drunken Noodles or 'Pad Kee Mao' get its name due to the fact that the spicy noodles perfectly accompany an ice cold beer, and make for a great hangover cure. I made these after a night out and it totally helped. This is a very popular dish in Thailand, on the streets of Bangkok, and in Thai restaurants in North America.
How To Make Drunken Noodles VEGAN
Never miss a video by clicking here to Subscribe to my Channel!
If you want to view or print the recipe card, just scroll down for the full list of ingredients and simple instructions on how to make this vegan pad thai carbonara.
This recipe is super tasty and easy to make at home. This vegan drunken noodles recipe is slightly different, however. It's called "drunken" because this recipe actually has alcohol in it! A bit of whiskey for flavor.
Chrissy writes in her book… " The funny thing about drunken noodles is that none of the recipes I've ever found actually have alcohol in them — you are supposed to eat them WHILE drunk as a hangover cure (I am not opposed), but I decided they'd be good actually drunk themselves, so I added whiskey. The noodles are big, flat sponges for the sauce, and there's broccoli for John, plus scrambled eggs and chicken, and you can (should) hit it with some really spicy sh*t. Pepper gave me major side-eye when she caught me developing this Thai-ish recipe without her permission, but she actually ate a whole bowlful. So I win."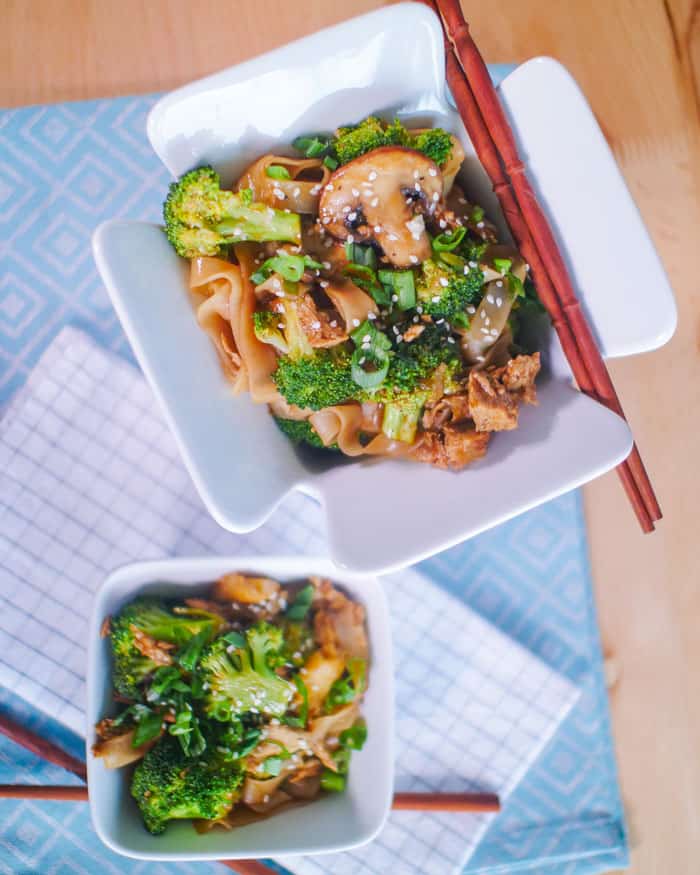 Print This Recipe for Vegan Drunken Noodles
Vegan Thai Drunken Noodles (Pad Kee Mao)
These Thai drunken noodles are a fragrant and spicy noodle dish perfect after a night our, or if you're craving the perfect Bangkok street-food! This vegan version of thai drunken noodles is ready in 15 minutes from start to finish. Simple ingredients but an extraordinary meal.
Instructions
Place light brown sugar, soy sauce, mushroom oyster sauce, whiskey, 4 chopped cloves of garlic, mirin, and chili sauce into a mixing bowl. Whisk together and set aside.
Place the Tofurky vegan chicken strips into a bowl and toss with sesame oil. Set aside.
Prepare your vegan eggs.
Heat pan with oil. Add vegan egg mixture to pan and mix until scrambles. Optional: Add black salt to give your vegan egg a more "egg" smell & taste. Put scrambled vegan eggs into a dish and set aside.
Meanwhile, prepare rice noodles according to package instructions and drain. Set aside.
Reheat the pan over medium high heat, and add Tofurky strips. Sauté for 4 mins until the strips are heated through. Remove from pan and set aside.
Next, fry your vegetables; To a large oiled pan, heat up the remaining 4 cloves of garlic, ginger, and green onions. Stir for 20 seconds.
Add mushrooms, broccoli, and broth of choice. Stir for 2-3 mins.
Add vegan chicken strips, vegan egg, and half of the sauce to the pan.
Mix to combine and bring to boil. Reduce to a simmer.
Add Noodles and the remaining half of the sauce. Mix to combine, until noodles are completely coated.
Serve garnished with green onions.
You guys must try this Vegan Drunken Noodles recipe & let me know what you think! Once you try it, come back and leave me a comment below with your feedback and star rating! If you make this, let me see on social! Tag @edgyveg on your photo & add the hashtag #theedgyveg in your caption so I don't miss it!
Pin this Drunken Noodles Recipe to Pinterest