Vegan Thai Drunken Noodles (Pad Kee Mao)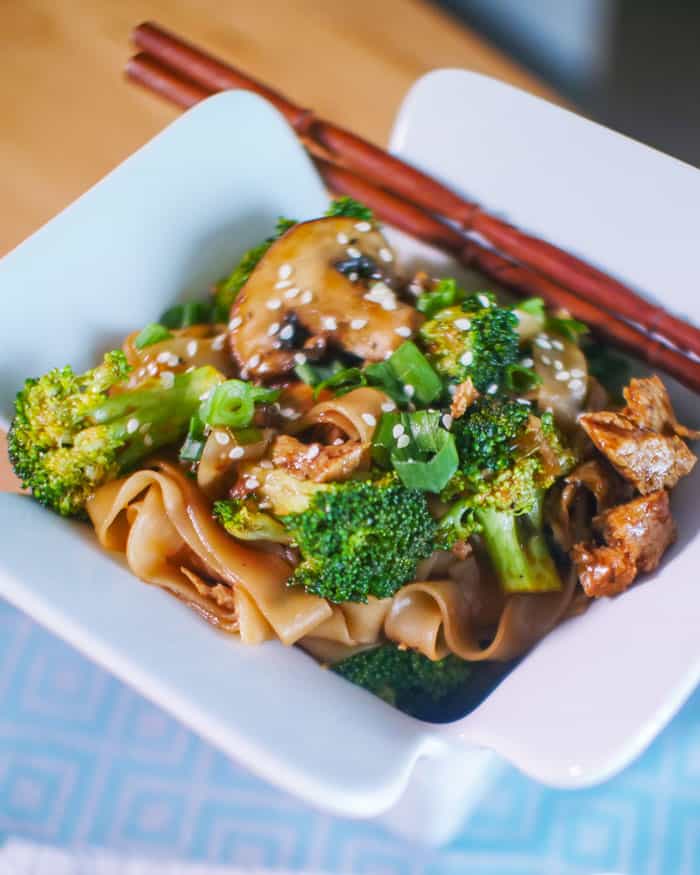 Place light brown sugar, soy sauce, mushroom oyster sauce, whiskey, 4 chopped cloves of garlic, mirin, and chili sauce into a mixing bowl. Whisk together and set aside.
Place the Tofurky vegan chicken strips into a bowl and toss with sesame oil. Set aside.
Prepare your vegan eggs.
Heat pan with oil. Add vegan egg mixture to pan and mix until scrambles. Optional: Add black salt to give your vegan egg a more "egg" smell & taste. Put scrambled vegan eggs into a dish and set aside.
Meanwhile, prepare rice noodles according to package instructions and drain. Set aside.
Reheat the pan over medium high heat, and add Tofurky strips. Sauté for 4 mins until the strips are heated through. Remove from pan and set aside.
Next, fry your vegetables; To a large oiled pan, heat up the remaining 4 cloves of garlic, ginger, and green onions. Stir for 20 seconds.
Add mushrooms, broccoli, and broth of choice. Stir for 2-3 mins.
Add vegan chicken strips, vegan egg, and half of the sauce to the pan.
Mix to combine and bring to boil. Reduce to a simmer.
Add Noodles and the remaining half of the sauce. Mix to combine, until noodles are completely coated.
Serve garnished with green onions.
Recipe by
The Edgy Veg
at https://www.theedgyveg.com/2019/06/05/drunken-noodles-vegan/