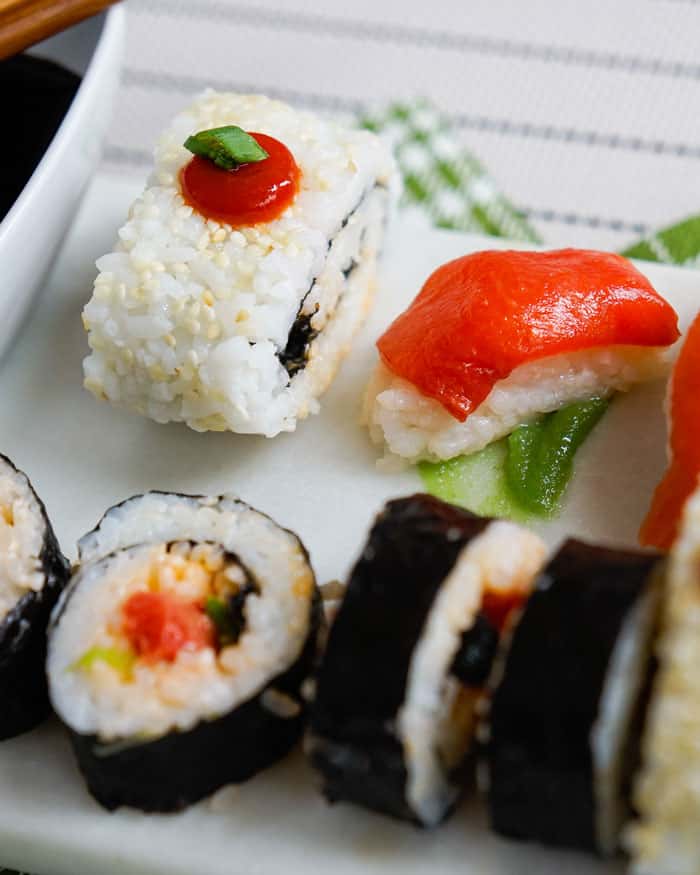 Watermelon Sushi Tuna — Vegan Sushi
Today I made vegan sushi! Specifically, Watermelon Sushi Tuna, which mimics tuna sashimi but using watermelon! After baking, watermelon takes on a soft, fatty, light flavour and texture which makes this unique vegan sushi dish. This surprising sushi ingredient is guaranteed to shock & impress your sushi-lover guests.
Feel free to share & print my recipe below to make your own watermelon sushi tuna! Or you can watch me on YouTube show you how to make it!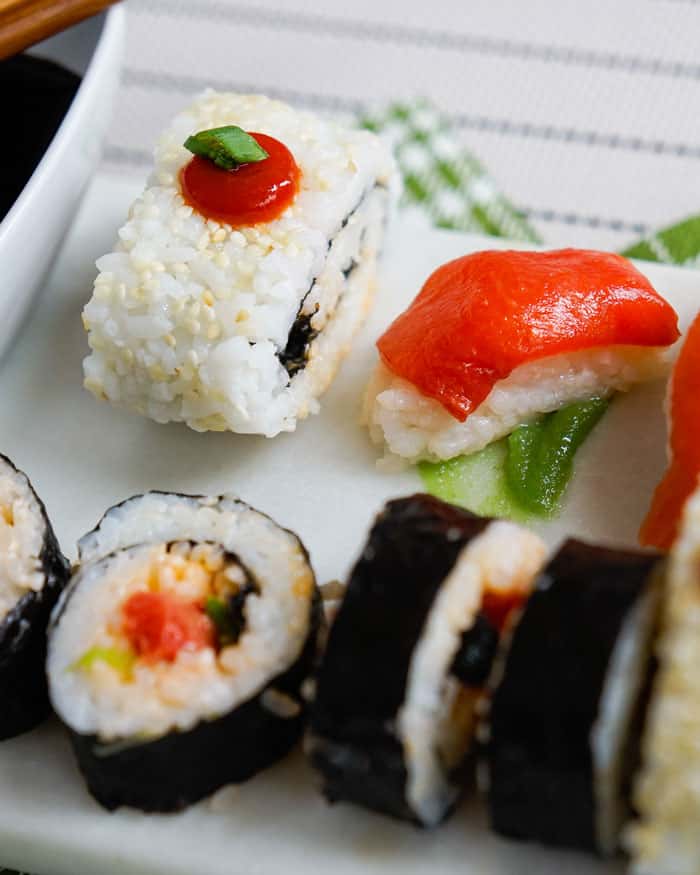 Related Recipe: Spicy Watermelon Tuna Rolls
Hi, I'm Candice & welcome to The Edgy Veg! Where I try to veganize popular food for vegans, plant-based diets & people who are trying to eat more plants over animals. Vegan sushi can be so much more than cucumber and avocado rolls! This watermelon sushi fulfills a whole other craving. The baked watermelon comes out as large steaks of the fruit and can be cut up into any shape to form sushi rolls, nigiri, or even poke bowls.
This recipe is part of my monthly #HACKED series that shows you vegan food hacks & cooking hacks to make life easier for you!
How To Make Watermelon Sushi Tuna
Never miss a video by clicking here to Subscribe to my Channel
If you want to view or print the recipe card, just scroll down for the full list of ingredients & simple instructions on how to make this Watermelon Tuna Sushi recipe.
All you need to make this Watermelon tuna sushi recipe is a pound of watermelon, olive oil, and salt!

Recipe for Watermelon Sushi Tuna
Start by trimming off the skin of the watermelon, down to the pink flesh. Next, turn the watermelon on its side and slice into 1 inch thick disks. Drizzle pieces with olive oil and sprinkle with salt on both sides, then place these on a lined baking sheet. Bake for 2-2 1/12 hours, flipping once halfway through cook time. Watermelon is finished baking when they shrink a little and become soft. Let cool and gently slice with a sharp knife into desired pieces.
To create this "Nigiri Style" Sushi:
Slice watermelon into thin, 3×1 inch rectangles. Form the rice in the palm of your hand by pressing firmly and shaping it into the desired nigiri shape. Fold the watermelon on top. Dip in soy sauce or sauce of your choice.
To go an extra step further, make Spicy Watermelon Tuna Rolls! Check out this blog post here.
If you want more vegan recipes, click here for my newest recipes.

Save/Print/Share This Watermelon Sushi Tuna Recipe
Watermelon Sushi Tuna
Slow baked watermelon seasoned with oil and sea salt to mimic the taste and texture of tuna sashimi. Great for fish-free sushi or poke bowls.
Instructions
Preheat the oven to 180°F.
Cut the skin off of the watermelon.
Slice the watermelon into a rectangular block then slice into one-inch thick slices.
Rub pieces with olive oil.
Sprinkle with salt.
Lay the watermelon out on parchment, or baking mat-lined baking sheet.
Cook the watermelon for 2 to 2½ hours, flipping once, until shrunken and soft.
Once cooked, slice into thin, "fish-like" pieces
___________
___________
You guys must try this Watermelon Sushi Tuna recipe & let me know what you think! Once you try it, come back and leave me a comment below with your feedback and star rating! If you make this, let me see on social! Tag @edgyveg on your photo & add the hashtag #theedgyveg in your caption so I don't miss it!
Pin this Watermelon Sushi Tuna Recipe to Pinterest
For more easy, delicious vegan recipes, check out the links below!
I Tried to Make Tofu Taste Like Chicken
Chrissy Teigen Drunken Noodles