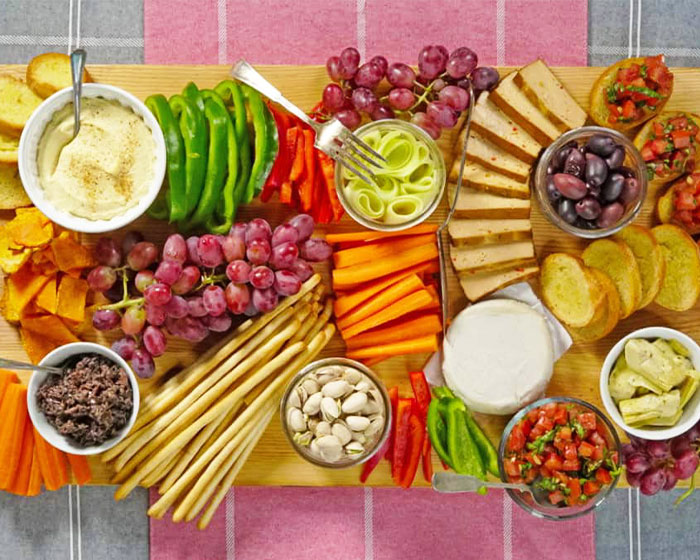 Vegan Grazing Table: How To Make A Vegan Grazing Platter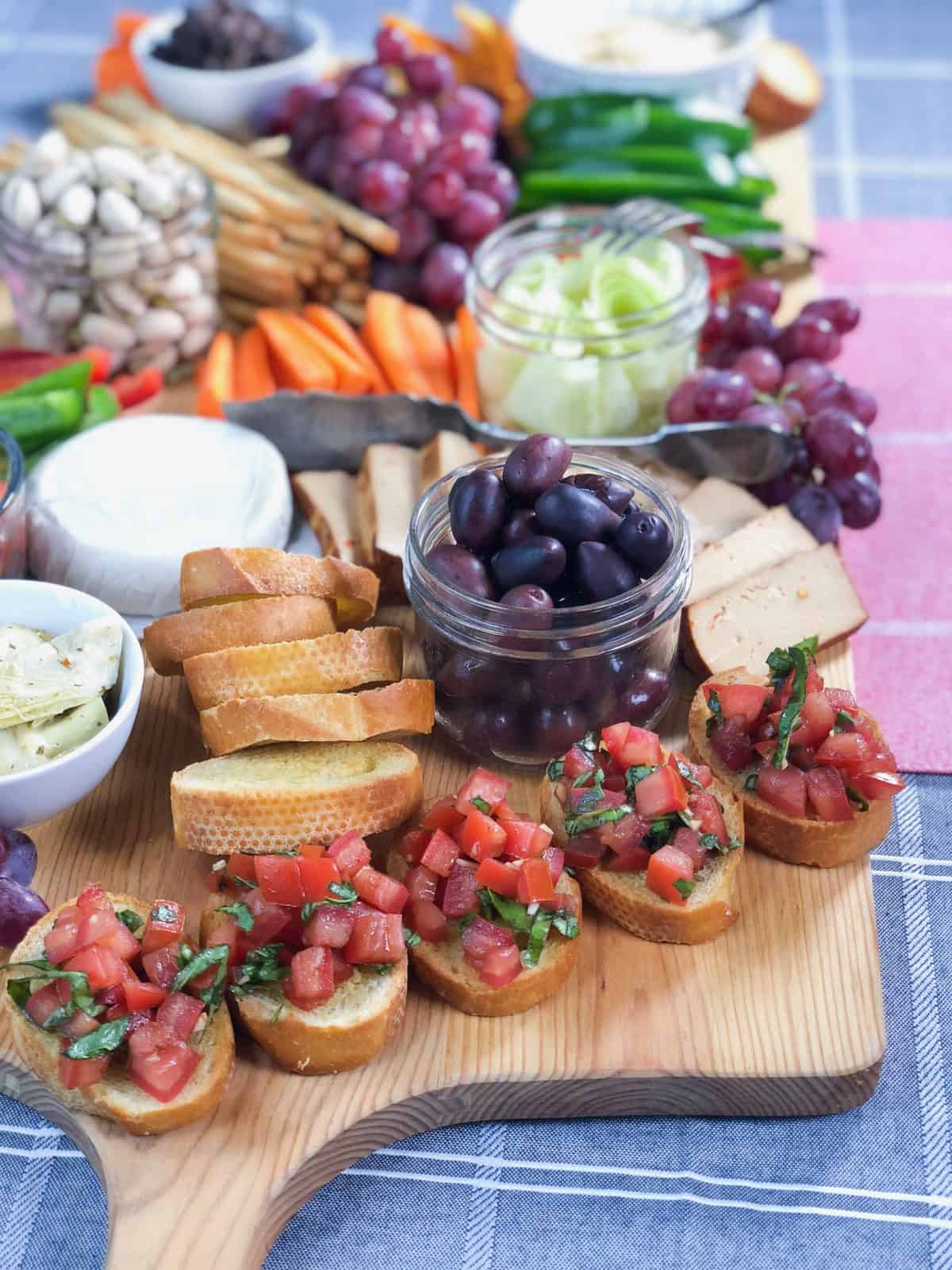 Hosting a holiday party and looking for a vegan grazing table idea or a healthy plant-based grazing platter? I've got your back!!
I'm really enjoying my time relaxing at home with friends chatting over drinks and food for hours. It's truly one of my favourite things to do all year round, but especially during the holiday season.
So I thought I would share one of my favourite ideas on how to create a vegan grazing table, or as some may say, a grazing platter. By following my step-by-step guide, you'll be able to create a colourful & tasty vegan grazing platter at home.
How To Make A Vegan Grazing Table / Grazing Platter
Sitting down and planning your vegan grazing table is very important. It will make budgeting, shopping and making a colourful grazing platter a lot easier for you.
1. Strategize What Food You Want To Serve
So for my holiday party, I decided to make one main dish, one appetizer, and then a beautiful grazing table. When it comes to parties, I find people stand around with their drinks, socializing and nibbling away throughout the evening, so a grazing table is perfect. I find that guests standing while socializing keep the energy up and casual. Formal sit down dinners can often feel, well, formal. Plus, it's hard to mix and mingle with every one at the party when you have your butt glued to a chair.
Therefore, it's important for you to plan out what dishes & finger foods you want to make or buy, and then make a grocery list.
I recommend using ingredients that are consistent throughout the entire meal. This will cut down additional items on your shopping list, and most likely lower cost. Also, the ingredients in your appetizers/mains will tie in nicely with your grazing table. Or whatever ingredients are leftover from your main is then used to fill in your grazing table.
My vegan grazing table inspiration came from traditional charcuterie boards, but want to make sure mine is nice and vibrant with lots of fruits and veggies. As well as a variety of textures and flavour combinations.
2. Choose Recipes To Make
As I mentioned above, I planned to make one main and one appetizer among my grazing table. If you only want a grazing table of finger foods with no recipes, skip this section. But if you want recipe ideas, keep reading.
For my appetizer, I planned a super simple, but delicious, bruschetta. I used tomatoes, basil, vinegar, and a baguette to make a super simple, but crowd-pleasing recipe. You can also make the best vegan pate recipe!
The main will be my delicious butternut squash pasta recipe, which I set on the side of my grazing table. This recipe is delicious, super warming and hearty for the festive season.
For dessert (optional), I went for vegan ice cream, since everyone loves ice cream. This is where I splurged and spent a little bit more of my budget on getting a beautiful vegan ice cream that everyone will enjoy… even if they're not vegan.
When it comes to alcohol, this is where most budgets fall off the edge since alcohol can be expensive. When it comes to a holiday party, most people that are invited to your home will bring a bottle of wine as a hosting gift. Bonus! (At least, I do when I'm invited over). Therefore, your costs can be a lot lower if people bring over their own wine or wine for you that you can share with guests to cut costs on alcohol.
Tip: If you're on a really strict budget, perhaps label your party a BYOB, and only buy alcohol for yourself or as a Plan B for someone who forgot, so that you cut down on cuts for buying enough alcohol for the whole party.
3. Write a Grocery List of Ingredients needed
Is it just me, or does anyone else love writing lists?
Obviously, everyone's grocery list will be different, based on food and ingredient choices. However, it's very time-effective and important to write a grocery list.
So, I thought I would share my grocery list specifically for my vegan grazing table:

Vegan Grazing Table "Charcuterie Board"
If you're looking for vegan Charcuterie Board inspo or how to making a vegan grazing table, here is everything you need to make one!
Ingredients
Artichoke hearts
Olives
Breadsticks
Pistachios
Carrots
Red grapes
Green pepper
Red pepper
Roma tomatoes
Butternut squash
Baguette
Olive tapenade
Smoked tofu
Hummus
Zucchini (pickled)
Vegan cheese wheel
Olive oil
Balsamic vinegar
Instructions
Slices and prepare all the finger foods on a board and serve!
Make your appetizer or sides ahead of time.
Feel free to check out my ideas for vegan appetizers, vegan mains, and vegan desserts on my blog.
4. Create Budget & Go Shopping for Vegan Grazing Table
The fact that we're making a vegan grazing table will save you money since meat and cheese are often expensive and can really rack up the bill.
Tip: Vegan grazing tables can be cheaper than carnivore grazing platters.  So by going for a plant-based grazing table, you're lowering costs and providing a healthy alternative to your body, your guest's health and helping out animals & the environment. It's a win-win situation.
What's your budget for your grazing table? My goal was to spend less than $100 for my vegan grazing table, and that's what I'm going to help you achieve in this blog post.
A few key things to do to ensure you don't go over budget is:
Shop at a more discount or less-expensive grocery store
Check prices for stores online or in flyers to really find the best deals on your ingredients list.
Use the same or similar ingredients throughout the dishes to cut back on my shopping list, and also food waste
Buy loose items or bulk items, so you only buy exactly the amount you need.
5. Prepare Food & Arrange Colorful Vegan Grazing Table
Now it's time to put together our vegan grazing platter.
Basically, grab a big enough platter, cut up & prepare your food nicely, and place your beautiful ingredients in an eye-catching way.
I recommend placing your dips, hummus, and toppings that come in bowls down on the platter first and then create a movement of your veggies, fruits and vegan cheeses around the bowls or containers as seen in the photo above.
Obviously, whatever ingredients you have leftover from your mains and apps, place them in spots that need more filling or colour.
To see step-by-step on how I decorated and put my vegan grazing platter together, watch my video here.
_____
I WOULD LOVE TO HEAR FROM YOU GUYS!
Let me know what you think of my vegan grazing table idea! Your comments really make my day!
Want to see more of my vegan recipes and food inspiration? Then follow me on Facebook, Instagram, or Pinterest!