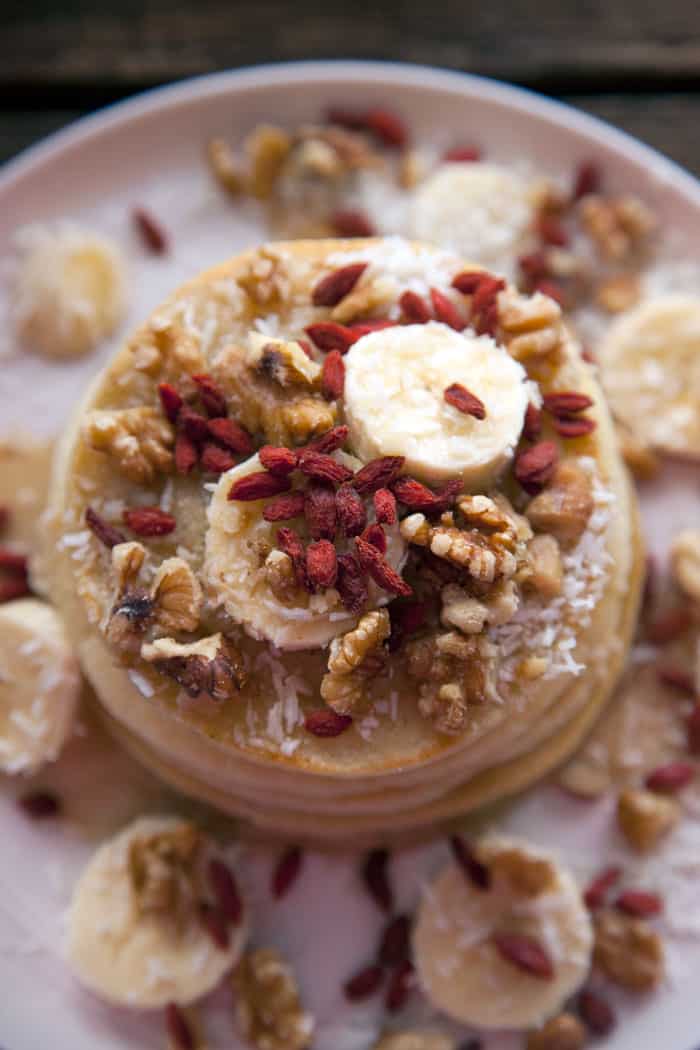 Banana Pancakes | Vegan Recipe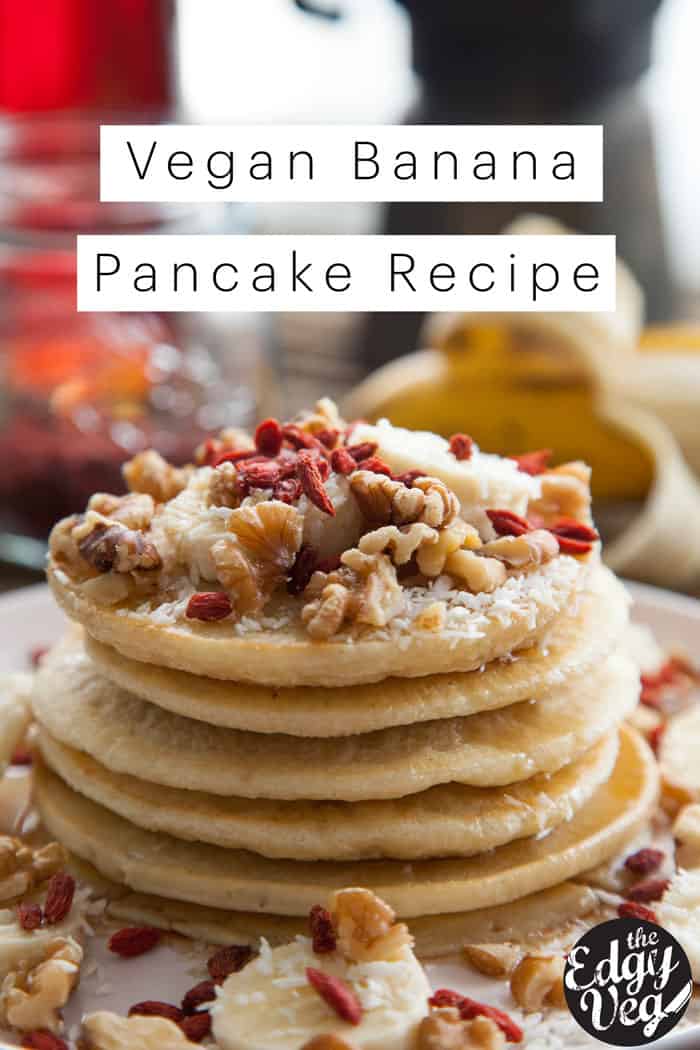 Vegan breakfast was always a struggle for me. As a new vegan, I thought the only breakfast approved by our kind was a smoothie, and those got old pretty darn quick! Now that I have made it my duty to veganize all the things, I have made an oath to myself that I would make breakfast as easy as possible. Thanks to a few no-brainer modifications to the classic banana pancake recipe, you can enjoy what is quite possibly the best variation on the pancake ever. I mean, common–even Jack Johnson wrote a song about them!
Vegan buttermilk play a key role here. I make my own by mixing a cup of Soy or almond milk with a bit of apple cider or white vinegar and mix well. You have to let is sit for 5 to 10 minutes in order for the milk to curdle a bit. It sounds gross- but it's super tasty in these pancakes.
I use a blender to mix up any pancake batter because it's easier, it's faster, and it yields a smooth texture in your batter that is perfect for frying. It's all about efficiency! If you are looking for an overwhelmingly strong banana flavor I recommend adding the banana into the blender in order to incorporate them right into the batter. But if you're like me, and love random chunks of banana in each bite— them simply mash them with a fork on a cutting board or in a bowl and add them to the batter after blending.
The cooking time is going to vary from oven to oven so just use your best judgment here. Some like them crispier than others, so I am not going to tell you one way is right over another- this is your meal afterall! I love to plate these guys garnished with shaved coconut, sliced bananas and Goji berries, but you could even go so far as to top it with strawberries, mango or anything else your heart desires. The sky is the limit with this recipe for banana pancakes so don't hold back. Enjoy!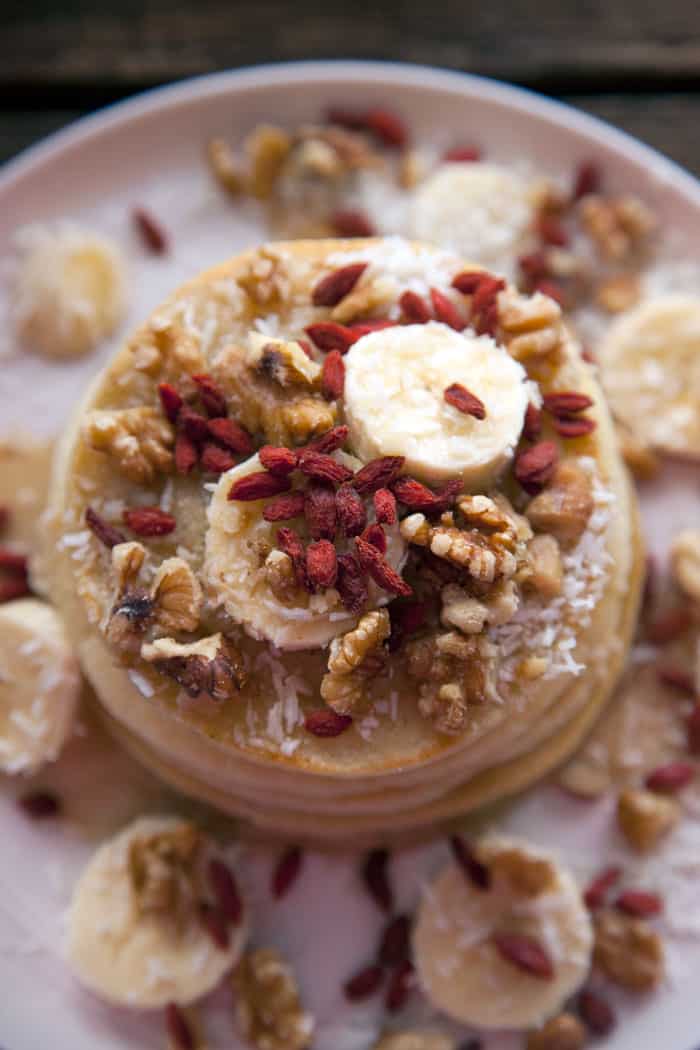 The Best Banana Pancakes | Vegan Recipe
These banana pancakes are an awesome recipe for a quick and easy vegan brunch or breakfast. I think they may be the best ever!
Instructions
Combine your flour, baking powder and salt in a bowl and whisk to remove any clumps.
In a large glass or small bowl add your non-dairy milk with 1 tbsp of vinegar and whisk well. This will turn your regular soy milk into soy buttermilk!
Allow your buttermilk to sit for about 5-10 minutes, and mash your banana in a bowl or on a cutting board.
Add all your ingredients except the mashed banana to your flour mixture, or add them all to a blender, and mix until smooth.
Add the mixture to a bowl with your mashed banana and mix until well combined.
Turn your griddle to medium heat.
When your griddle is hot, grease with a tbsp of coconut oil and spoon your batter onto your cooking surface. Flip your pancakes carefully when you see that the bubbles have stopped opening and closing.
Continue to cook until the other side of your pancake is cooked, and remove from heat.
Serve with coconut flakes, sliced bananas and maple syrup.
Notes
TIP: If you want chunks of banana, follow the instructions posted. If you want a banana flavour throughout, add the banana to your blender with the rest of the ingredients and blend to combine.