Vegan Spaghetti and Meatballs | Vegan Meatball Recipe
I get asked so often how I keep coming up with fun and exciting vegan dinner ideas. Honestly, it's pretty darn easy! All I do is ask James what he feels like eating (vegan or otherwise) or ask myself the same question, and then veganize that dish!
That is how this Spaghetti and Meatless meatball recipe came to live as an easy go-to. This recipe features a super versatile vegan meatball recipe that can be used in spaghetti, or tossed in yummy sweet and sour as a passable and fancy Hors d'oeuvre. This meatball recipe is comprised of only the healthiest and most vegan friendly ingredients, and any true cooking vegan will most likely have most of these ingredients on hand!
The meatless meatballs are made using potatoes, brown rice, oats, mushrooms, onions, and of course some spices. This is also made entirely in a food processor, –with the exception of baking your meatballs obviously, keeping things quick and simple.
When you have your meatball mixture ready to go, I recommend coating your hands in olive oil to keep the meatball mixture from sticking to them as you roll out your balls. While those are baking those perfect balls, get your spaghetti and your sauce together. Use your choice of noodles for this spaghetti and meatballs recipe. Cook those following the ingredients on the package. For your sauce you can use any sauce you think is a good fit for the spaghetti and meatballs—but I have shared my favourite recipe for homemade marinara, worthy for any Italian Nona.
Plate your pasta, place several meatballs on the spaghetti and cover them with sauce. If you feel like getting fancy add a bit of fresh basil to the top. That completes this spaghetti and meatballs recipe, thank you for tuning in and don't forget that sharing is caring. Invite some friends over to enjoy this meal with you.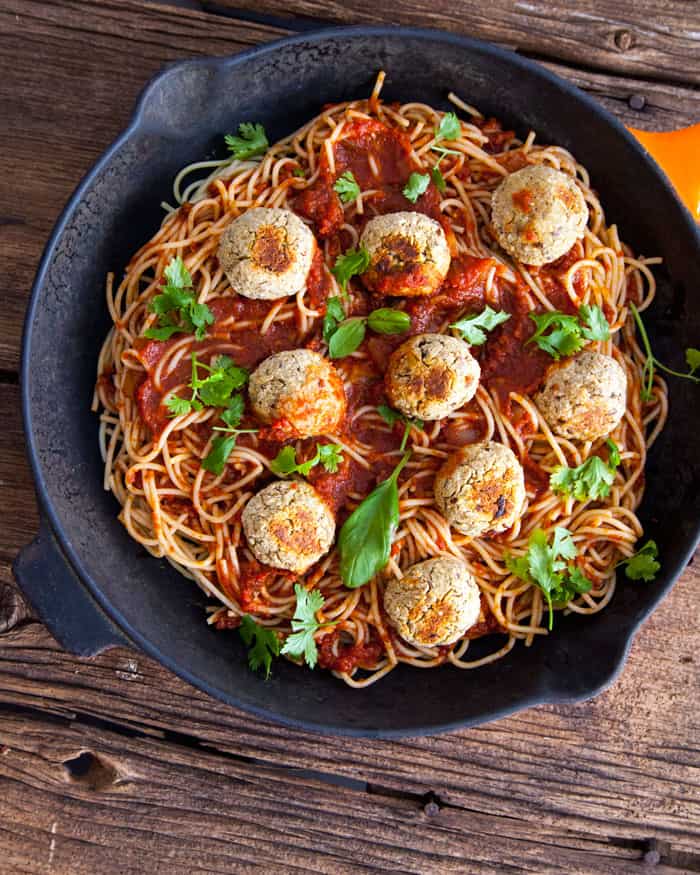 Vegan Meatball Recipe
Vegans can also enjoy the sinfully delicious flavors of Spaghetti and Meatballs. This easy meatless meatball recipe is made primarily from only the healthiest and most vegan friendly ingredients.
Instructions
preheat oven to 350F.
Heat 1 tbsp coconut oil over medium-high heat and cook onions until translucent.
Add mushrooms and cook until browned, roughly 15 mins.
In a food processor, process tofu until crumbled.
Add all remaining ingredients (including cooked mushrooms and onions) to the food processor and pulse until well combined. Remove and place into a bowl, mix again with hands until well combined.
using wet or oil-covered hands, form mixture into balls the size of a golf ball, then place on a parchment paper-lined baking sheet
Bake at 350F for 20 minutes on each side.
Notes
Serve metballs with tomato sauce with spaghetti, gravy, or a sweet-and-sour sauce.
These meatless meatballs are perfect for freezing and enjoying when you need a quick dinner idea.
Vegan Spaghetti and Meatballs | Vegan Meatball Recipe
Enjoy the sinfully delicious flavours of Spaghetti and Vegan Meatballs. This traditionally italian dish is now a easy and delicious vegan masterpiece perfect for a quick dinner after work.
Instructions
While you are preparing your sauce, place meatless meatless into the oven to cook.
Marinara Sauce
In a food processor place tomatoes, tomato paste, chopped parsley, garlic, oregano, salt, and pepper. Blend until smooth.
In a large pan over medium heat, sauté the finely chopped onion in olive oil for 2 minutes. Add the blended tomato sauce.
Simmer for 40 minutes, stirring occasionally.
When your sauce and meatless meatballs are about 20 minutes away from being ready, bring a large pot of hot water to a boil. and prepare you spaghetti according to the given instructions on the box.
When all three elements are ready, build your delicious vegan Italian dish and enjoy.