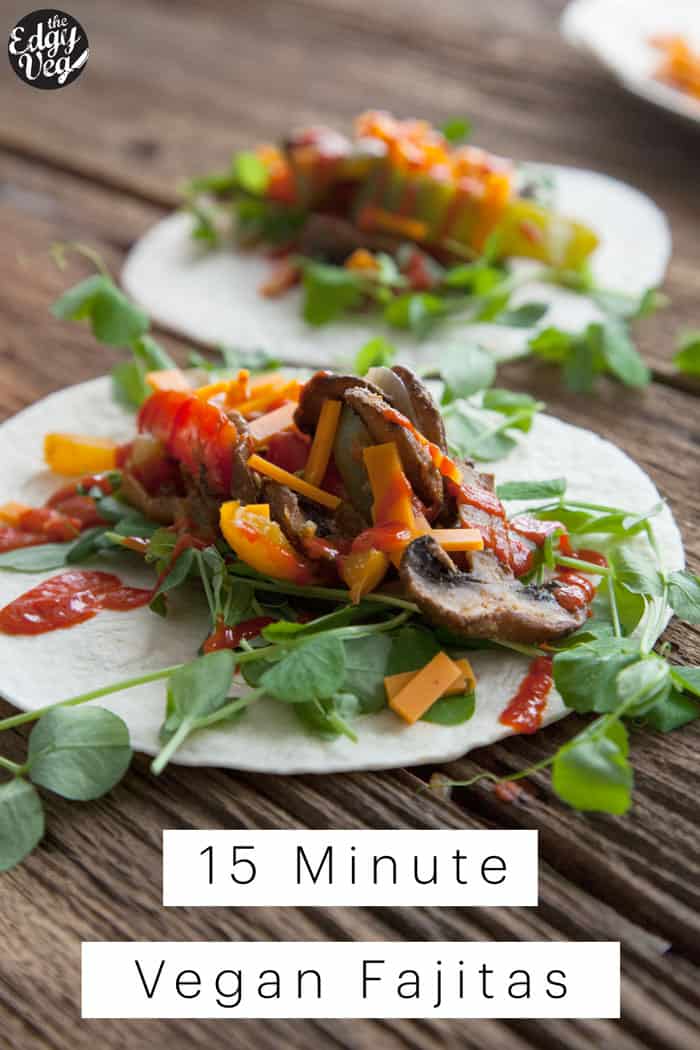 Realistically dinner after a long day at work should not take more than 15 minutes. Fast and easy dinners do not always mean less flavor, or creativity though- this is a common misconception that I absolutely despise! Quick and easy can be vibrant, abundant and knick your socks off yummy! One of my favourite go-to dinner recipes that James goes bananas for is mushroom fajitas.
This scrumptious fajita recipe is not only great tasting but actually takes only 15 minutes or less to make to make start to finish (unless you're a slow veggie chopper).
Fajitas have long been known throughout the world as a stellar food, perfect for sharing with guests, and generally fast and easy to put together. Instead of using chicken, or beef, or even pork for my fajitas, I use mushrooms- meaty meaty mushrooms. Due to the complex flavors and overall meaty texture of mushrooms they are a perfect choice when looking for a meat substitute for just about any dish. Did you know–Some non-vegans even bolster their meat with ground mushrooms to cut back on fat and add some new elements of flavor. Mushrooms= love.
Easy Vegan Fajitas- Dinner Under 15 Minutes
This scrumptious vegan fajita recipe is not only great tasting but actually takes only 15 minutes or less to make to make start to finish. It is easily the best vegan fajita recipe ever!
Ingredients
3-4 cups mushrooms, sliced
1 large green pepper, sliced
2 large red peppers, sliced
1 large orange or yellow pepper, sliced
1 medium onion, sliced
1 clove garlic, finely chopped
1 Tbsp ground cumin
1 Tbsp chili powder + more to taste
1 tsp black pepper
½ tsp salt
½ tsp cayenne pepper
4 cups of your favourite green, I like to use pea shoots or finely sliced boston lettuce
Your favourite vegan cheese shreddedor graded
coconut oil for frying
Garnish:
Lime
Instructions
Heat a very large skillet over medium-high heat.
Once hot add about a tablespoon of coconut oil to the large skillet, add the garlic, onion and mushrooms and cook until the mushrooms are slightly browned.
Season generously with salt, cumin and chili powder and toss in your peppers.
Cook until all vegetables are softened, stirring often. Add in your cayenne and black pepper to taste and mix.
Warm tortillas in the microwave or oven.
Serve tortillas with greens, topped with mushroom pepper medley, vegan cheese, and a drizzle of sriracha, and any other toppings you desire such as salsa, guacamole or even vegan sour cream.