The Best Banana Pancakes | Vegan Recipe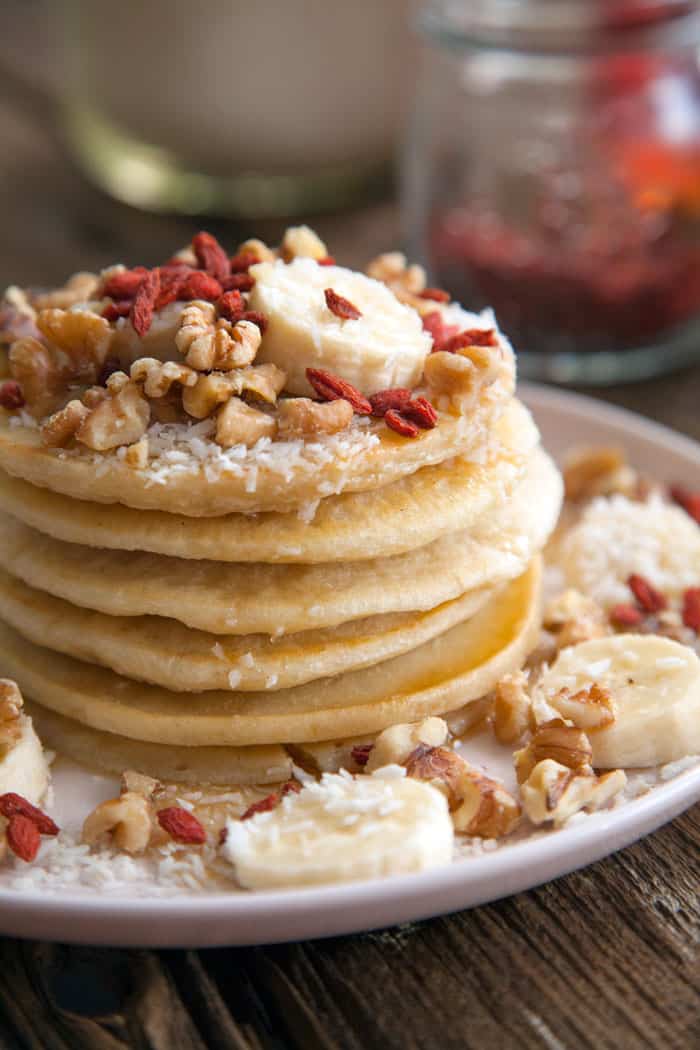 Combine your flour, baking powder and salt in a bowl and whisk to remove any clumps.
In a large glass or small bowl add your non-dairy milk with 1 tbsp of vinegar and whisk well. This will turn your regular soy milk into soy buttermilk!
Allow your buttermilk to sit for about 5-10 minutes, and mash your banana in a bowl or on a cutting board.
Add all your ingredients except the mashed banana to your flour mixture, or add them all to a blender, and mix until smooth.
Add the mixture to a bowl with your mashed banana and mix until well combined.
Turn your griddle to medium heat.
When your griddle is hot, grease with a tbsp of coconut oil and spoon your batter onto your cooking surface. Flip your pancakes carefully when you see that the bubbles have stopped opening and closing.
Continue to cook until the other side of your pancake is cooked, and remove from heat.
Serve with coconut flakes, sliced bananas and maple syrup.
TIP: If you want chunks of banana, follow the instructions posted. If you want a banana flavour throughout, add the banana to your blender with the rest of the ingredients and blend to combine.
Recipe by
The Edgy Veg
at https://www.theedgyveg.com/2016/04/18/banana-pancakes-vegan-recipe/