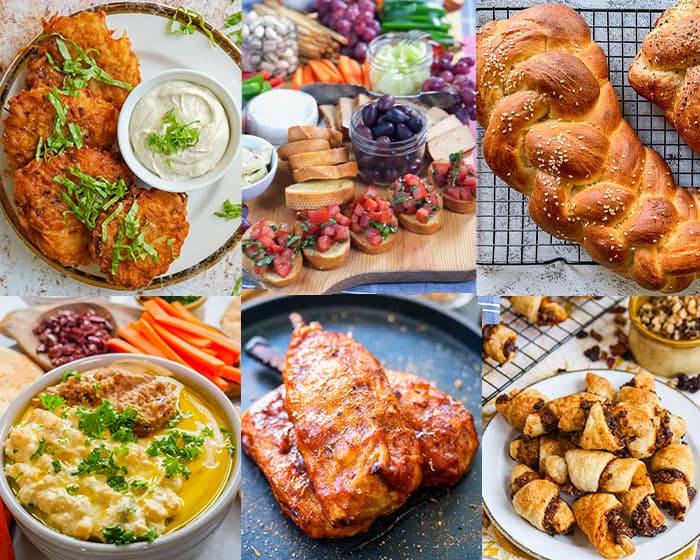 Finding vegan Hanukkah recipes can be challenging… especially when celebrating the holiday around non-vegans.
Whether you're vegan or looking for egg-free, dairy-free or gluten-free Hanukkah recipes, serving these vegan Hanukkah recipes will please everyone & make your Bubbe proud.
VEGAN HANUKKAH RECIPES
My goal with making vegan Hanukkah recipes is for everyone at the table to enjoy (and when a non-vegan goes "this is vegan?!", it's usually a sign that my vegan recipe was delicious!)
Here is a list of all my vegan Hanukkah mains, appetizers, and desserts to make your holidays dairy-free, egg-free, and perfect for any family members with allergies to animal products as well! Enjoy!
This vegan latkes recipe uses the liquid from a can of chickpeas along with flour and baking powder. These crispy fried latkes will taste just like the original recipe, but egg-free. My preference is dipping latkes in apple sauce, comment below if you're team sour cream or team apple sauce. Get the recipe here!
This traditional bread is served at Jewish ceremonial occasions such as Shabbat and other holidays. It is shared and enjoyed by many people worldwide. Typically, the bread is made with eggs and honey. In my vegan challah recipe, we use aquafaba and white sugar to recreate the texture and sweetness of traditional Israeli water challah bread! Get the recipe here!
Even with the array of dishes you'll want to prepare for a grand Hanukkah dinner, the hummus should not be something you take the easy route on. Make it the day before or send the recipe to one of the guests to ensure the creamiest hummus makes its way to your meal. Get the recipe here!
While challah is the best bread you could dream of for any Jewish holiday, it is a bit tricky and time-consuming. For an easier bread to serve at your meal, make this simple, no-knead bread the night before and serve it freshly-baked to impress the family without learning to braid any dough. Get the recipe here!
A classic addition to any elegant party snacks or morning-after brunch, bagels and lox are good at any time of day. Make-ahead to make preparation easy and see if your relatives can tell that this plate of lox has a vegan secret. Get the recipe here!
Whether you're making a traditional Rugelach recipe and need to add vegan cream cheese to your dough, or you're making Vegan Lox for the next morning, this vegan cream cheese is a perfect make-ahead ingredient to keep in the fridge for the holidays. Get the recipe here!
This warm salad pairs well with classic Hanukkah dishes, as well as sneaking in some much-needed nutrients to keep your energy up from dinner to dreidle games. It's hearty and warm with subtle fall-winter flavours. Get the recipe here!
This is my guide to building the ultimate vegan grazing table. Think: charcuterie but bigger. You can add absolutely anything to a grazing table, making it easy to adjust to your dietary restrictions and accessibility to ingredients. Find it here!
In this recipe, I show you how to make easy matzah balls for matzah ball soup using all vegan ingredients in my vegan matzah ball soup recipe. This recipe was created from the heart. I hope you enjoy it during your vegan Hanukkah, and other vegan holidays you celebrate. Vegan Hanukkah has never been this easy! Get the recipe here!
Turn this realistic vegan chicken drumstick recipe into a Vegan roasted chicken by swapping out the seasonings here for classic roast chicken seasonings like fresh or dried herbs, fennel, citrus or anything you like. Without the breading stage, these are both roasted chicken alternatives and gluten-free! Get the recipe here!
I discovered how to make an easy vegan roast that's quick & tasty! I wanted to make it easy for you to make a vegan roast for the holidays, so I'm going to show you how to take a $5 store-bought vegan roast (like tofurkey) and take it to the next level by roasting it with veggies and basted seasoning! Get the recipe here!
This is an easy Vegan Rugelach recipe with no cream cheese in 30 mins using puff pastry that's rolled into a crescent shape around a filling! Instead of making a cream cheese dough by hand (which takes so much longer), I wanted to show you a way to make an easy & accessible recipe for vegan rugelach that anyone can make at home with ease!  Get the recipe here!

Vegan Hanukkah Recipes
Whether you're looking for vegan Hanukkah recipes or just egg-free or dairy-free Hanukkah recipes, you'll love these vegan Hanukkah recipes! Whether you want vegan Hanukkah recipes for appetizers, mains or desserts, finding the great vegan Hanukkah recipes can be a challenge for vegans... especially when celebrating the holidays around non-vegans! I wanted to make it easier for you by sharing my vegan recipes that would be great for your Hanukkah celebrations!
Instructions
Plan what vegan Hanukkah recipes you want to make.
Gather all your ingredients.
Choose recipes you can make ahead of time
Enjoy your Hanukkah with delicious vegan food!
Hanukkah Sameach to all my Jewish readers!
May your home fill up with the lights of the Menorah.
What traditional dishes are you whipping up in the kitchen this week?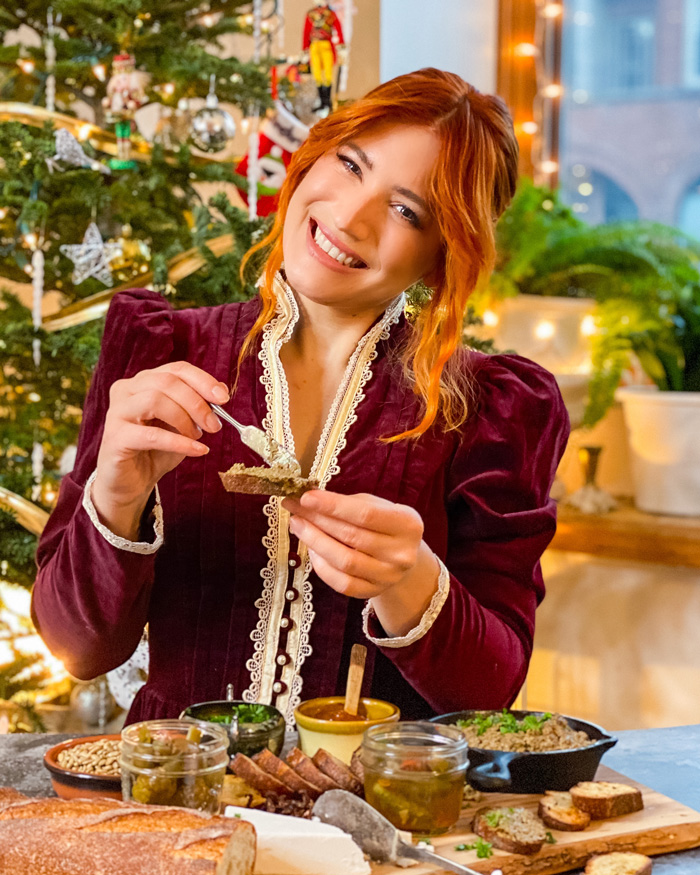 ---
Hey I'm Candice aka The Edgy Veg – I veganize popular food recipes for vegans, plant-based diets, eco-conscious eaters & people who are trying to eat more plants over… y'know animals or their by-products. I hope you enjoy this tasty vegan recipe!
---
Looking For More Vegan Recipes?
Made this recipe? Let me know what you think by leaving a ★★★★★ star rating & comment below. It truly helps me & I really appreciate any support! Feel free to share your food photos on social and tag me @edgyveg so I don't miss it!