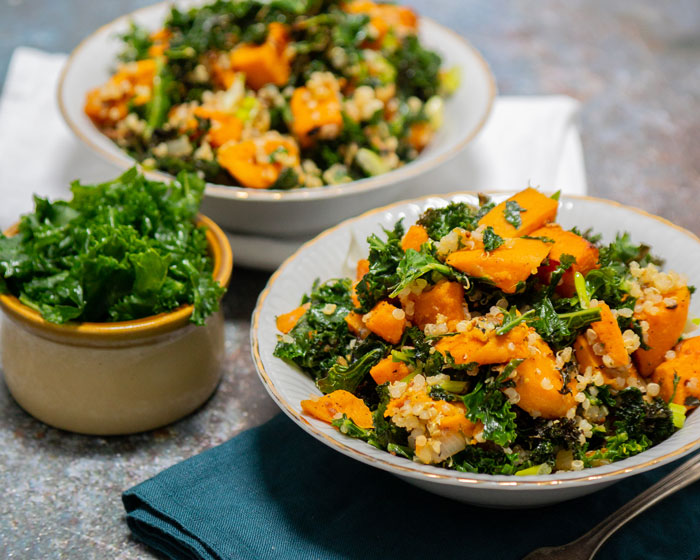 Kale Sweet Potato Quinoa Salad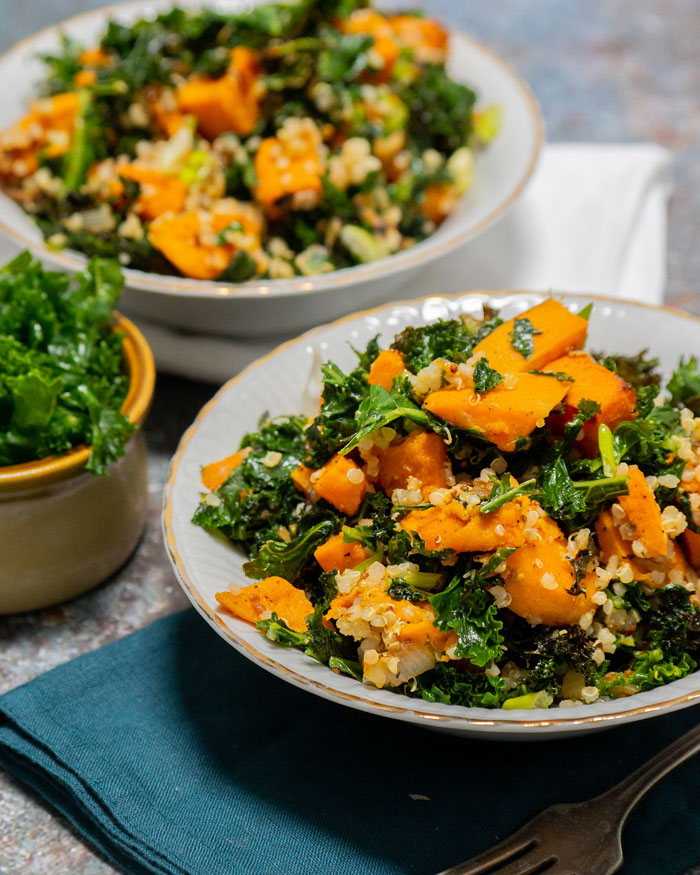 If you love the idea of eating a quick and easy kale sweet potato quinoa salad, you'll love this healthy vegan salad!
With 10 simple ingredients (and salt & pepper), this quinoa salad with sweet potato, kale and a homemade dijon dressing is perfect for lunch, a healthy side for dinner and perfect for meal prep!
Related Recipe: Sweet Potato Burgers
It's no secret that I'm not your classic salad-loving vegan. I definitely indulge in burgers, fries and ice cream regularly, life is about enjoying the things you love, and I take full advantage of vegan comfort foods. When my body tells me it wants extra veggies, I intuitively know to give myself extra hearty greens and other whole foods. This warm salad is the perfect way for me to feed my body greens and other hearty nutrients without forcing myself to eat something I'm not craving. This fills me right up!
Kale Sweet Potato Quinoa Salad
VEGAN | DAIRY-FREE | NUT-FREE
Today I'm sharing a colourful and nutritious vegan quinoa salad recipe with you. This salad recipe uses simple ingredients, like roasted sweet potato and kale, to create a flavourful and hearty salad.
INGREDIENTS FOR KALE SWEET POTATO QUINOA SALAD:
KITCHEN EQUIPMENT I USED:
Kale Sweet Potato Quinoa Salad
This kale sweet potato quinoa salad with roasted sweet potato, kale and a homemade dijon dressing is perfect for lunch, a healthy side for dinner and perfect for meal prep!
Instructions
Preheat oven to 425F & line a baking sheet.
In a large bowl, massage kale with oil and a pinch of salt set aside.
In a second medium-large bowl sweet potatoes with onion, garlic, cumin, 1 tbsp oil, salt and pepper until well coated.
Transfer the sweet potato to the lined baking sheet, be sure not to crowd them. Bake for 15 mins.
After 15 mins add the kale to the sheet and bake until the kale is crispy, and the sweet potatoes are golden brown and tender; about 5 mins.
Meanwhile, in a small bowl whisk together mustard, vinegar and maple syrup until combined. Set aside.
To a large bowl, add the quinoa, roasted kale and potatoes, and gently toss.
Drizzle with mustard mixture, and gently toss again.
Serve hot or cold.
Nutrition Information
Serving size:
1 serving
Calories:
216
Fat:
8.75g
Carbohydrates:
23.8g
Sugar:
10.1g
Fiber:
7g
Protein:
5.75g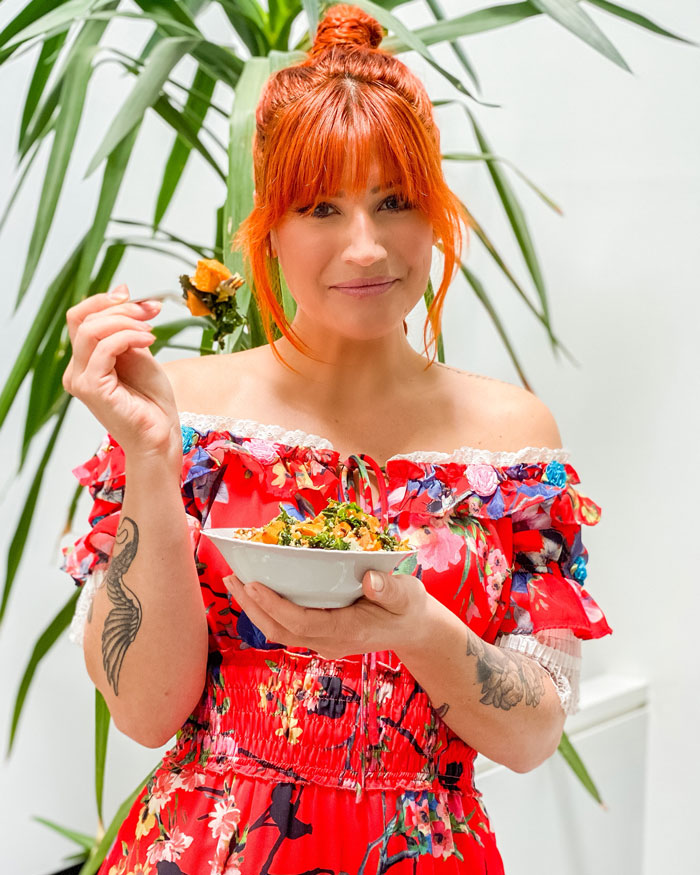 ___________
Hi! I'm Candice aka The Edgy Veg! I veganize popular food recipes for vegans, plant-based diets, eco-conscious eaters & people who are trying to eat more plants over… y'know animals or by-products of animals. I hope you enjoy this tasty vegan recipe!
Looking For More Vegan Salad Recipes?
Made this recipe? Let me know what you think by leaving a 
 star rating & comment below. It truly helps me & I really appreciate any support! Feel free to share your food photos on social and tag me @edgyveg so I don't miss it!
Share My Recipe on Pinterest!