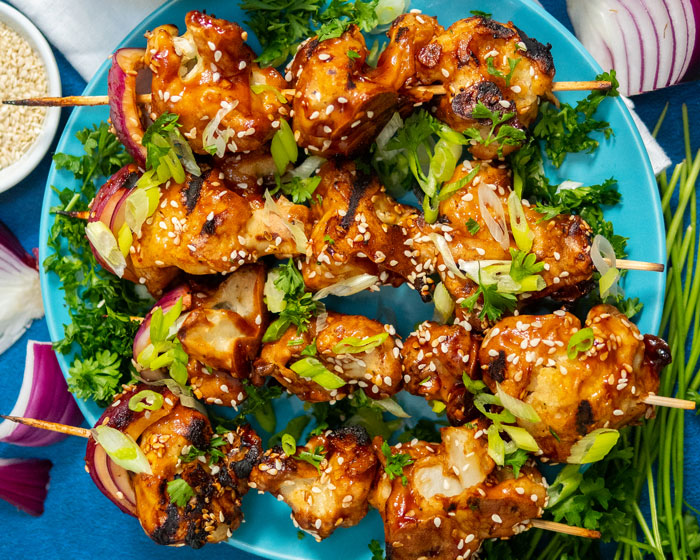 Korean Cauliflower Wings | BBQ Skewers
If you're looking for an easy but unique vegan summer BBQ recipe, this Korean cauliflower wings BBQ skewer recipe is perfect for you!
I'm obsessed with cauliflower, cauliflower wings, bbq and korean-style marinade. So, it was about time I posted the recipe for you to make these delicious vegan BBQ Skewer Korean Cauliflower wings! 
With everyone BBQ-ing this summer, I wanted to provide my readers with more BBQ recipes that we can pre-make and then fry on the BBQ for 5 minutes whether at home with guests or if you're going to someone's BBQ!
Cauliflower is a healthy alternative to a typical saucy snack or bar food. It takes on whatever seasonings and flavours you throw at it and it's so easy to prepare!
By now we all know that cauliflower wings are a hit with vegans and non-vegans alike. These BBQ Korean-styled cauliflower wings are next-level deliciousness.
In today's recipe, I'll show you how to make Korean barbecue inspired cauliflower wings on a skewer. These are easy to prepare, easy to serve and easy to eat whether they're all for you or served up at a backyard patio party.
Related Recipe: Fried Cauliflower Bites
KOREAN CAULIFLOWER WINGS | BBQ SKEWERS
VEGAN | GLUTEN-FREE | MEAT-FREE
This easy twist on the classic cauliflower wings is a fun way to spice up your summer barbeque. Just add a Korean inspired sauce and skewer your oven-roasted cauliflower and veggies for the grill.
You can prepare the cauliflower until the grilling step all ahead of time to bring whenver the party is. All you have to do once prepared is grill and serve!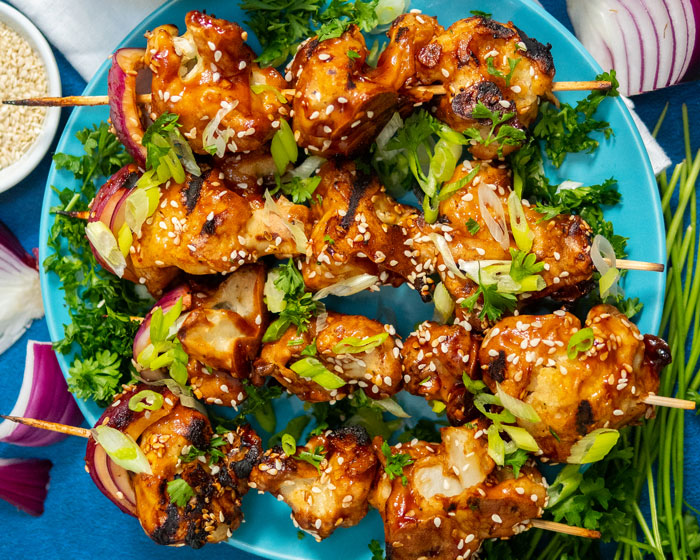 INGREDIENTS FOR KOREAN CAULIFLOWER WINGS:
To Serve:
KITCHEN EQUIPMENT I USED:
Full Recipe Measurements & Instructions are down below!
Korean Cauliflower Wings | BBQ Skewers
I'm obsessed with cauliflower, cauliflower wings, bbq and korean-style marinade. So, it was about time I posted the recipe for you to make these delicious vegan BBQ Skewer Korean Cauliflower wings!
Recipe type:
Appetizer, Side
Instructions
If using wood, soak your skewers in a pan of water.
Line 1-2 baking sheets with parchment paper and preheat oven to 400F.
In a large bowl, whisk together flour, soy milk, salt, onion powder and pepper until smooth. If you find it is too watery, add a tablespoon of flour at a time to thicken. It should be close to a pancake batter consistency.
Add your cauliflower, and toss to coat each floret completely.
Place each floret onto the lined baking sheets, leaving space between each one. This will ensure they crisp up rather than steam.
Place into the oven and bake for 20 minutes or until crispy.
Meanwhile, in a small saucepan, add the BBQ, soy sauce, garlic and vinegar, and bring to just below a boil, stirring constantly. Cook until it thickens slightly and remove from the heat and set aside.
When the cauliflower is crispy remove from the oven, add onion wedges to the pan and allow to cool.
Drizzle with BBQ sauce, and sprinkle with some sesame seeds.
Add 3 florets onto a skewer, and end with an onion wedge
Heat your grill to medium and grease it to prevent sticking.
Cook the cauliflower on the grill for roughly 3-4 minutes each side.
Serve on a plate or platter topped with fresh herbs of choice, green onions and sesame seeds, as well as extra BBQ sauce on the side.
Nutrition Information
Serving size:
1 serving
Calories:
382
Fat:
8.5g
Carbohydrates:
57g
Sugar:
29g
Sodium:
1799.5mg
Fiber:
8.75g
Protein:
13.25g
What goes with Korean BBQ Cauliflower Wing Skewers?
This recipe would be a perfect piece of a full vegan BBQ spread. If you're looking for other dishes to pair with this recipe, I'd recommend some plant-based burgers along with my creamy potato salad, macaroni salad, or vegan mac & cheese!
I'm Candice & welcome to The Edgy Veg! I veganize popular food recipes for vegans, plant-based diets, eco-conscious eaters & people who are trying to eat more plants over… y'know animals or by-products of animals. I hope you enjoy this tasty vegan recipe!
Looking For More Vegan BBQ Recipes?
If you make this recipe, let me know what you think by leaving a 
 star rating & comment below. It truly helps me & I really appreciate any support! Feel free to share your food photos on social and tag me @edgyveg so I don't miss it!