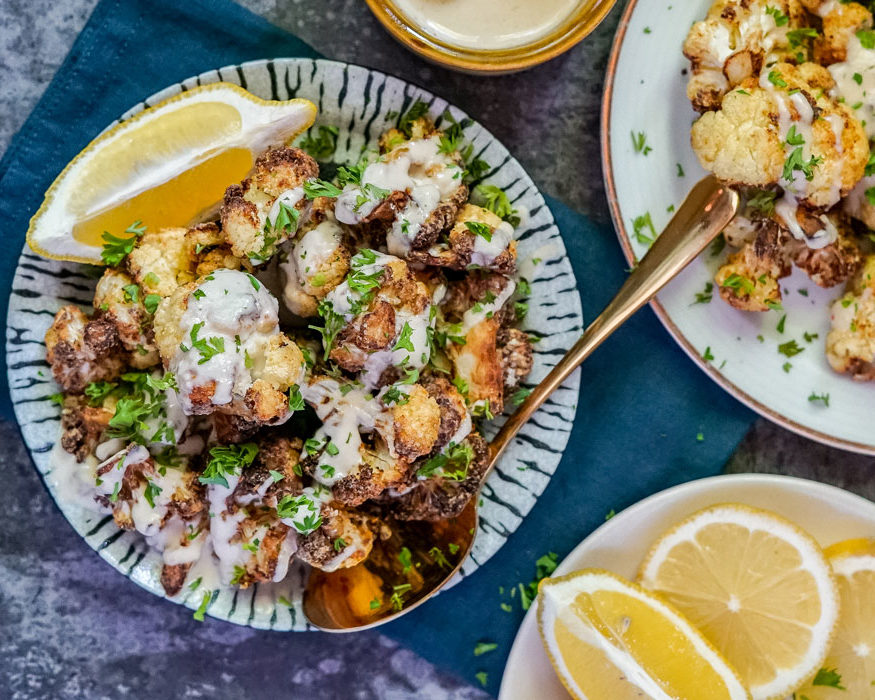 Fried Cauliflower Bites | Lebanese Arnabeet Recipe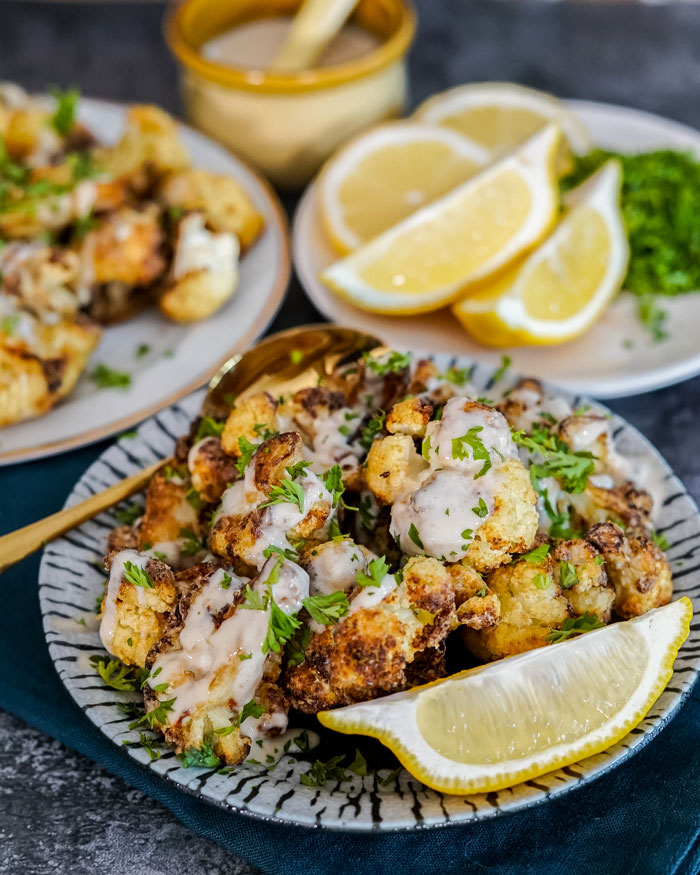 One of my favourite Lebanese restaurants serves a side dish called Arnabeet, which is a fried cauliflower recipe with tahini sauce. These vegan and gluten-free fried cauliflower bites are air-fried and taste just like a dish of Lebanese Arnabeet!
If you're looking for fried cauliflower recipes, you came to the right place.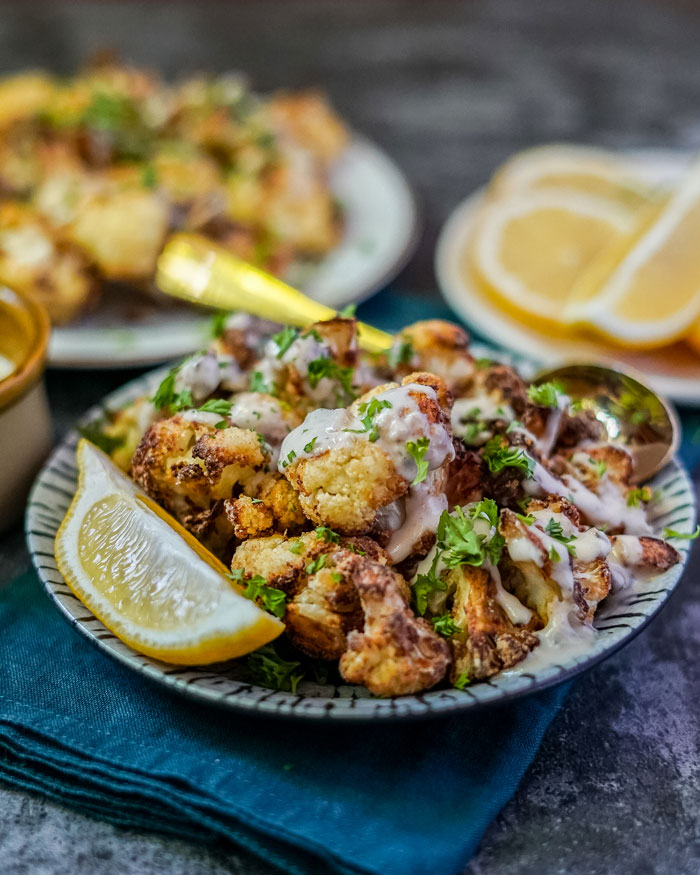 This simple recipe uses only 8 ingredients and is made in under 30 mins. Using a simple seasoning blend and a technique to ensure crispiness, you'll have the flavours of a Lebanese dish in your own kitchen.
Cauliflower is a special vegetable that can be turned into almost anything. Cauliflower is often made into Cauliflower wings, pizza crust, tacos, or served in its more traditional ways, such as in curries or soups, puréed or roasted. It allows so much flavour to be added to it and the texture can be so varied based on the dish.
Related Recipe: Cauliflower Wings with Ranch Dip
FRIED CAULIFLOWER BITES
VEGAN | GLUTEN-FREE
Just as I've done with other healthy but unloved veggies, such as Brussels sprouts, eggplant, and broccoli, I'm going to show you an easy way to love cauliflower and make it taste delicious!
This air-fried cauliflower bites recipe uses simple ingredients that turn a simple vegetable into a crispy, flavorful side dish. It is a healthy and simple way to incorporate nutritious cauliflower into any meal.
Related Recipe: Vegan Tahini Sauce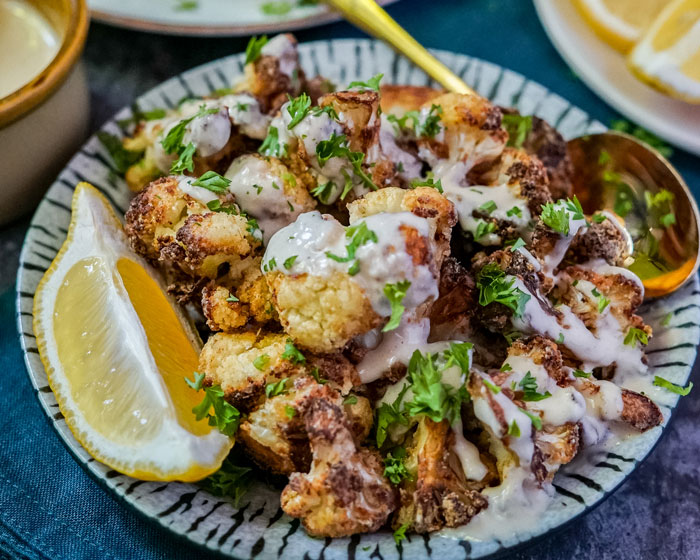 INGREDIENTS FOR FRIED CAULIFLOWER (VEGAN):
KITCHEN EQUIPMENT I USED:
Full Recipe Measurements & Instructions are down below!
HOW TO MAKE FRIEND CAULIFLOWER BITES:
Fried Cauliflower Bites | Lebanese Arnabeet
This #vegan and #gluten-free fried cauliflower bites recipe is air-fried and drizzled with a delicious tahini sauce! It taste just like a dish of Lebanese Arnabeet! This recipe uses simple ingredients that turn a simple vegetable into a crispy, flavorful side dish. It is a healthy, simple way to serve cauliflower as a side to any meal.
Instructions
Place cauliflower into a large bowl.
Drizzle with oil, and sprinkle with starch of choice, cumin, and ¼ tsp salt. Toss to coat completely.
To get fried cauliflower bites, place the cauliflower in the air-fryer at 400F, be sure not to crowd, and air-fry for 20-25 mins, or until they are golden brown and crispy, shaking every 10 mins or so.
If you don't have an air fryer, heat oven to 425, and place cauliflower on a lined baking tray. Bake cauliflower for 15, toss and then bake for another 10 mins. To get them cripsy, turn the oven to broil and with the oven door open, broil for 3 mins, or until you get some charred pieces, tossing once. Again, an airfryer would be the easiest and my preferred method.
Remove caulforlower from the air fryer or oven and sprinkle with salt, a pinch of cumin, parsley, and a drizzle of my tahini sauce. Serve with a lemon wedge and additional tahini sauce on the side.
Nutrition Information
Serving size:
1 serving
Calories:
125
Fat:
8.6g
Carbohydrates:
10g
Sugar:
2.9g
Fiber:
3.5g
Protein:
3.8g
___________
I'm Candice & welcome to The Edgy Veg! I veganize popular food recipes for vegans, plant-based diets, eco-conscious eaters & people who are trying to eat more plants over… y'know animals or by-products of animals. I hope you enjoy this tasty vegan recipe!
Looking For More Vegan Side Dish Recipes?
If you make this recipe, let me know what you think by leaving a 
 star rating & comment below. It truly helps me & I really appreciate any support! Feel free to share your food photos on social and tag me @edgyveg so I don't miss it!
Share My Recipe on Pinterest!