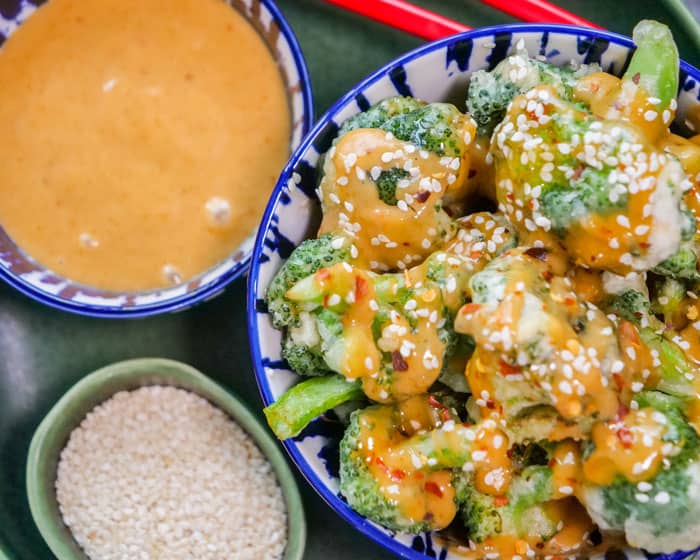 Vegan Bang Bang Broccoli + Sauce Recipe
This vegan Bang Bang Broccoli recipe can be made in 15 mins with super simple ingredients to make the best vegan bang bang sauce for your plant-based tempura broccoli.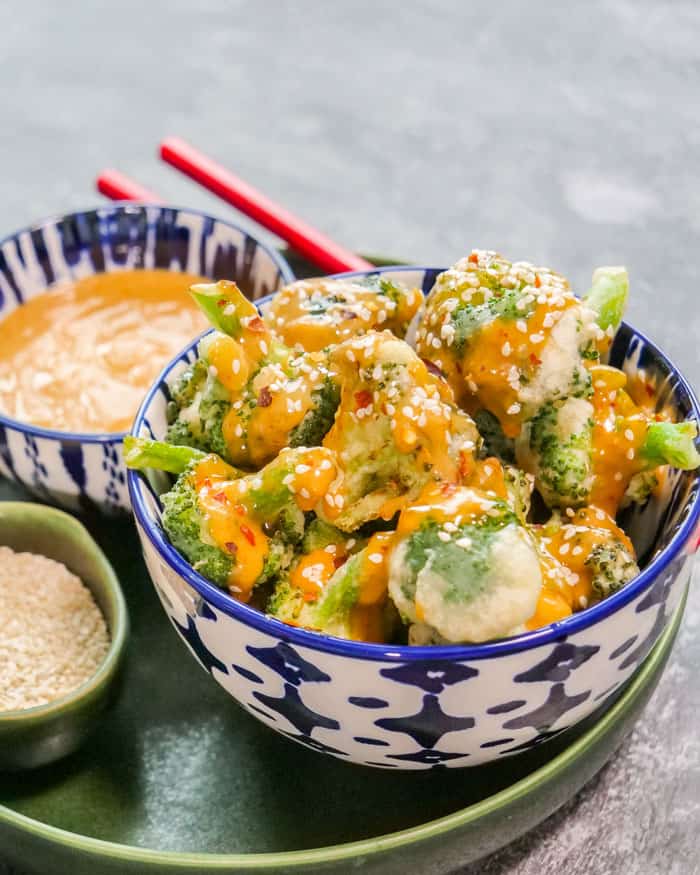 If broccoli isn't your favourite vegetable, but you're looking for a way to spice it up while still eating your greens, I have the perfect way to level up these little trees with one small twist.
Hate it or love it broccoli is a nutritious and essential vegetable we should all be eating (ok mom!). We've all been told we need to "eat your vegetables" and I want to show you a mouth-watering technique to make broccoli taste delicious! This is perfect for picky eaters or if you just want to indulge in delicious vegan food.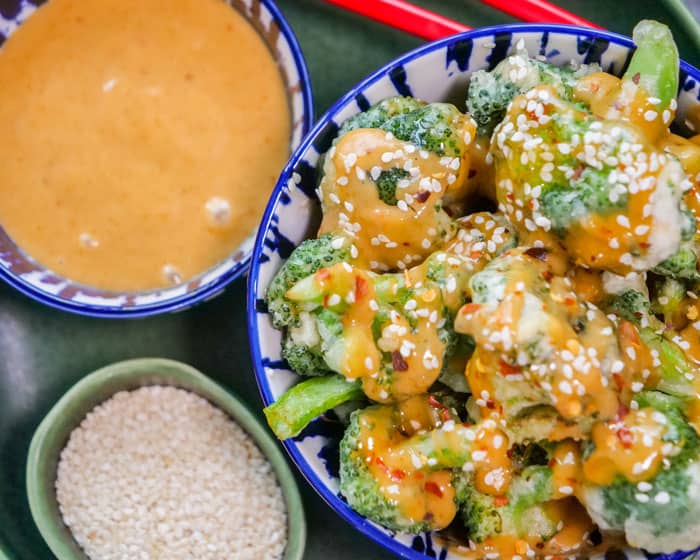 VEGAN BANG BANG SAUCE
The taste of this broccoli recipe will be like nothing you've had before! It's crispy, saucy and packs a punch with my vegan bang bang sauce! If you don't like spice, feel free to cook the broccoli as per the recipe below, but add a different sauce based on your preference.
Most vegan bang bang sauce recipes use vegan mayo, but for a healthier alternative, we're going to use peanut butter! If you have a nut allergy, vegan mayo might be a better option for you.
Related Recipe: Vegan Pad Thai Carbonara
Never again do you need to eat steamed or microwaved broccoli. Ready in 15 minutes, this bang bang broccoli works perfectly as a side dish, appetizer or snack.
The inspiration for this recipe came from the Bang Bang Broccoli from Toronto's Planta Queen. Using a spicy peanut butter based bang bang sauce, it really elevates this simple broccoli tempura to a saucy, full-flavour appetizer.
Related Recipe: Drunken Noodles ( Vegan Pad Kee Mao)
Vegan Bang Bang Broccoli
DAIRY-FREE | EGG-FREE | VEGAN
This bang bang broccoli is dairy-free and egg-free, unlike traditional bang bang broccoli!
BANG BANG BROCCOLI INGREDIENTS
This recipe will include the following ingredients:
FULL RECIPE DOWN BELOW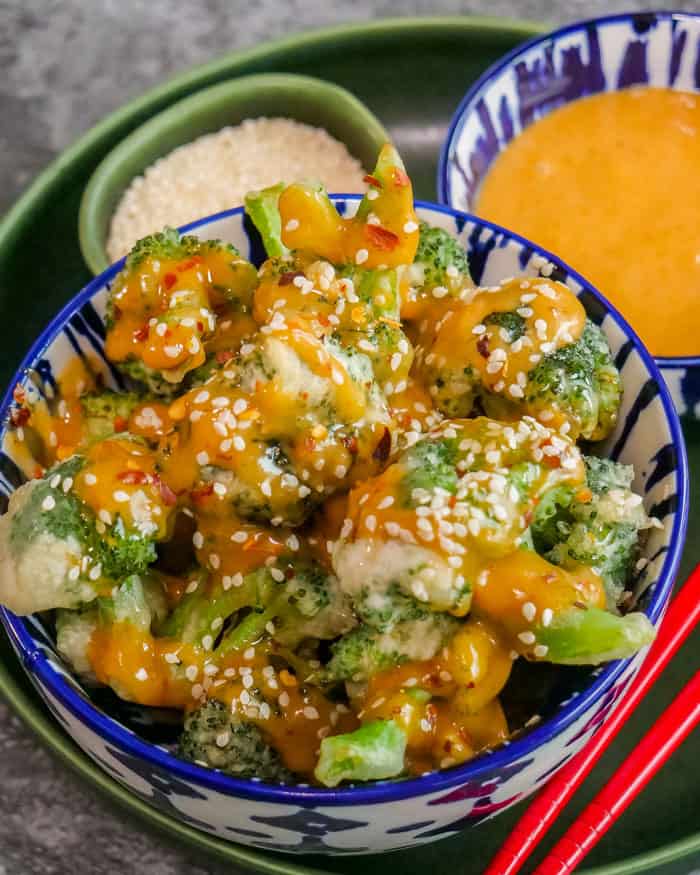 Bang Bang Broccoli Recipe
Vegan Bang Bang Broccoli + Sauce
This Bang Bang Broccoli vegan recipe can be made in 15 mins with super simple ingredients to make the best bang bang sauce for your plant-based tempura broccoli.
Instructions
In a deep fryer or pot fitted with a thermometer, heat vegetable oil to 350°F.
Place a wire cooling rack over a lipped baking sheet.
In a small bowl, whisk together the peanut butter, sweet chili paste, and sriracha. Add a splash of boiling water if the mixture does not combine easily.
In a large bowl combine the tempura batter mixture and water, whisk.
Add the broccoli to the tempura mixture and toss to coat.
Allowing the excess batter to drip off the broccoli and gently add the broccoli into the hot oil.
Fry for a couple of mins on each side and place onto the wire rack to drip off excess oil.
Serve drizzled with bang bang sauce and a garnish of sesame seeds.
Nutrition Information
Calories:
264
Fat:
17.75g
Carbohydrates:
19g
Sugar:
6.7g
Sodium:
188.25mg
Fiber:
2.4g
Protein:
6.2g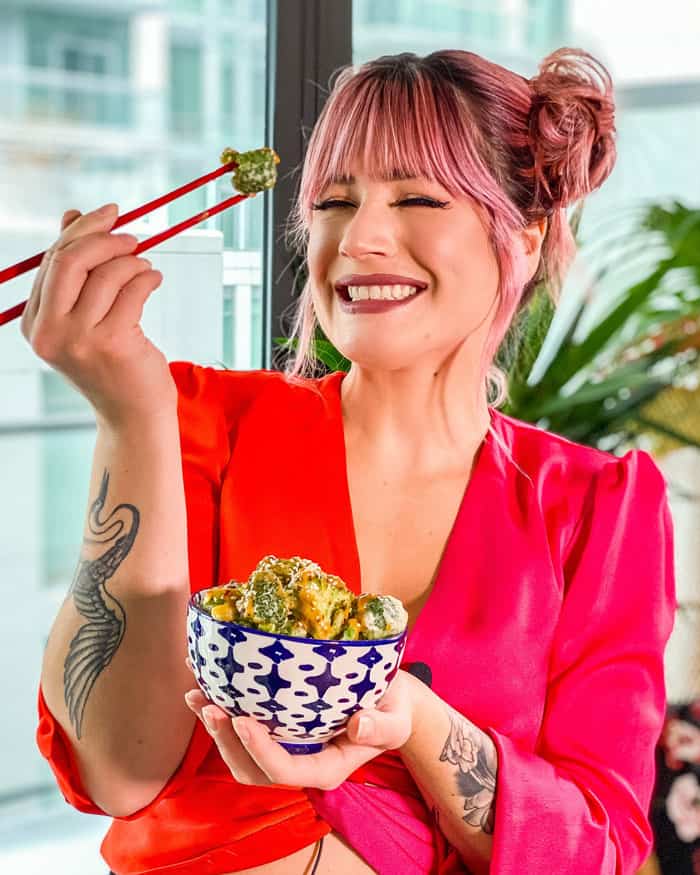 Hey, I'm Candice & welcome to The Edgy Veg!
 I veganize popular food recipes for vegans, plant-based diets, eco-conscious eaters & people who are trying to eat more plants over… y'know animals or by-products of animals. I hope you enjoy this tasty vegan recipe!
LOOKING FOR MORE VEGAN RECIPES?
___________
If you make this Bang Bang Broccoli recipe, let me know what you think by leaving a 
 star rating & comment below. It truly helps me & I really appreciate any support! Feel free to share your food creation on social and tag me @edgyveg on your photo so I don't miss it!