Vegan Bang Bang Broccoli + Sauce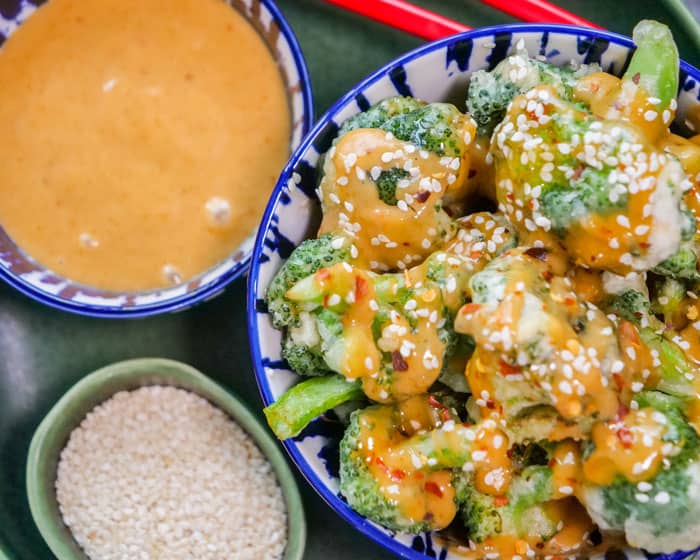 In a deep fryer or pot fitted with a thermometer, heat vegetable oil to 350°F.
Place a wire cooling rack over a lipped baking sheet.
In a small bowl, whisk together the peanut butter, sweet chili paste, and sriracha. Add a splash of boiling water if the mixture does not combine easily.
In a large bowl combine the tempura batter mixture and water, whisk.
Add the broccoli to the tempura mixture and toss to coat.
Allowing the excess batter to drip off the broccoli and gently add the broccoli into the hot oil.
Fry for a couple of mins on each side and place onto the wire rack to drip off excess oil.
Serve drizzled with bang bang sauce and a garnish of sesame seeds.
Calories:
264
Fat:
17.75g
Carbohydrates:
19g
Sugar:
6.7g
Sodium:
188.25mg
Fiber:
2.4g
Protein:
6.2g
Recipe by
The Edgy Veg
at https://www.theedgyveg.com/2020/02/25/vegan-bang-bang-broccoli-sauce/