Kale Sweet Potato Quinoa Salad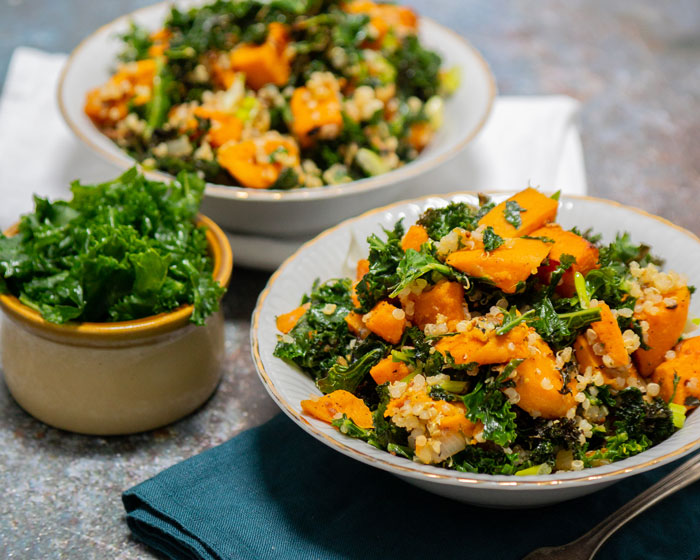 Preheat oven to 425F & line a baking sheet.
In a large bowl, massage kale with oil and a pinch of salt set aside.
In a second medium-large bowl sweet potatoes with onion, garlic, cumin, 1 tbsp oil, salt and pepper until well coated.
Transfer the sweet potato to the lined baking sheet, be sure not to crowd them. Bake for 15 mins.
After 15 mins add the kale to the sheet and bake until the kale is crispy, and the sweet potatoes are golden brown and tender; about 5 mins.
Meanwhile, in a small bowl whisk together mustard, vinegar and maple syrup until combined. Set aside.
To a large bowl, add the quinoa, roasted kale and potatoes, and gently toss.
Drizzle with mustard mixture, and gently toss again.
Serve hot or cold.
Serving size:
1 serving
Calories:
216
Fat:
8.75g
Carbohydrates:
23.8g
Sugar:
10.1g
Fiber:
7g
Protein:
5.75g
Recipe by
The Edgy Veg
at https://www.theedgyveg.com/2020/06/30/kale-sweet-potato-quinoa-salad/