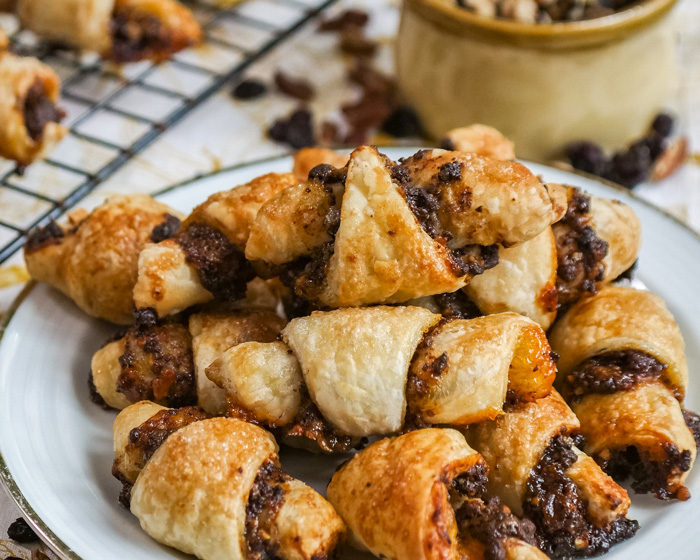 Easy Vegan Rugelach Recipe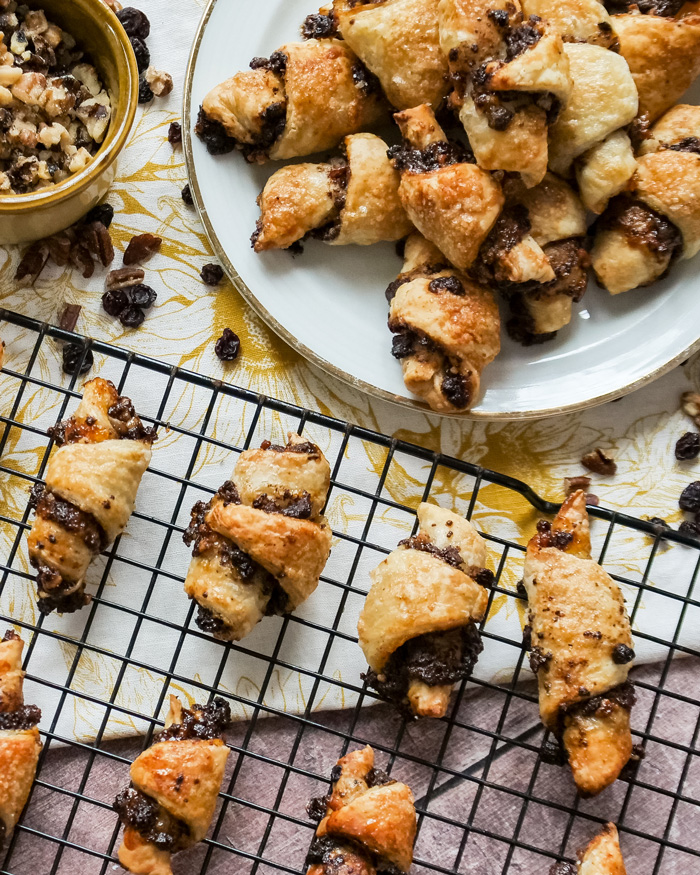 I want to show you how to make an easy Vegan Rugelach recipe with no cream cheese in 30 mins using puff pastry that's rolled into a crescent shape around a filling instead of making a cream cheese dough by hand (which takes so much longer)!
I wanted to show you a way to make an easy & accessible recipe for vegan rugelach that anyone can make at home with ease.
Related Article: Vegan Hanukkah Recipes
Easy Vegan Rugelach
What is Rugelach? Rugelach are crescent-like shaped desserts filled with different types of fillings based on traditions. Common fillings are chocolate, fruit jams, poppy seeds, nuts, raisins and many more. No matter the combination you might make from ingredients you have at home, this vegan rugelach recipe helps make it easy to make.
This version of vegan rugelach skips over most of the tough steps of making these Hanukkah crescent desserts from scratch using ready to use puff pastry (many are vegan!), chocolate, fruit jam and a simple nut crumble to make bite-sized holiday treats. 
INGREDIENTS FOR EASY VEGAN RUGELACH:
FULL RECIPE DOWN BELOW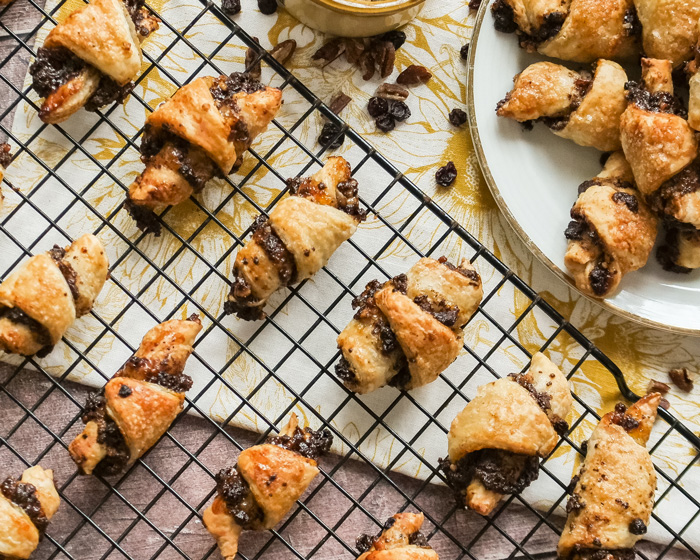 KITCHEN EQUIPMENT I USED:
I want to share my twist to make easy vegan Rugelach that will take some of the pressure off this holiday season. In only 30 minutes, you can turn easily accessible ingredients into this holiday treat.
You can add any nuts or jams you have around the house and try out different flavour combinations to appeal to the taste buds of your household. 
Full Recipe Down Below!
Related Recipe: Vegan Ginger Molasses Cookies
Easy Vegan Rugelach
Easy Vegan Rugelach recipe with no cream cheese in 30 mins! An easy recipe for vegan rugelach that anyone can make at home.
Serves:
Approx. 48 cookies
Instructions
Preheat oven to 350F & line 2 baking sheets with parchment or a baking mat.
In a small pot over low-medium heat, heat jam & sugar together to make the liquid spreadable.
Once your jam mixture becomes a syrup, set aside to cool.
In the meantime, pulse in a food processor: chopped nuts of choice, dried fruit of choice, chocolate chips, and cinnamon until combined into chunks.
On a lightly floured surface with a floured rolling pin, roll one of your puff pastry until it's about ⅛ inch thick (in a circle or square shape).
With a spatula, spread half of the jam mixture evenly over the pastry and sprinkle half of the nut mixture on top (use the other halfs if you have another puff pastry). Evely spread and press down on the nut mixture (this ensures that when you roll the douch, the crumble styas put instead of fall all over the place).
Using a sharp knife or a pizza cutting wheel (my prefered tool), cut the dough as though you are slicing a cake or pizza.
Starting at the longer end, roll up each triangle ensuring they are quite tight.
Place them on the lined baking sheets seam side down. Repeat with the second puff pastry sheet.
For the vegan egg wash, whisk aquafaba and oil (you can increase or decrease amounts of each as long as it's 50/50 ratio) in a small bowl and brush onto each rugelach.
Top each rugelach with a touch of coarse sugar.
For best results, chill the rugelach in the fridge for 30 mins before baking. Or proceed with baking.
Bake rolls for 15 to 20 mins, until golden brown.
Transfer to a wire cooling rack to cool.
Serve with tea or with other Hanukkah desserts.
Notes
Rugelach should be stored at room temperature for up to 3 days. To freeze: Place them in an airtight container and freeze for up to 2 months.
Nutrition Information
Serving size:
1 cookie
Calories:
94
Fat:
5.3g
Carbohydrates:
10.8g
Sugar:
5.3g
Protein:
1g
Hey I'm Candice aka The Edgy Veg – I veganize popular food recipes for vegans, plant-based diets, eco-conscious eaters & people who are trying to eat more plants over… y'know animals or their by-products. I hope you enjoy this tasty vegan recipe!
---
Looking For More Vegan Holiday Recipes?
Made this recipe? Let me know what you think by leaving a ★★★★★ star rating & comment below. It truly helps me & I really appreciate any support! Feel free to share your food photos on social and tag me @edgyveg so I don't miss it!
Share My Recipe on Pinterest!