Vegan Ricotta Toast (Broccoli & Garlic)
This vegan ricotta toast recipe isn't like other ricotta toast recipes. With my homemade vegan ricotta on toast with additional toppings, you will discover the delicious most combination of ricotta!
Have you ever had cheese and broccoli soup? This ricotta toast recipe basically tastes just like cheese and broccoli soup but on a slice of warm toasted baguette. 
Related Recipe: Vegan Ricotta Cheese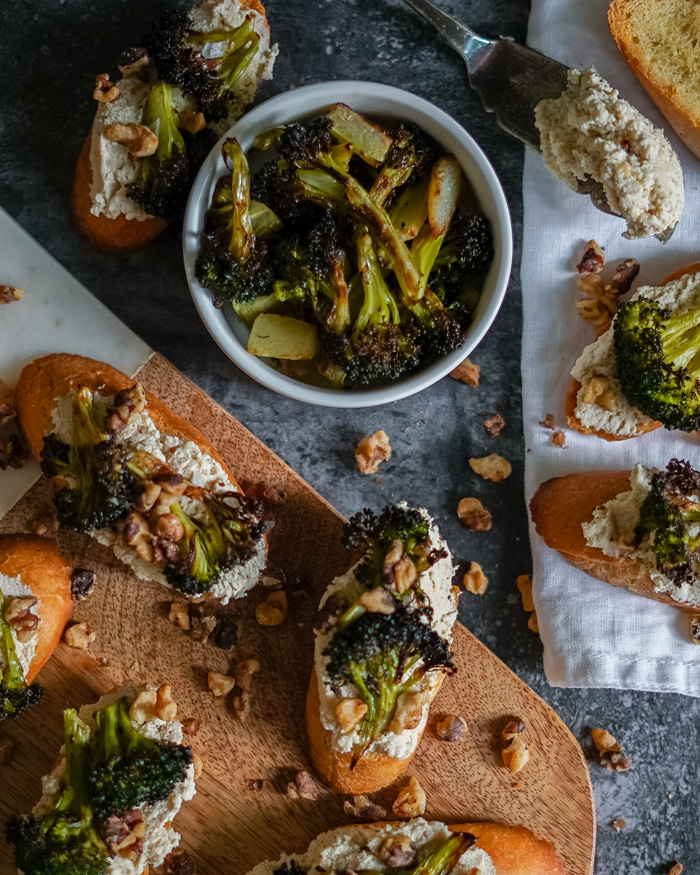 Vegan Ricotta Toast
DAIRY-FREE & EGG-FREE
This vegan ricotta toast can be served as an appetizer at a dinner party or mid-afternoon snack for the family. You could even make these for a savoury brunch option. 
INGREDIENTS FOR RICOTTA TOAST (VEGAN):
KITCHEN EQUIPMENT I USED:
Related Recipe: 3 Avocado Toast Toppings
Vegan Ricotta Toast
This vegan ricotta toast recipe isn't like other ricotta toast recipes. Use my homemade vegan ricotta for the most delicious ricotta toast! Serve these as an appetizer at a dinner party or as a laid back snackfood.
Instructions
Preheat to 400F.
Place baguette slices onto a lined baking sheet, and brush with olive oil.
On a second lined baking sheet, add chopped broccoli florets and drizzle with roughly 2 tbsp of olive oil, and season with sea salt. Toss the broccoli to coat.
Leaving bulb skins on for roasting, rub the garlic bulb with excess olive oil from the sheet with your hands, and place onto the sheet.
Place both sheets into the oven; broccoli on the top rack and bread on the bottom rack.
Roast for about 10–12 mins, or until the baguette is golden brown, then remove it from the oven.
Continue to roast the broccoli and garlic, until garlic is tender and broccoli is browned nicely and has a bit of char, about 15 mins longer.
Meanwhile, you can make my homemade vegan ricotta cheese within 10 mins.
Remove broccoli and garlic from the oven and set aside to cool to the touch.
Optional: Toast walnuts and chop them as an additional topping.
While everything cools, in a small bowl, whisk together the maple syrup, white wine vinegar, and red pepper flakes. Set this maple-chilli sauce aside.
As soon as the garlic is cool enough to handle, remove the cloves from the bulb skins, and place it into another small bowl. Mash the garlic with a fork to create a paste.
Next, add your vegan ricotta in the garlic paste and mix well. Taste and season with salt and black pepper,
Spread the vegan ricotta over each baguette slice, add roasted broccoli, and sprinkle with chopped walnuts.
Place them onto a serving dish (or however you plan to serve), and drizzle with the maple-chilli sauce.
Serve as an appetizer, with leftover sauce on the side for guests to dip or drizzle extra.
Notes
HOW TO ROAST WALNUTS: Heat a pan over medium heat and add nuts. Let them sit for half a min, or so, then stir.
Toast for about 3-4 mins, stirring constantly so they won't burn. If you don't stir, they will burn. Remove the pan from the heat and let them cool, stirring occasionally.
Chop once cool to sprinkle on top of ricotta toast.
Nutrition Information
Serving size:
1 serving
Calories:
298
Fat:
10.6g
Carbohydrates:
35g
Sugar:
8.1g
Fiber:
3g
Protein:
12.3g
Hi! I'm Candice aka The Edgy Veg
! I veganize popular food recipes for vegans, plant-based diets, eco-conscious eaters & people who are trying to eat more plants over… y'know animals or by-products of animals. I hope you enjoy this tasty vegan recipe!
---
Looking For More Vegan Appetizer Recipes?
Made this recipe? Let me know what you think by leaving a 
 star rating & comment below. It truly helps me & I really appreciate any support! Feel free to share your food photos on social and tag me @edgyveg so I don't miss it!
Share My Recipe on Pinterest!