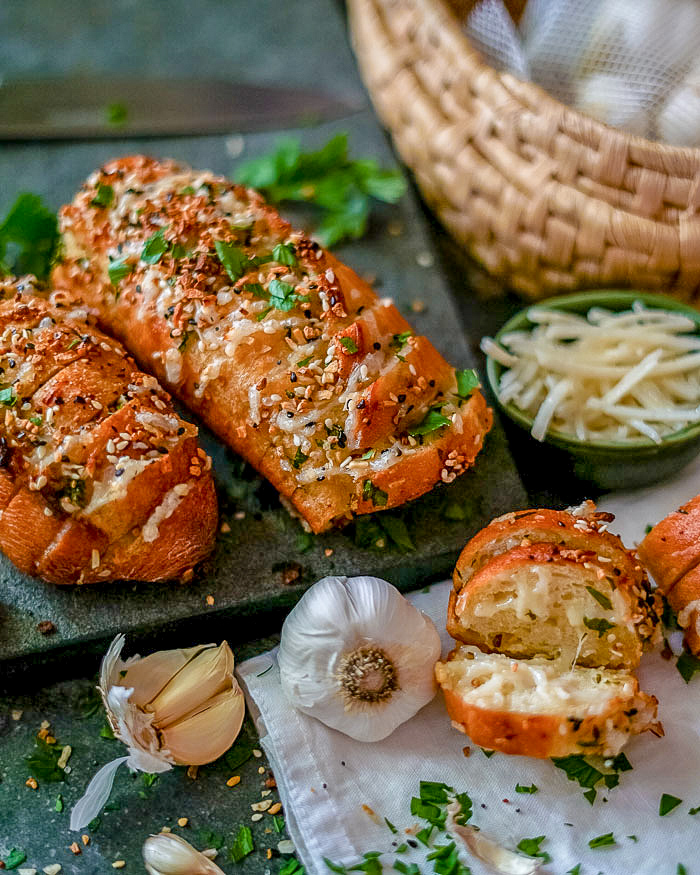 If you're looking for the best cheesiest vegan garlic bread on the internet. You've found it!
I wanted to make a super easy vegan garlic bread using 5 simple ingredients like a baguette, dairy-free butter, olive oil, garlic and vegan cheese that can be cooked in 20 mins. I've also include add-ons that take this vegan garlic bread to the next level!
Feel free to make your own vegan garlic bread from scratch making a loaf of bread and following this recipe once your vegan bread is made!
If you're craving something savoury and garlicky and cheesy and loaded with carbs, this is the best vegan garlic bread recipe you'll find! If you can also make my everything bagel seasoning recipe to sprinkle on top of this garlic bread, it will truly make your carb-lover's dream.
If you have access to a Trader Joe's store, you can pick up the store-bought Everything But The Bagel seasoning. But to save money or if you don't have access to it, use my recipe to make your own Everything Bagel seasoning.
Related Recipe: "Everything But The Bagel Seasoning" Recipe
Vegan Garlic Bread Recipe
DAIRY-FREE & VEGAN
This vegan garlic bread recipe has to be the world's cheesiest, breadiest, garlickiest vegan side dish of all time.
My secret method to making this the best vegan garlic bread is by hasselbacking the bread, which means cutting slits into the bread and stuffing vegan butter, cheese and garlic mixture into the slits so it melts into the bread while baking. This unique cooking method will truly make the best vegan garlic bread.
INGREDIENTS FOR EASY GARLIC BREAD (VEGAN):
KITCHEN EQUIPMENT I USED:
Full recipe down below!
Easy Vegan Garlic Bread
This easy vegan garlic bread uses 5 simple ingredients and cooked within 20 mins. It's the cheesiest vegan garlic bread you can make at home! You can serve with my vegan spaghetti and meatballs! Double the measurements for 2 loafs.
Instructions
Preheat your oven to 400F.
Cut slits into your baguette about ½ inch apart, but do not cut all the way through. You should be able to pick up the bread and have it stay together. Place the baguette on a large piece of foil.
In a small bowl, cream together vegan butter, olive oil, grated garlic, and parsley.
Using a pastry brush (a butter knife works too), add the garlic mixture inside each slit you cut, as well as the top of the baguette.
If you're using vegan cheese slices, place bits of cheese slices into each slit. If you are using vegan cheese shreds, stuff each slit with cheese shreds.
Optional: Sprinkle everything bagel seasoning on top.
Wrap up the baguette(s) with foil and bake for 10-15 mins or until the cheese has melted.
Open the foil up to expose the top, and bake for roughly 5 mins more, or until the top is slightly browned and crispy.
Serve right away. I recommend serving with my vegan tomato pasta dish or vegan spaghetti and meatballs
Nutrition Information
Serving size:
⅙ of the loaf
Calories:
252
Fat:
16.3g
Carbohydrates:
23.8g
Sugar:
1.2g
Sodium:
741mg
Fiber:
1.3g
Protein:
2.5g
Looking For More Vegan Side Dish Recipes?
Made this recipe? Let me know what you think by leaving a 
 star rating & comment below. It truly helps me & I really appreciate any support! Feel free to share your food photos on social and tag me @edgyveg so I don't miss it!
Share My Recipe on Pinterest!