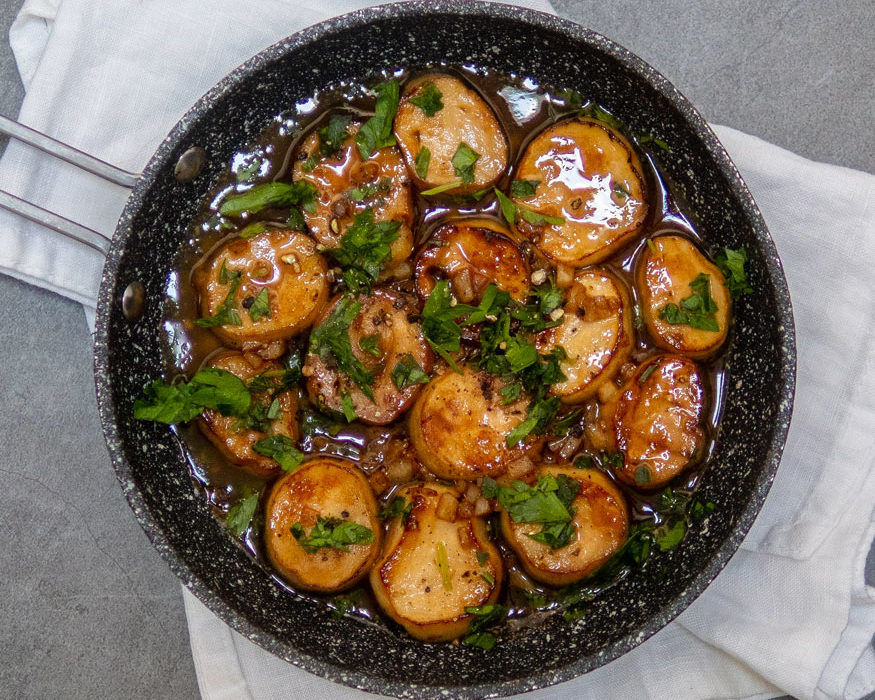 Vegan Scallops & Garlic Butter Sauce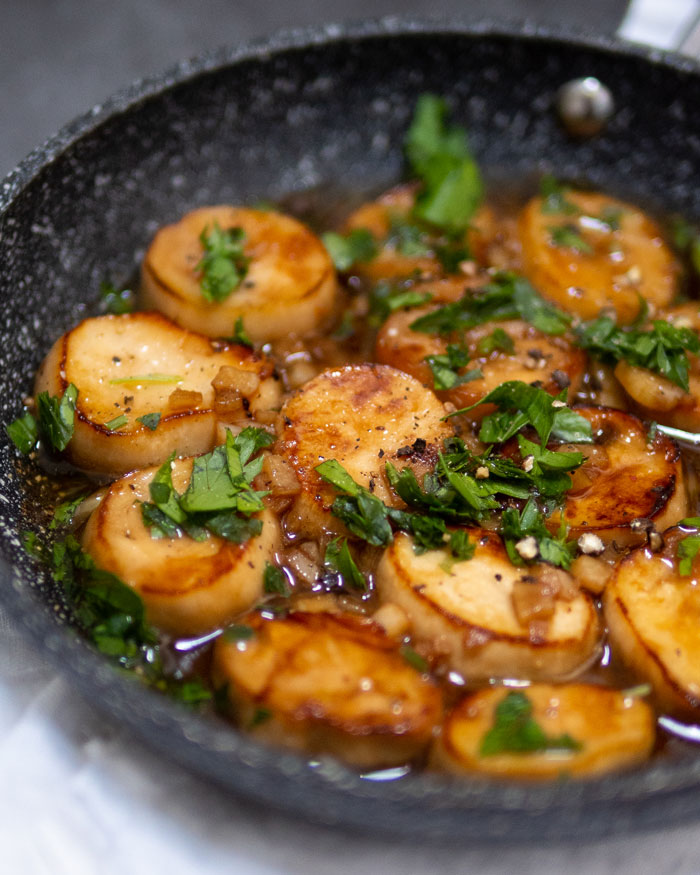 These vegan scallops are made of king oyster mushrooms marinated with a vegan garlic butter sauce! Marinate ahead of time and cook them up in 10 mins!
A king oyster mushroom stem sliced looks like a scallop, and so all you really need to do is whip up my tasty marinade that the mushrooms can absorb and then fry it to become a vegan scallop! You can serve as an appetizer or add to one of my easy vegan pasta dishes.
Related Recipe: 8+ Vegan Seafood Recipes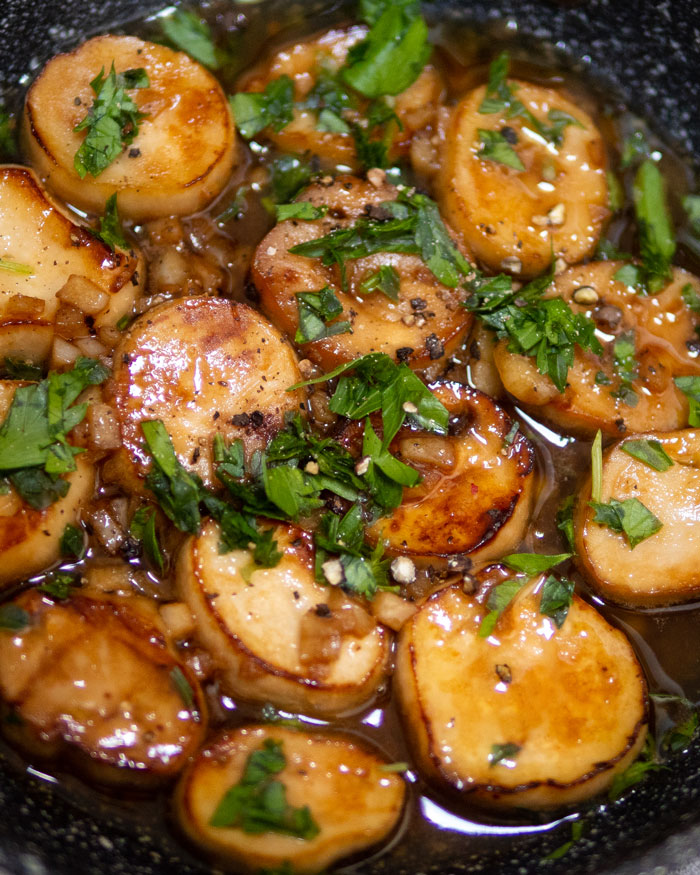 Now, to get the best scallop taste, I highly recommend marinating the sliced mushrooms (aka vegan scallops) in a container the night before you fry them up alongside my quick garlic butter sauce. This allows the scallops to marinate for hours and absorb all the flavours. If you don't want them too flavourful, you can just marinate for a minimum of 1 hour.
This is an original vegan recipe based on the one in my vegan cookbook that I've tweaked a little and is served with this new buttery garlic sauce.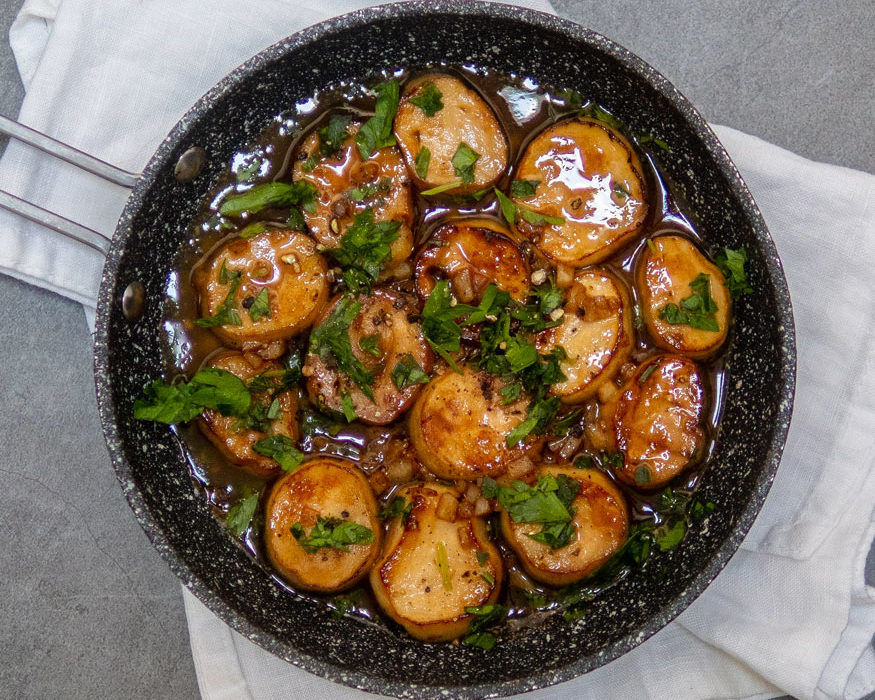 Related Recipe: Vegan Creamy Garlic Pasta
If you need a vegan recipe that feels fancy and can be cooked up in just a few minutes, these vegan scallops are a level up! Just prepare them ahead of time, sear them, heat up the lemon garlic sauce and plate them beautifully for a glamourous appetizer or serve with pasta.
VEGAN SCALLOPS
GLUTEN-FREE | DAIRY-FREE | VEGETARIAN
Today I'm showing you how to make an easy vegan scallops recipe to impress vegan and non-vegan guests, or just cook them up for yourself for a fabulous dinner for one.
This bite-sized appetizer has a delicate texture similar to a sea scallop and when marinated, they take on a full flavour that welcomes a fresh lemon sauce.
INGREDIENTS FOR VEGAN SCALLOPS:
Lemon Butter Sauce
KITCHEN EQUIPMENT I USED:
Full recipe down below
Vegan Scallops & Garlic Butter Sauce
These vegan scallops are made of king oyster mushrooms with a garlic butter sauce! Marinate & cook for 15 mins for tasty vegan scallops!
Ingredients
Lemon Butter Sauce
Instructions
With a vegetable brush, remove any dirt or debris from mushrooms and slice off the woody ends and mushrooms caps. Save the caps to use for another recipe like a stirfry.
Slice the stems into 1 inch (2.5 cm) long pieces.
In a large mixing bowl or Tupperware, whisk together hot vegetable broth, white miso, soy sauce or gluten-free tamari, kelp, and olive oil. Whisk until the miso has dissolved in the hot broth.
Add the mushrooms and marinate for 15 mins to 2 hrs. Overnight is preferred.
After your mushrooms have marinated, melt 1 tbsp vegan butter in a large skillet over medium-high heat.
Working in batches, place marinated mushrooms, flat side down, and brown for 6-8 mins on each side. Set aside and keep warm.
You can save time by making the garlic butter sauce in a seperate pan at the same time as frying the mushrooms, or save on dishes by using the same pan once all your mushrooms have cooked and are set aside.
To make the garlic butter sauce, melt 2 tbsp vegan butter in the same skillet.
Add garlic and cook, stirring frequently for 1 minute, or until fragrant.
Stir in the lemon juice; season with salt and pepper, to taste.
Serve mushroom scallops in a bowl or serving dish and pour the garlic butter sauce.
Garnish with parsley.
Enjoy as appetizer or add to a vegan creamy pasta dish
Nutrition Information
Serving size:
1 serving
Calories:
311
Fat:
20g
Carbohydrates:
18.5g
Sugar:
6.3g
Fiber:
3.8g
Protein:
12.3g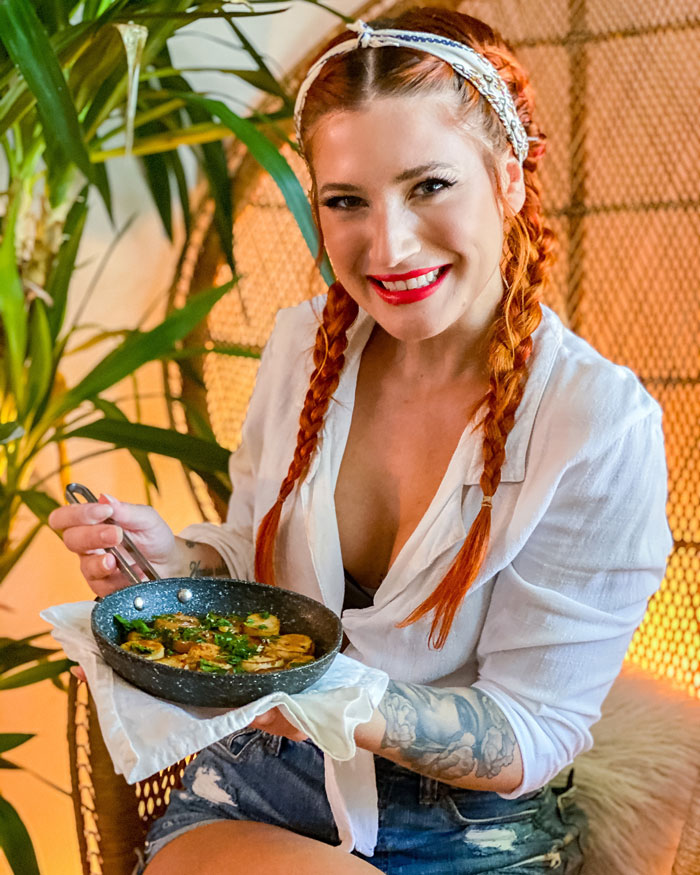 Hi! I'm Candice aka The Edgy Veg! I veganize popular food recipes for vegans, plant-based diets, eco-conscious eaters & people who are trying to eat more plants over… y'know animals or by-products of animals. I hope you enjoy this tasty vegan recipe!
Looking For More Vegan Seafood Recipes?
Made this recipe? Let me know what you think by leaving a ★★★★★ star rating & comment below. It truly helps me & I really appreciate any support! Feel free to share your food photos on social and tag me @edgyveg so I don't miss it!
Share My Recipe on Pinterest!