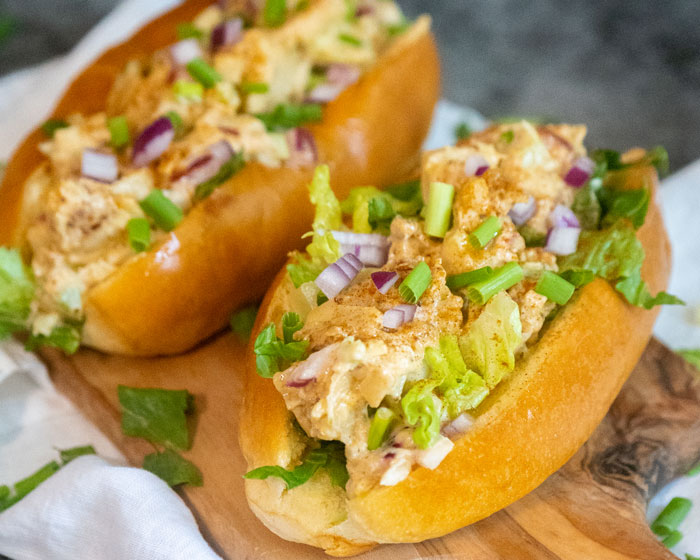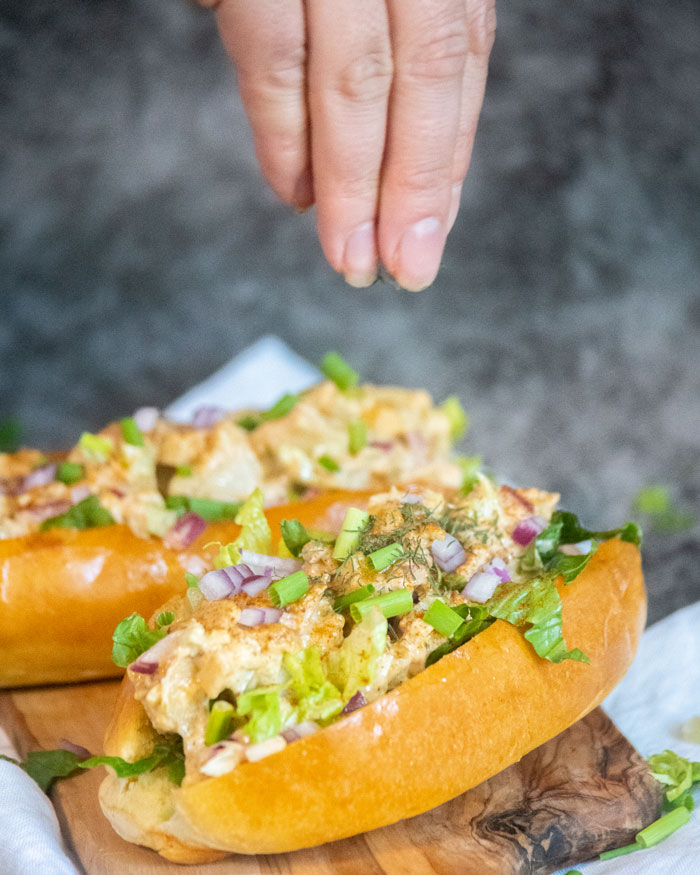 I've been testing my vegan lobster roll recipe for years now (it was originally supposed to be in my first cookbook!) and I'm so excited to finally share with you how to make the best vegan & vegetarian lobster roll using hearts of palm!
This vegan lobster roll recipe uses 10 simple ingredients to get the "lobster meat" seafood imitation and is served on a roll of your choice with some paprika!
Related Recipe: 8+ Vegan Seafood Recipes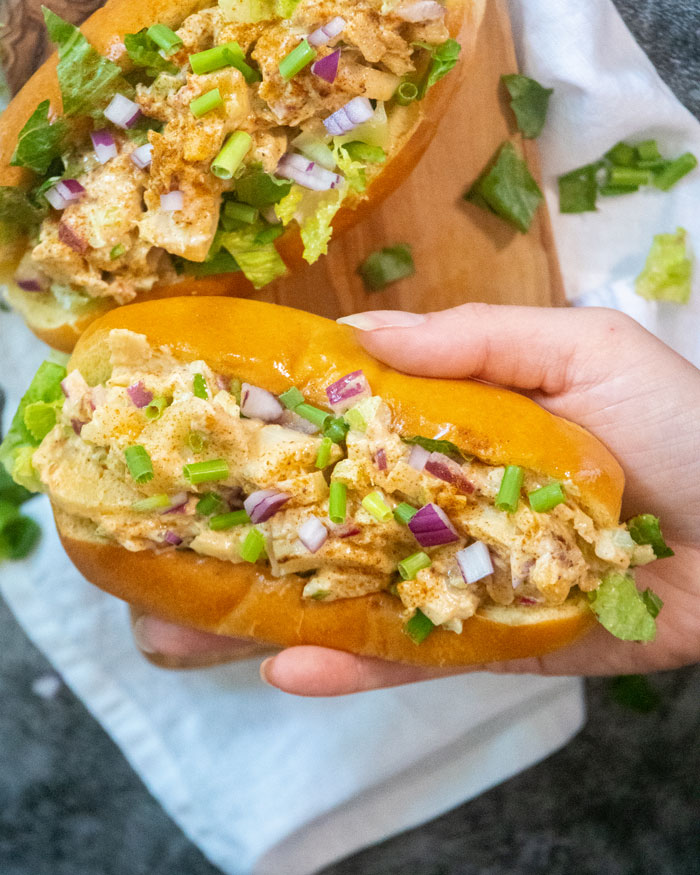 While lobster rolls are popular along the east coast of Canada & US, I wanted to make it easy to make a cruelty-free version of a lobster roll recipe for vegans and vegetarians who might have grown up eating them. Perhaps there's someone out there looking to switch to plant-based but still eats lobster? Try this recipe as a lobster-less replacement 🙂
If you're looking for a fun summer recipe using plant-based ingredients, this vegan seafood lobster roll recipe is for you! I've heard a lot of feedback saying this lobster salad mixture also satisfied many seafood cravings and 100% worth trying!
Related Recipe: Vegan Fish and Chips
VEGAN LOBSTER ROLL
VEGAN | FISH-FREE | GLUTEN-FREE
What's great about this simple vegan recipe is that it uses many of the same seasoning ingredients as a traditional lobster roll; Old Bay seasoning, celery, onions, paprika, lemon juice, and mayo (vegan mayo obviously).
By swapping lobster for chopped canned hearts of palm, this recipe can be prepared a day in advance (to allow veggies to marinate with full flavour) and can be quickly scooped into a soft roll for an easy lunch that will satisfy the whole family. By itself, it's also a creamy, crisp, fresh summer salad!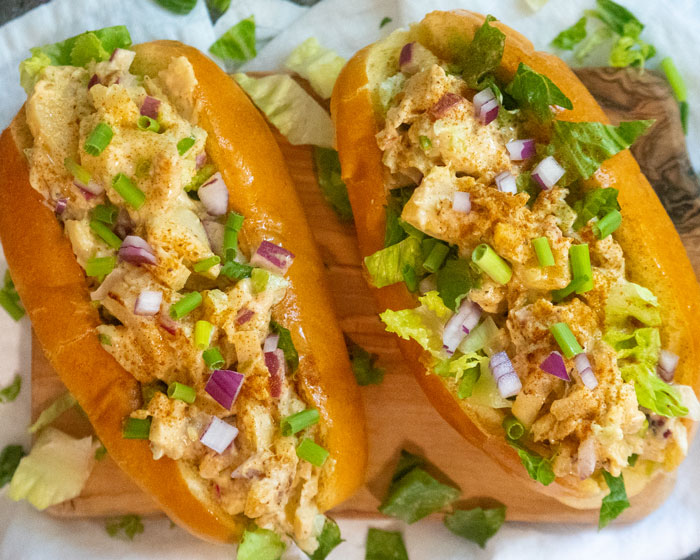 What's Vegan Lobster made of?
This vegan lobster is made of hearts of palm, which is a vegetable harvested from the cabbage palm tree.  It imitates many vegan seafood recipes (like calamari and crab) and even has a similar texture to lobster. It's great because it doesn't have a taste/smell of anything and absorbs the marinade flavour nicely. If you want a softer texture, you can also choose to pick out some of the harder bits of the palm hearts, but it's up to you! This is truly a creative, yet delicious recipe to make at home.
Hearts of palm are a great vegan seafood alternative that is cheap, easy to find at the grocery store, and shelf-stable. They are typically served in salads or used as vegan seafood alternatives. When looking for a can of hearts of palm, please try to look for one that is ethically / sustainably sourced so we can all do our part for the environment while enjoying this veggie.
If you personally don't like a "fishy" taste or don't have access to seaweed at your local store, I've made it optional to add seaweed. If you do want to imitate the ocean taste of lobster for non-vegan friends and have access to buying seaweed sheets or seaweed granules, I recommend adding 1 tsp to the mixture to add that authentic ocean taste.
Related Recipe: Vegan Ceviche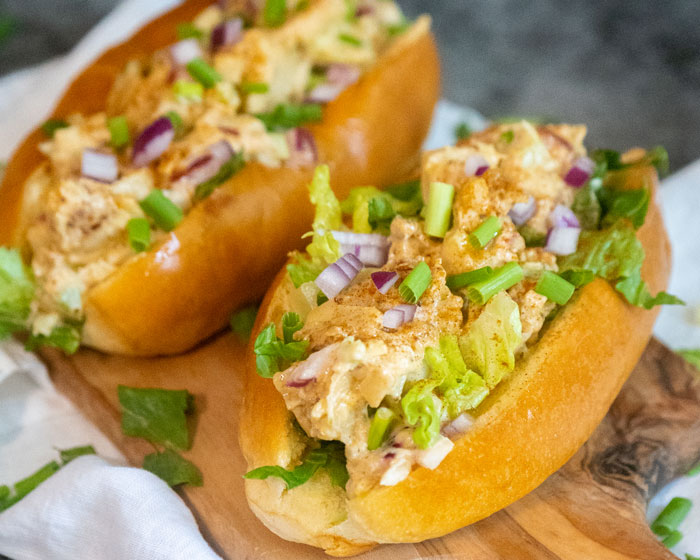 INGREDIENTS FOR VEGAN LOBSTER ROLL:
To Serve:
KITCHEN EQUIPMENT I USED:
Full Recipe Measurements & Instructions are down below!
Vegan Lobster Roll
I'm so excited to share with you how to make vegan lobster using hearts of palm! This vegan lobster roll recipe uses 10 simple ingredients to make a creamy, crisp, fresh vegan seafood salad that sits beautifully in a soft roll. The longer you marinate the vegan lobster, the more flavourful it becomes.
Instructions
In a bowl, mix olive oil, Old Bay Seasoning, lemon juice and minced garlic. Add to bowl of chopped hearts of palm and marinate for as long as you can, overnight is best.
To make the vegan creamy dressing, whisk the vegan mayonnaise and lemon juice in a bowl. Add chopped celery, red onion and herb of choice (dill or chives - I used fresh chives), and whisk until well combined. Optionally, you can add your seaweed granules into the dressing. Feel free to put the dressing in the fridge to firm up until you want to heat up your marinated hearts of palm.
When you're ready to eat your lobster roll and the hearts of palm have had time to marinate, heat a non-stick pan over medium-high heat. Add the hearts of palm and marinade and sauté for 5-8 minutes, stirring occasionally. Cook until slightly brown on all sides. Set aside to cool.
Add the cooked marinated hearts of palm "lobster" with the chilled dressing to coat.
If you like soft buns, take melted vegan butter and brush it on the inside of the bun. The more butter, the tastier the lobster roll will be.
For a toasted bun, heat a grill pan or skillet over medium heat. Brush the outside of the rolls with olive oil. Toast the buns until slightly golden, about 1 minute per side. Brush vegan butter on the inside of the bun.
Divide the "lobster salad" among the buns. Feel free to add greens to the bun first and then top with the vegan lobster.
Drizzle with additional vegan butter on top and a sprinkle of paprika, onion and/or chives. Voila! A delicious vegan lobster roll!
Nutrition Information
Serving size:
1 roll
Calories:
601
Fat:
50g
Carbohydrates:
26.25g
Sugar:
5.5g
Sodium:
1546mg
Fiber:
2.75g
Protein:
6.25
Cholesterol:
0mg
What goes with "Lobster" Rolls?
A traditional lobster roll would be served with a side of fries or fresh salad. If you're looking for side dishes to pair with this "lobster" roll recipe, I'd recommend my creamy potato salad, macaroni salad, or vegan mac & cheese!
How To Use Vegan Lobster Salad
If you have leftover vegan lobster salad mixture, you could add it as a side to another meal, or even better, roll it into a vegan sushi roll or even fry up to make crab cake mix! It's a very versatile vegan seafood salad!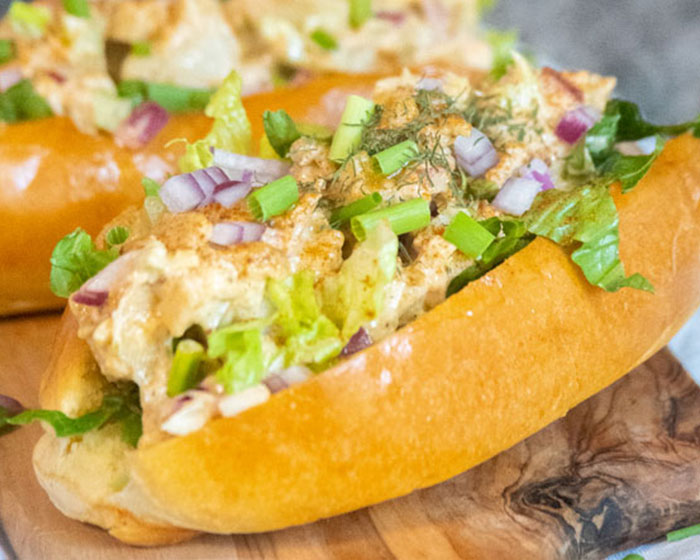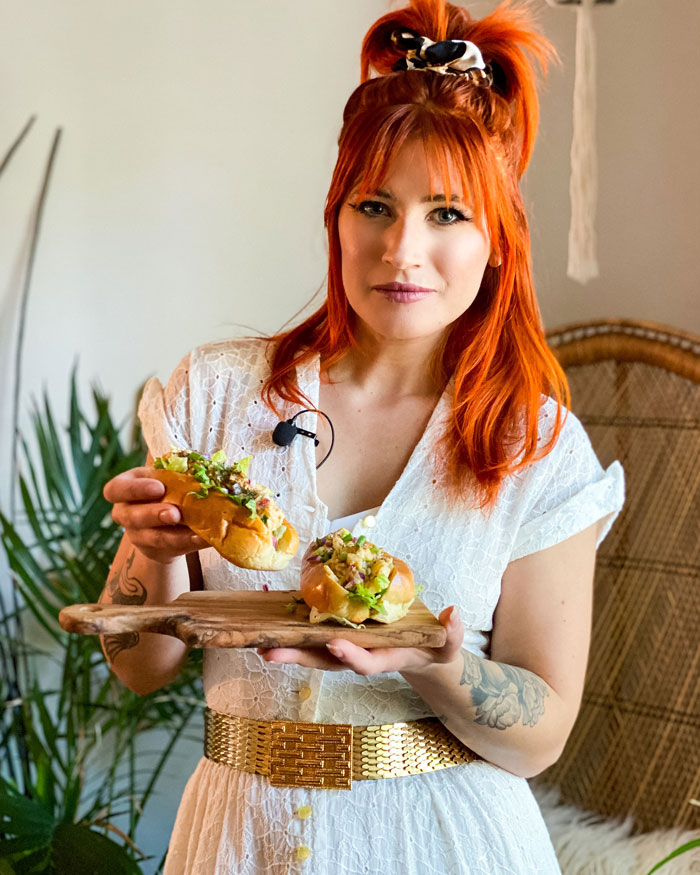 I'm Candice & welcome to The Edgy Veg! I veganize popular food recipes for vegans, plant-based diets, eco-conscious eaters & people who are trying to eat more plants over… y'know animals or by-products of animals. I hope you enjoy this tasty vegan recipe!
Looking For More Vegan Seafood Dish Recipes?
If you make this recipe, let me know what you think by leaving a ★★★★★ star rating & comment below. It truly helps me & I really appreciate any support! Feel free to share your food photos on social and tag me @edgyveg so I don't miss it!
Share My Recipe on Pinterest!