Vegan Lobster Roll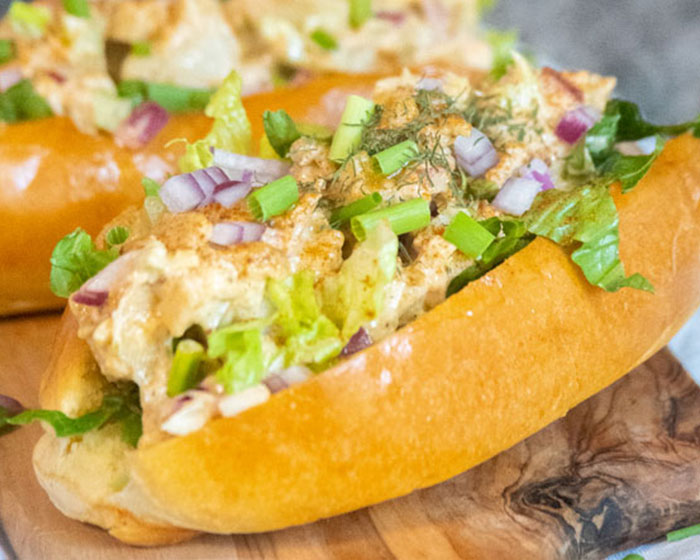 In a bowl, mix olive oil, Old Bay Seasoning, lemon juice and minced garlic. Add to bowl of chopped hearts of palm and marinate for as long as you can, overnight is best.
To make the vegan creamy dressing, whisk the vegan mayonnaise and lemon juice in a bowl. Add chopped celery, red onion and herb of choice (dill or chives - I used fresh chives), and whisk until well combined. Optionally, you can add your seaweed granules into the dressing. Feel free to put the dressing in the fridge to firm up until you want to heat up your marinated hearts of palm.
When you're ready to eat your lobster roll and the hearts of palm have had time to marinate, heat a non-stick pan over medium-high heat. Add the hearts of palm and marinade and sauté for 5-8 minutes, stirring occasionally. Cook until slightly brown on all sides. Set aside to cool.
Add the cooked marinated hearts of palm "lobster" with the chilled dressing to coat.
If you like soft buns, take melted vegan butter and brush it on the inside of the bun. The more butter, the tastier the lobster roll will be.
For a toasted bun, heat a grill pan or skillet over medium heat. Brush the outside of the rolls with olive oil. Toast the buns until slightly golden, about 1 minute per side. Brush vegan butter on the inside of the bun.
Divide the "lobster salad" among the buns. Feel free to add greens to the bun first and then top with the vegan lobster.
Drizzle with additional vegan butter on top and a sprinkle of paprika, onion and/or chives. Voila! A delicious vegan lobster roll!
Serving size:
1 roll
Calories:
601
Fat:
50g
Carbohydrates:
26.25g
Sugar:
5.5g
Sodium:
1546mg
Fiber:
2.75g
Protein:
6.25
Cholesterol:
0mg