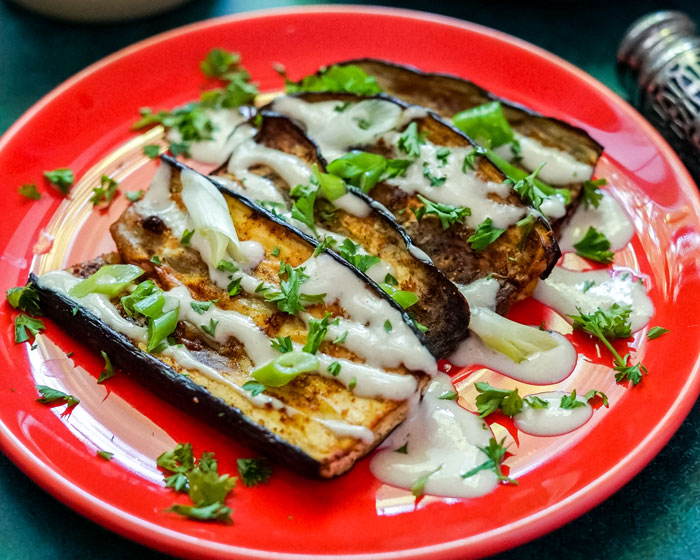 How To Roast Eggplant: Best Oven Roasted Eggplant Recipe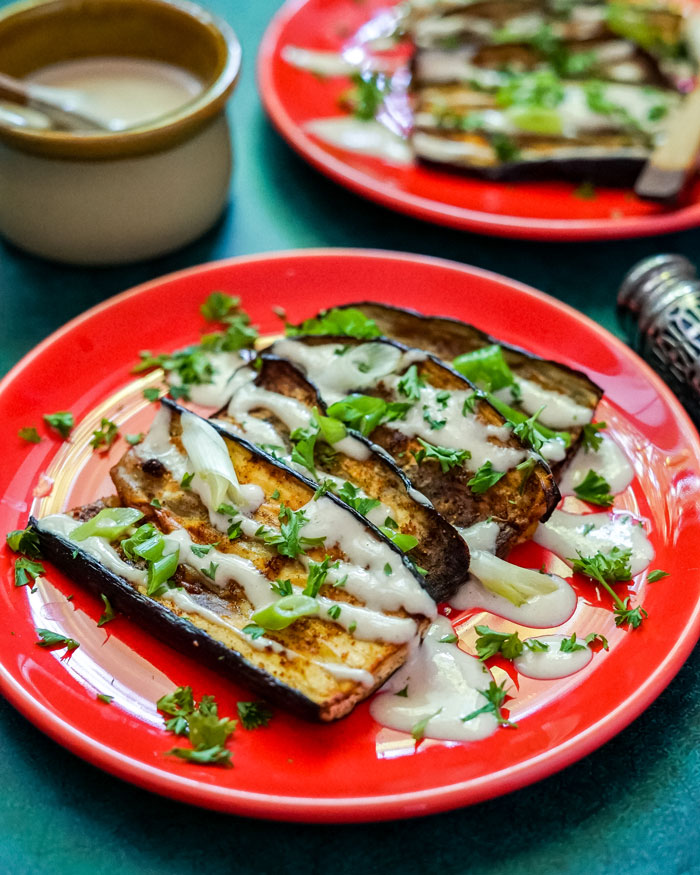 Eggplant is one of those foods that can easily be very good or go very wrong. When done right, eggplant has a rich but mild flavour with a soft, creamy texture. It works like a sponge to soak up the flavours you add to it.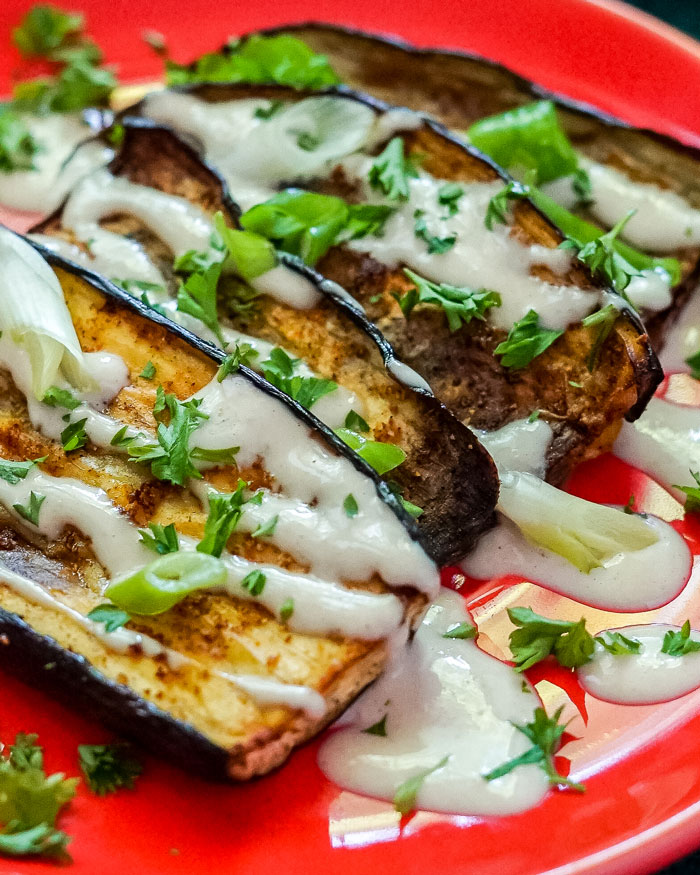 This simple recipe uses only 5 ingredients to make a simple side dish that is full of flavour. It uses a simple method to draw moisture out of the eggplant pieces to improve the texture and flavour.
Using the method I outline below, you will reduce the bitterness that sometimes comes from poorly prepared eggplant dishes, enhance the flavour, and reduce the need to fry the eggplant.
Related Recipe: Roasted Lemon Greek Potatoes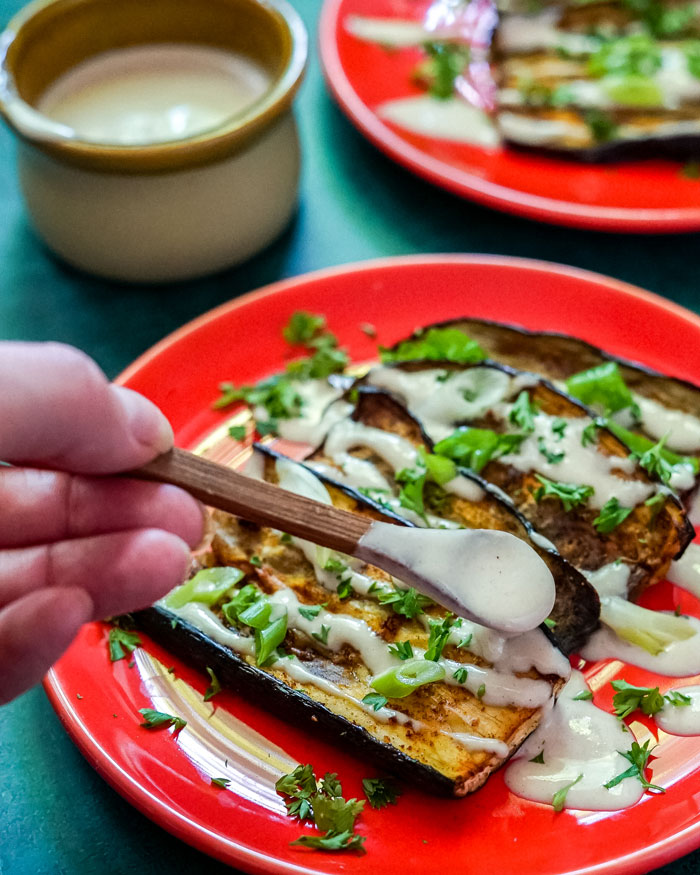 Just as I've done with other traditionally unloved veggies, such as Brussels sprouts and broccoli, I'm going to show you an easy way to love eggplant.
Sometimes, making a delicious and healthy vegetable side dish can be so simple and fresh, made using only 5 accessible ingredients.
Related Recipe: Vegan Bang Bang Broccoli + Sauce
OVEN ROASTED EGGPLANT
VEGAN | EGG-FREE | GLUTEN-FREE
Today I'm sharing an easy roasted eggplant recipe with you. This recipe uses simple ingredients that turn a tough vegetable into a creamy, flavourful, roasted side dish. It is a healthy, simple way to serve eggplant as a side to any meal.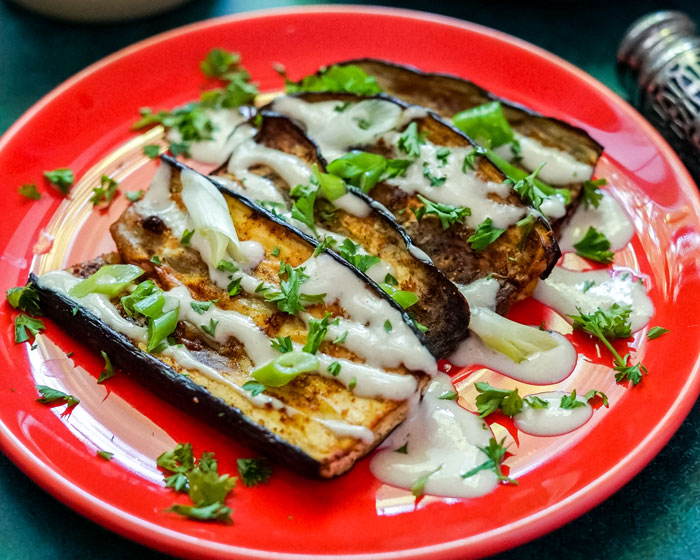 INGREDIENTS FOR PERFECTLY ROASTED EGGPLANT:
KITCHEN EQUIPMENT I USED:
Perfectly Roasted Eggplant
This recipe uses simple ingredients that turn a tough vegetable into a creamy, flavourful, roasted side dish. It is a healthy, simple way to serve eggplant as a side to any meal.
Serves:
4 servings as a side
Instructions
On rack over a lipped baking sheet, lay out the eggplant and generously sprinkle with salt and let them sit for a min of 30 mins. I like to let them sit for an hour to ensure all the bitter moisture is removed. NOTE: don't worry about over-salting as this isn't for seasoning, just to help release that bitter liquid.
Preheat oven to 400F.
After 30-60 mins, wipe away the salt and moisture with a clean dish towel or paper towel and drain any liquid the sheet caught, and wipe dry. You are going to want to press firmly to ensure you get all the moisture.
Cut each slice in half (the short way), and brush olive oil over each slice, ensuring they're totally covered, and place on a lined baking sheet.
Sprinkle with salt, garlic powder and paprika. Act quickly because eggplants act like a sponge and you want to get them into the oven AS SOON as they're oiled and seasoned.
Roast in the oven for 40 to 60 minutes, until they are golden brown and crispy on the outside and soft on the inside.
To serve, these can be drizzled with delicious tahini dressing and sprinkle with parsley as a side, smeared on hot bread as a snack or appetizer, used to make Norma pasta, or turned in a sabich sandwich or placed on tahini toast.
Nutrition Information
Serving size:
1 serving
Calories:
137
Fat:
10.5g
Carbohydrates:
11g
Sugar:
6.2g
Fiber:
5.4g
Protein:
1.9g
Cholesterol:
0mg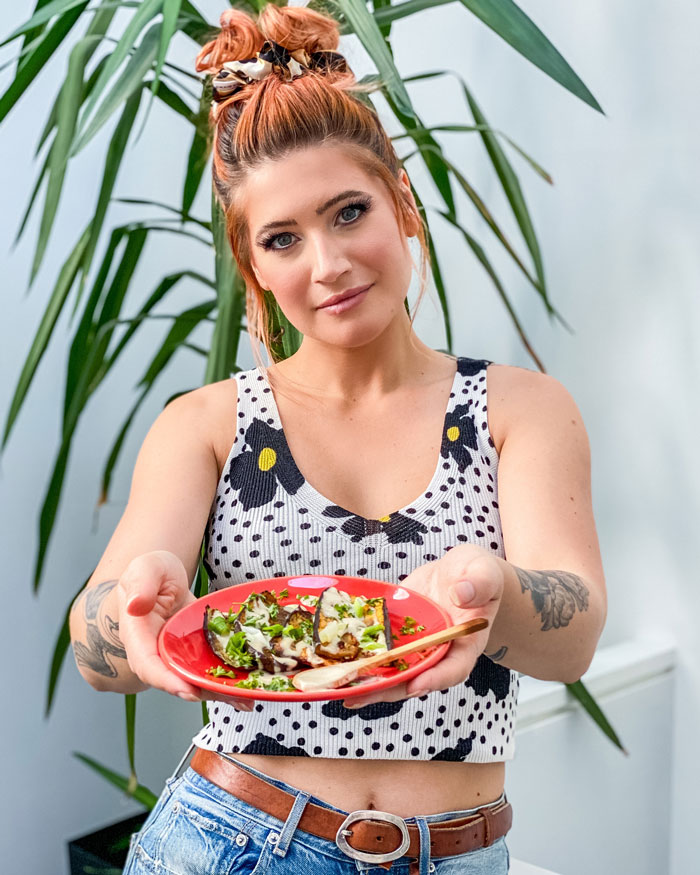 ___________
I'm Candice & welcome to The Edgy Veg! I veganize popular food recipes for vegans, plant-based diets, eco-conscious eaters & people who are trying to eat more plants over… y'know animals or by-products of animals. I hope you enjoy this tasty vegan recipe!
Looking For More Vegan Side Dish Recipes?
If you make this recipe, let me know what you think by leaving a 
 star rating & comment below. It truly helps me & I really appreciate any support! Feel free to share your food photos on social and tag me @edgyveg so I don't miss it!
Share My Recipe on Pinterest!