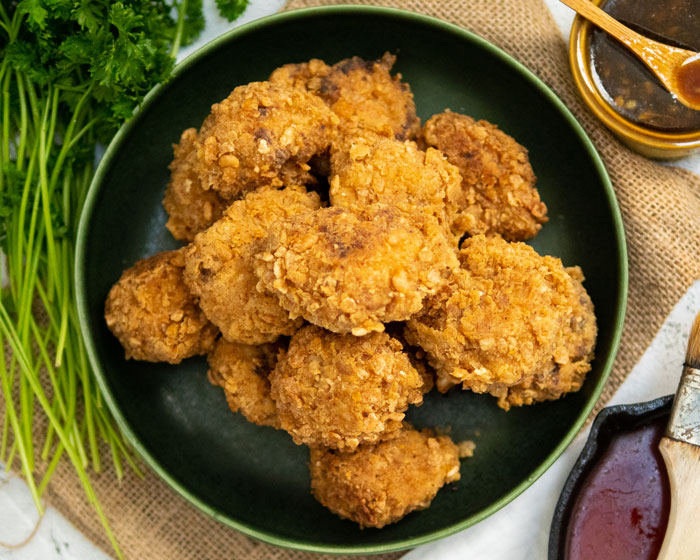 Chicken Fried Cauliflower Recipe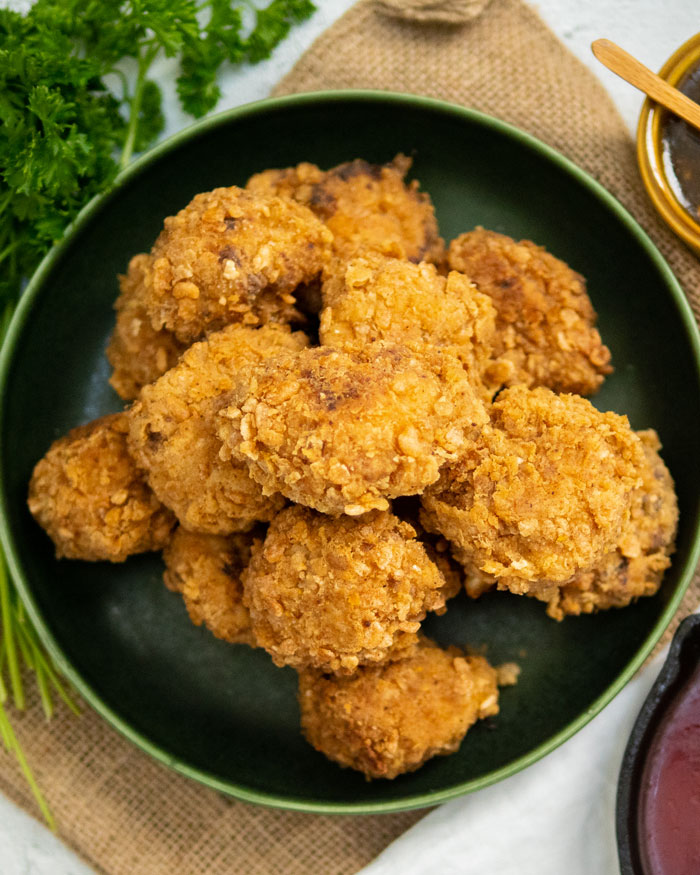 I've made fried cauliflower into vegan chicken alternatives a number of times, but I guarantee today's recipe will show you a new method to get the crispiest chicken-fried cauliflower ever!
This simple technique will level up standard cauliflower wings or florets and make them oh so crispy.
Today's fried cauliflower recipe uses a simple recipe to get a vegan fried chicken feel thanks to a bonus ingredient to get the crispiest texture. By adding rice crispy cereal to the coating, these become crunchy and savoury and you won't believe you didn't make these sooner. I originally discovered a gluten-free crispy rice breading version by my friend Mary's test kitchen and wanted to try it with my own vegan chicken-fried methods!
Related Recipe: Vegan Buffalo Wings
CHICKEN-FRIED CAULIFLOWER
VEGAN | EGG-FREE | DAIRY-FREE
This easy twist on the standard cauliflower wing recipe is a simple way to make cauliflower wings go from good to sensational. Don't forget to make my super quick maple garlic dipping sauce for these!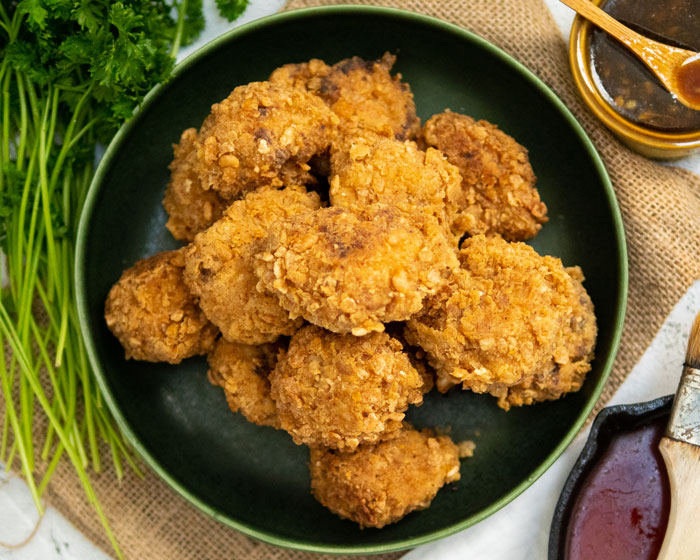 INGREDIENTS FOR CHICKEN-FRIED CAULIFLOWER (VEGAN):
KITCHEN EQUIPMENT I USED:
Chicken Fried Cauliflower
By adding crisped rice cereal to the coating, these become crunchy and savoury and you won't believe you didn't make these sooner.
Instructions
Heat oven to 400F and roast cauliflower in the oven for 20-25 minutes, turning after 15 mins.
Remove cauliflower from the oven and set aside to cool.
in a medium-size bowl, whisk together egg replacer, soy milk, and vinegar and set aside for a min of 5mins.
In another bowl, whisk together the flour, nutritional yeast, paprika, sea salt, garlic salt, onion powder, and white pepper. Set aside.
Place a wire cooling rack over a baking sheet.
Transfer a few pieces of cauliflower into the seasoned flour, coat them completely and shake off the excess. Place onto the wire rack, and repeat.
Now, add the rice cereal to the seasoned flour, and crush half with your hands.
Now, let's dredge, dip each flour-coated floret into the soy milk mixture, allowing excess to drip off. Then coat in the seasoned flour with rice cereal, patting the rice onto the floret to help it stick, and place back onto the wire rack, repeat.
To cook, you can use a deep fryer, a deep pan, or an oven. Frying will yield the crispiest, most flavourful cauliflower. It is the preferred method.
If using a deep fryer, heat frying oil (I like peanut or vegetable) to 325-350F.
If using a deep pan: pour enough vegetable oil to measure 3 inches inside the pan. Cover with a lid and heat the oil over medium-high heat.
In batches, fry a handful of cauliflower in the hot oil at a time. Do not crowd or else the temperature will drop too much.
Fry until golden brown and crispy in about 4-5 minutes, flipping occasionally.
If you are using a deep fryer: lower into the oil and fry until golden brown and crispy about 3-4 mins.
Remove cauliflower from oil and place back onto the tray, so that excess oil can drip from the cauliflower. Repeat.
If using an oven: Place the coated cauliflower on a lined baking sheet and spray them generously with a cooking oil spray like coconut oil, or Pam. Bake them at 425F for 30 minutes, flipping at 15 mins.
If using an air fryer, spray the air fryer basket with oil or cooking spray, place in a single layer, and spray them generously with the cooking spray. Cook on 375 F for 10 minutes. Flipping halfway through.
Serve fried cauliflower with a sauce of choice to dip or toss in sauce, and serve with pickles, biscuits, roasted veg or macaroni salad on the side.
Nutrition Information
Serving size:
1 serving
Calories:
373
Fat:
3g
Carbohydrates:
72g
Sugar:
6.5g
Sodium:
750.7mg
Fiber:
9.6g
Protein:
15.9g
I'm Candice & welcome to The Edgy Veg! I veganize popular food recipes for vegans, plant-based diets, eco-conscious eaters & people who are trying to eat more plants over… y'know animals or by-products of animals. I hope you enjoy this tasty vegan recipe!
Looking For More Vegan "Chicken" Recipes?
If you make this recipe, let me know what you think by leaving a 
 star rating & comment below. It truly helps me & I really appreciate any support! Feel free to share your food photos on social and tag me @edgyveg so I don't miss it!
Share My Recipe on Pinterest!