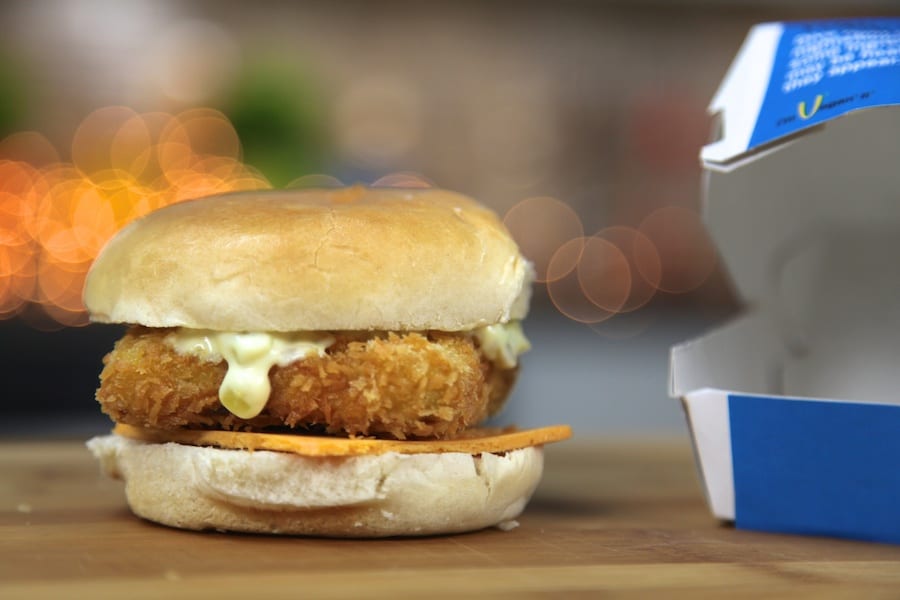 Turning McDonald's Filet-O-Fish Burger Vegan!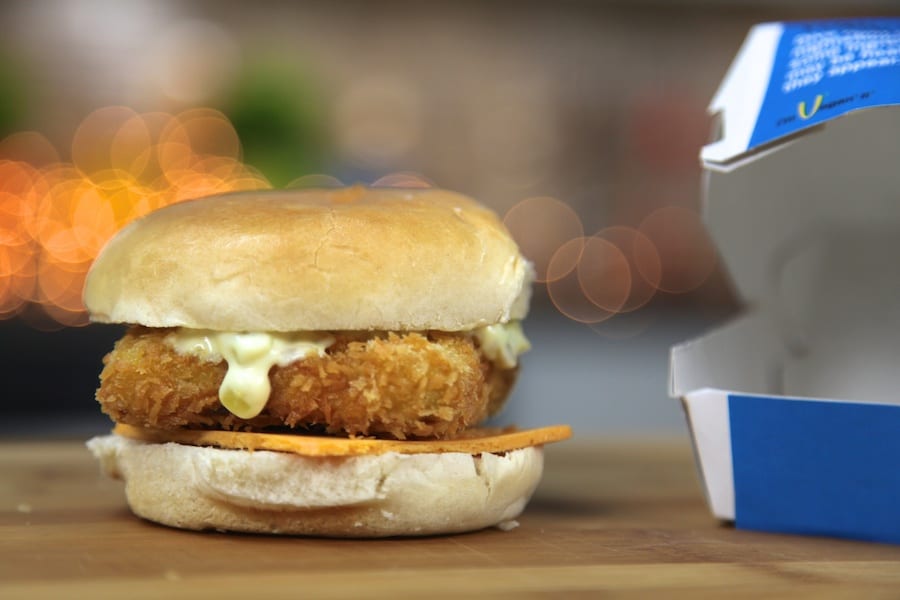 Vegan Filets O Fish
This vegan fish-o-filet is so tasty! It has the texture of fish with the zesty-creamy flavor from the tartar sauce. Eggplant is such a versatile ingredient that you can use it to make a ton of different seafood dishes because of its soft, dissolvable texture that people love in sushis and seafood.
Let me know in the comments below if you love this recipe and how close it tastes to the real Filet-O-Fish!
Filets O Fish
McDonald's was every kid's favorite fast food meal – Double cheeseburger, McChicken, Big Mac. Everything on the menu was and still is packed with meat options. The only thing left for vegans is probably just salad and some desserts. Let's face it, franchises, no matter how long they've been around still need to progress towards catering to all dietary restrictions – just 1 vegan meat burger is not enough! 
Growing up with a vegetarian mother and meat-loving friends, I was exposed to a variety of vegetarian-friendly dishes but foreign to different types of meats. Which sparked my curiosity about transforming meat options into vegan alternatives so I can be included in all the hype without killing any animals. 
Pro Tips:
If you don't have a steamer, you can steam the bun in the microwave with a tablespoon of water in a cup with your bun.
The thicker you cut the slices of eggplants, the longer you want to soak them.
If you want to be extra fancy, you can add cabbages with your tartar sauce to put with the sandwich.
Other Recipes to pair with this recipe:

INGREDIENTS:
Fish-O-Filet
KITCHEN EQUIPMENT:
Vegan McDonald's Series: Filet O Fish
Let's make a bigger statement to normalize more plant-based foods to fast food restaurants!
Instructions
Combine salt and 2-3 cups of water in a long casserole dish.
Peel your eggplant and slice into ½ inch to 1 full inch slices. Feel free to cut them into squares to resemble the original Filet o Fish. Place the eggplant slices into the casserole dish and submerge them completely (you may have to add more water). Let them soak for 60 minutes, or overnight.
While you are waiting for your eggplant to soak prepare your batter station. Using 3 shallow bowls arrange as follows flour in the first, prepared egg replacer in the second and the panko crusts in the third. You will be breading the eggplant in this order.
Pre-heat your deep-fryer (or a large pot with enough oil to cover the eggplant) to 375-400 degrees. After you have breaded your eggplant, cook for 3-5 minutes on each side until golden brown.
Preparing Your Sandwich
While you are frying prepare your bun. Using a steamer, steam your buns until they are soft and almost fluffy in texture.
Add tartar sauce to crown side of the bun. Place the cooked eggplant filet on top, add 1 slice of vegan cheese wedge centered on the filet, and add heel of the bun and enjoy!
Notes
If you wish to melt your vegan cheese, skip the step of steaming your buns and instead toast them with cheese in the oven on broil.