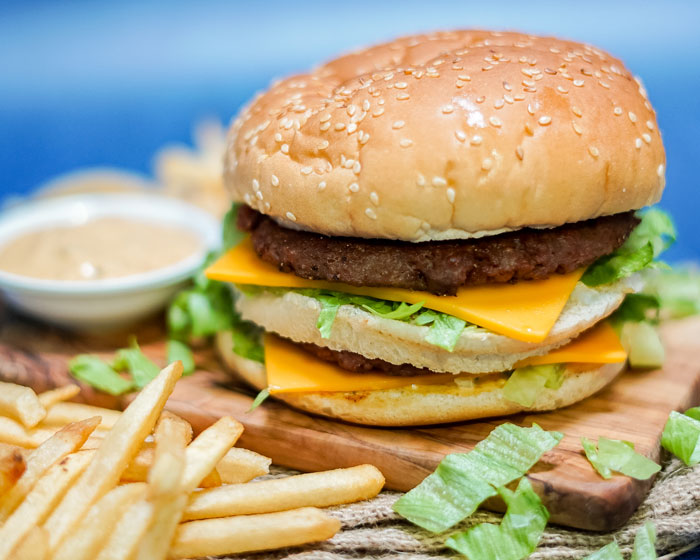 This delicious vegan big mac McDonalds replica can be made in 10 mins at home using easy to find ingredients! Anyone in your household will find this burger tasty with my vegan big mac sauce included! 
If you have non-vegans in your household, it's quicker to make this vegan big mac at home then it is driving and waiting in line to order a non-vegan McDonalds' big mac (not to mention healthier, fewer calories,  cheaper, and better for the environment).
Related Recipe: Vegan Big Mac Sauce
Vegan Big Mac Recipe
DAIRY-FREE & GLUTEN FREE (optional)
For a big, juicy bite of nostalgia, make this easy vegan Big Mac Recipe.
Just by taking a plant-based burger patty with simple ingredients, you can make a quick vegan big mac for dinner that will have you saying "I'm lovin' it". Sorry I had to say it!
Related Recipe: Vegan McDonalds Double Cheeseburger
INGREDIENTS FOR VEGAN BIG MAC:
KITCHEN EQUIPMENT:
FULL RECIPE DOWN BELOW!
By following my thin patty method, you can take a store-bought plant-based patty and turn it into a McDonald's Big Mac replica. I made my burgers using Beyond Meat ground beef and forming it into 2 thin patties for that fast-food feel.
Some readers also took a pack of Beyond Meat burgers and just sliced the patty in half to make two thin patties instead which makes it even cheaper and fewer calories!
I personally like to use Beyond Meat for this recipe, but feel free to use your favourite veggie burgers. And make sure you pair this vegan McDonalds burger with classic fries and a Coke for ultimate food McMemories.
Vegan Big Mac
This vegan big mac McDonalds replica can be made in 10 mins at home! With my homemade vegan big mac sauce, anyone will find this burger tasty and identical to a non-vegan big mac but healthier and cheaper!
Instructions
Heat a grill pan over medium-high heat and cook burgers for 3-4 mins on each side until heated through (or according to package instructions if different).
While the burgers are cooking, chop your onions, lettuce and pickles.
To make the middle bun of the big mac, you can cut the top off the bun, so your bun has 3 parts.
Lightly toast all three bun parts, by tossing them on the heat grill pan, face down, for 1 min, covered.
To assemble the burger; spread ½ to 1 tbsp big mac sauce over the bottom piece of each bun.
Then add some minced onion, iceburg lettuce, 1 vegan cheese slice, 1 burger patty and 3 pickle medallions (just like at the restaurant).
Put the middle portion of the bun on next and spread with another 1 tbsp of big mac sauce, topped with onion, some lettuce,1 vegan cheese slice, 2nd burger patty, pickle medallions, and burger bun with more big mac sauce.
To melt the cheese a bit, you can microwave each burger for 30 seconds or heat in pan with a cover.
Serve with a side of fries.
Nutrition Information
Serving size:
1 Burger
Calories:
465
Fat:
24g
Saturated fat:
6.4g
Trans fat:
0mg
Carbohydrates:
35.8g
Sugar:
5.9g
Sodium:
1432mg
Fiber:
4.3g
Protein:
27.2g
Cholesterol:
0mg
Looking For More Vegan Fast-Food Recipes?
Made this recipe? Let me know what you think by leaving a 
 star rating & comment below. It truly helps me & I really appreciate any support! Feel free to share your food photos on social and tag me @edgyveg so I don't miss it!
Share My Recipe on Pinterest!