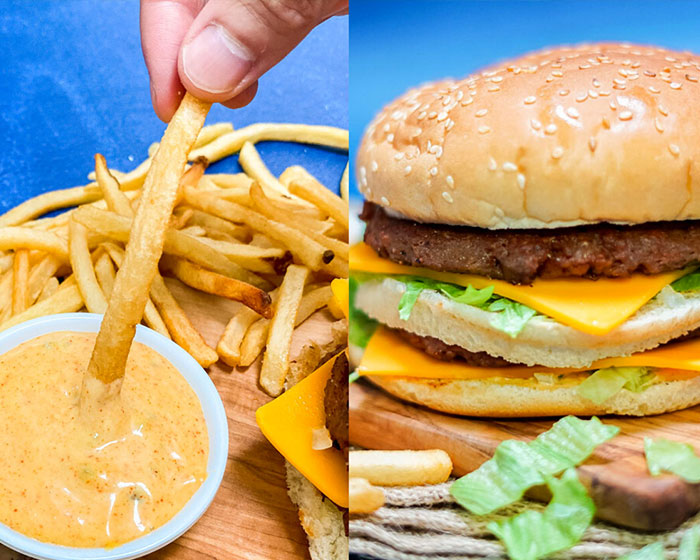 Best Vegan McDonalds' Recipes
Looking to make the best vegan McDonalds recipes at home including vegan big mac, vegan McChicken and vegan egg mcmuffin? You came to the right website!
Not only can you get your McDonalds cravings fix but also save money and eat a little healthier with these 10-minute homemade recipes. These vegan McDonalds recipes are SO easy to make and could be made for the whole family!
In no particular order, here are the vegan versions of popular McDonald's items!
Vegan McDonalds Big Mac – For a big, juicy bite of nostalgia, make this easy vegan Big Mac Recipe. This vegan big mac McDonalds replica can be made in 10 mins at home! Using my homemade vegan big mac sauce, everyone will find this burger tasty and identical to a non-vegan big mac but healthier and cheaper!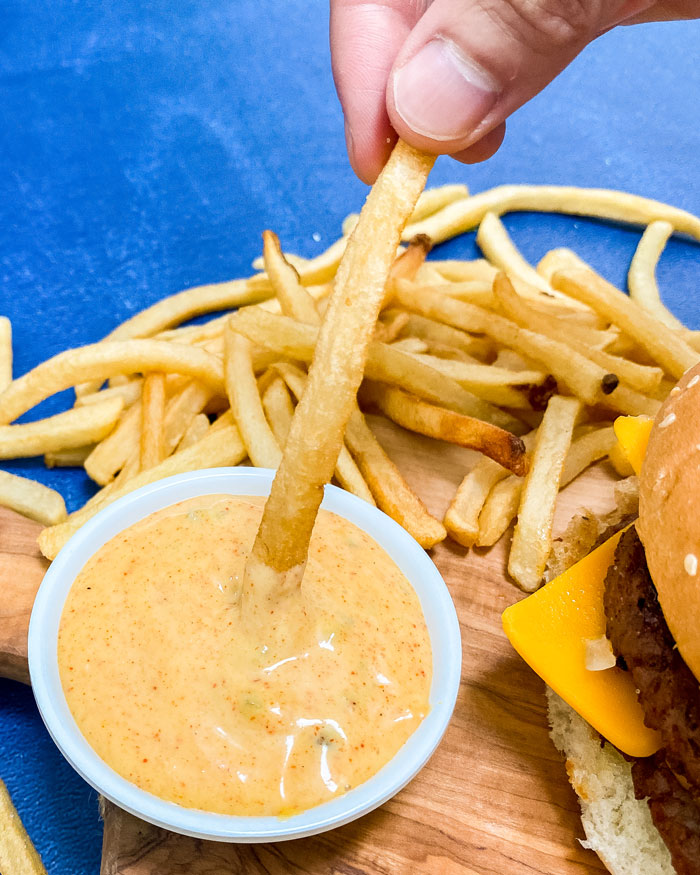 Vegan Big Mac Sauce – This vegan big mac sauce is a replica of McDonald's special sauce that goes on their non-so-vegan big mac! This recipe can be made in 2 mins using simple ingredients you have at home. You can put this special sauce on any burgers!
Vegan Chicken McDonalds Big Mac – What is a Chicken Big Mac? It's like if a McChicken had a baby with a big mac and McDonald's newest burger. All you need is vegan chicken patties of your choice & the recipe to my 2-mins vegan big mac sauce!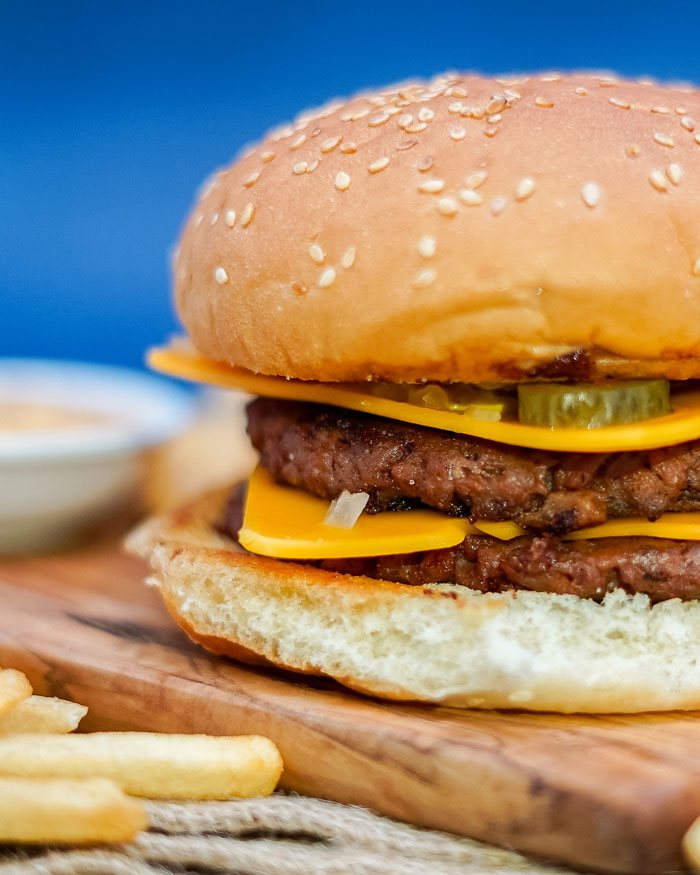 Vegan McDonalds Double Cheeseburger – This Vegan McDonalds Cheeseburger recipe is only 7 ingredients (including toppings) and made in 9 minutes. Why spend more money on fast food, when it's cheaper to make these plant-based versions at home!
Vegan McDonalds McChicken – This Vegan McChicken is truly made from scratch including the vegan burger patty, the breading for making a fried vegan "chicken" patty as well as the McChicken Sauce that's vegan! My vegan version of McDonald's McChicken sandwich uses homemade, chicken flavoured seitan, breaded to perfection.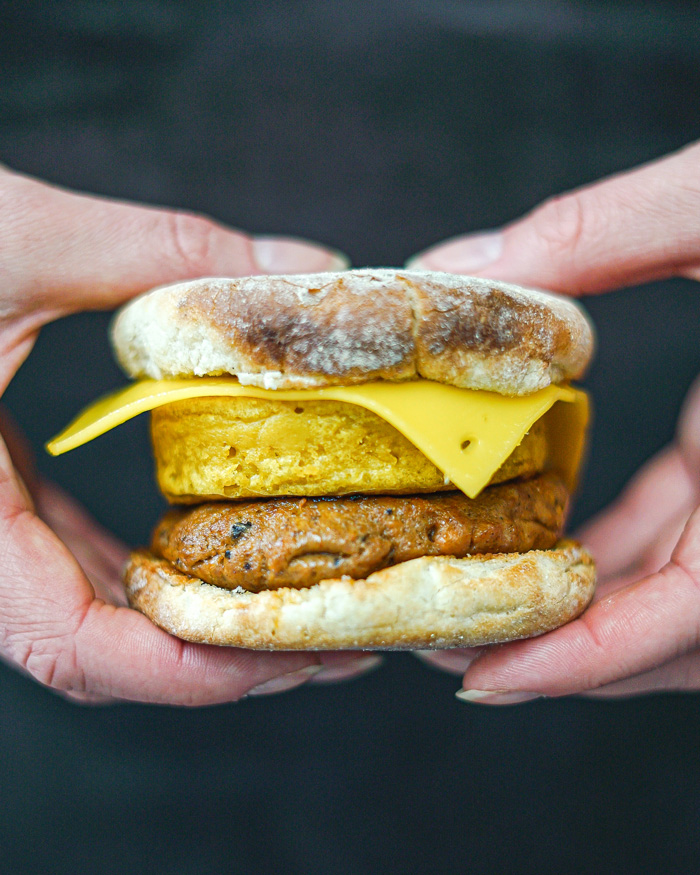 Vegan McDonalds Sausage & Egg McMuffin – This Vegan sausage egg McMuffin comes with a recipe on how to make a vegan egg patty and assemble your very own vegan McMuffin. You can grab store-bought vegan sausage patty, English muffins, and preferred vegan cheese to melt on top of the vegan egg for the most delicious breakfast sandwich ever!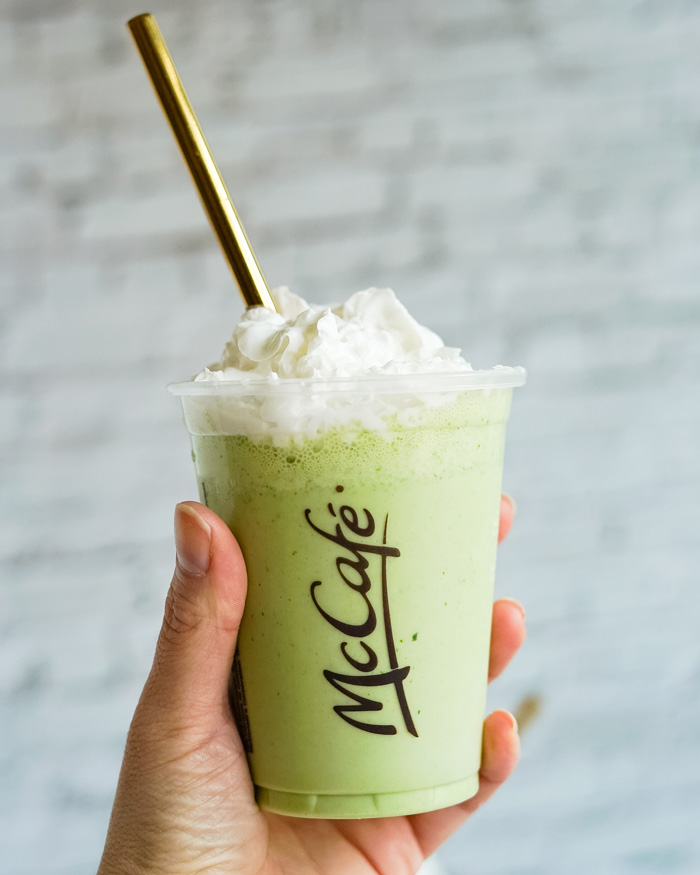 Vegan Shamrock Shake – This classic Shamrock Shake is a green, minty milkshake available at McDonald's every March for a limited time. This 3-mins vegan shamrock shake milkshake recipe is great to enjoy when you can't rely on the McDonald's limited-time menu. You can make a homemade vegan Shamrock shake in a few minutes from the comfort of your home whenever you want!
Looking For More Vegan McDonalds Recipes?
Share My Recipes on Pinterest!