Vegan Big Mac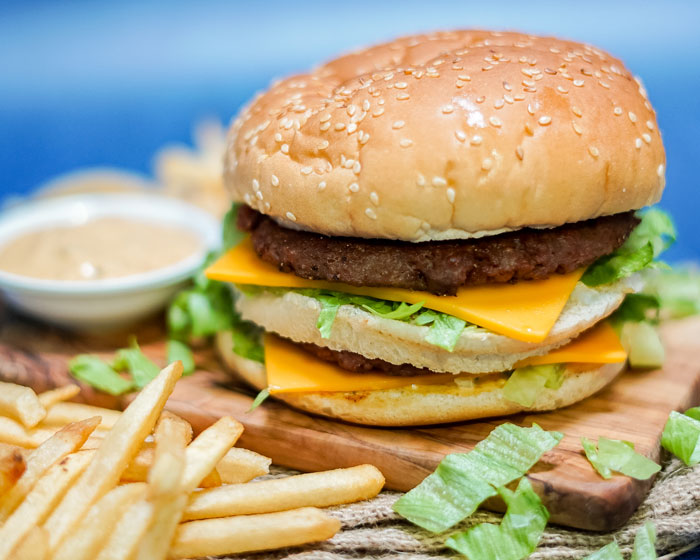 Heat a grill pan over medium-high heat and cook burgers for 3-4 mins on each side until heated through (or according to package instructions if different).
While the burgers are cooking, chop your onions, lettuce and pickles.
To make the middle bun of the big mac, you can cut the top off the bun, so your bun has 3 parts.
Lightly toast all three bun parts, by tossing them on the heat grill pan, face down, for 1 min, covered.
To assemble the burger; spread ½ to 1 tbsp big mac sauce over the bottom piece of each bun.
Then add some minced onion, iceburg lettuce, 1 vegan cheese slice, 1 burger patty and 3 pickle medallions (just like at the restaurant).
Put the middle portion of the bun on next and spread with another 1 tbsp of big mac sauce, topped with onion, some lettuce,1 vegan cheese slice, 2nd burger patty, pickle medallions, and burger bun with more big mac sauce.
To melt the cheese a bit, you can microwave each burger for 30 seconds or heat in pan with a cover.
Serve with a side of fries.
Serving size:
1 Burger
Calories:
465
Fat:
24g
Saturated fat:
6.4g
Trans fat:
0mg
Carbohydrates:
35.8g
Sugar:
5.9g
Sodium:
1432mg
Fiber:
4.3g
Protein:
27.2g
Cholesterol:
0mg