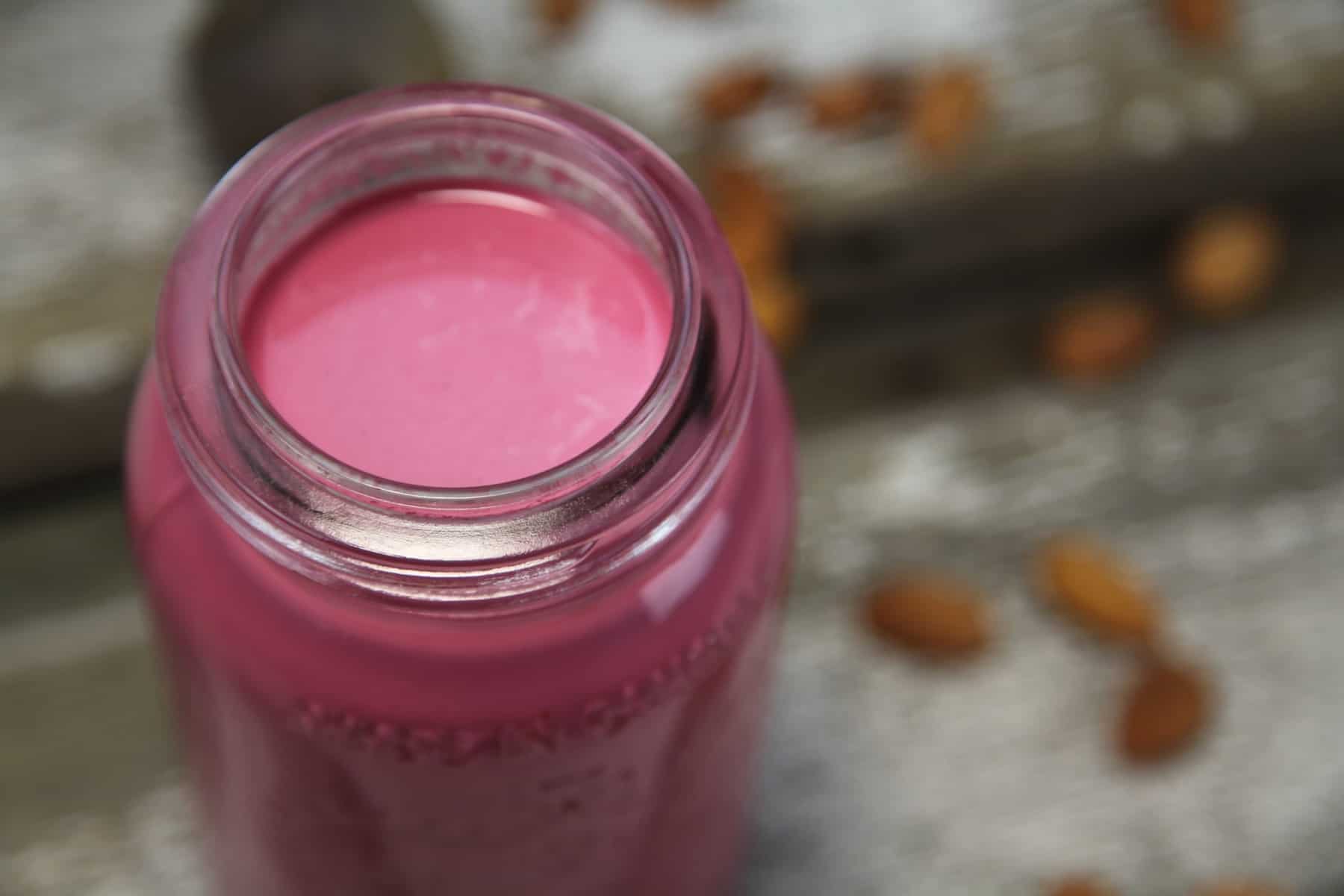 How to Make Almond Milk Pink (Hippo Milk)
Did you know that hippo's milk is bright pink? …Well, that's what the internet says anyway, and we all know that everything we read on here is true! Hehehe
Anywhoooo, apparently the reason that their milk is pink, is because of two unique acids. One reddish in colour called hipposudoric, and one orange in colour called Norhipposudoric. Together these acids turn the normally white milk, pink!!
I was inspired by a meme about this pink hippo milk and decided, that I would love to create that!! Pink Hippo milk, just in time for Easter!!
Not shortly after this, I ended up in a local juice bar and locked eyes with a jar of "Pink Milk". It was deep, almost dark red almond milk made with beets and maple syrup.  After using this as my inspiration I came up with this pastel pink, not too sweet, but oh so delicious pink hippo milk.
… plus it looks like Barbie pink, which was my favourite pink growing up.
Enjoy!

How to Make Almond Milk Pink (Hippo Milk)
Learn how to make homemade almond milk pink naturally. This stuff is to die for!
Ingredients
2 cups almonds (or cashews) soaked and rinsed
1 medium size beet, peeled and roughly chopped
2-3 dates, pitted
½ vanilla bean
approx. 6 cups water
pinch of salt
Instructions
Place all of your ingredients in a high-speed blender.
Add approximately 6 cups of water (or until you reach the fill line) and blend on high for roughly 30 seconds.
You want to have a ratio of 1 cup almonds to 2 cups water when making almond milk. This will keep your consistency creamy and delicious.
Strain the almonds.
Method 1:
Nut Milk Bag Place your nut milk bag over a large bowl and slowly pour in the milk. Most of the milk will pour out on its own, but your hands to gently squeeze out the milk from the nuts.
Method 2:
Fine Mesh Strainer Place the strainer place over a large bowl and pour the almond mixture into the strainer. Using a spoon, press all the almond milk from the almond meal.
Discard the nut meal or save for cookies or homemade granola bars.
Pour milk into a mason jar or sealable container of your choosing and enjoy.
Don't forget to check out this video below where I show you exactly how to make this recipe!