How to Make Almond Milk Pink (Hippo Milk)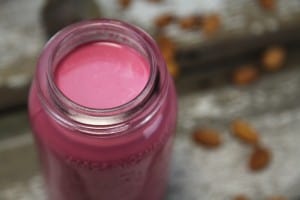 2 cups almonds (or cashews) soaked and rinsed
1 medium size beet, peeled and roughly chopped
2-3 dates, pitted
½ vanilla bean
approx. 6 cups water
pinch of salt
Place all of your ingredients in a high-speed blender.
Add approximately 6 cups of water (or until you reach the fill line) and blend on high for roughly 30 seconds.
You want to have a ratio of 1 cup almonds to 2 cups water when making almond milk. This will keep your consistency creamy and delicious.
Strain the almonds.
Nut Milk Bag Place your nut milk bag over a large bowl and slowly pour in the milk. Most of the milk will pour out on its own, but your hands to gently squeeze out the milk from the nuts.
Fine Mesh Strainer Place the strainer place over a large bowl and pour the almond mixture into the strainer. Using a spoon, press all the almond milk from the almond meal.
Discard the nut meal or save for cookies or homemade granola bars.
Pour milk into a mason jar or sealable container of your choosing and enjoy.
Recipe by
The Edgy Veg
at https://www.theedgyveg.com/2014/04/16/almond-milk/