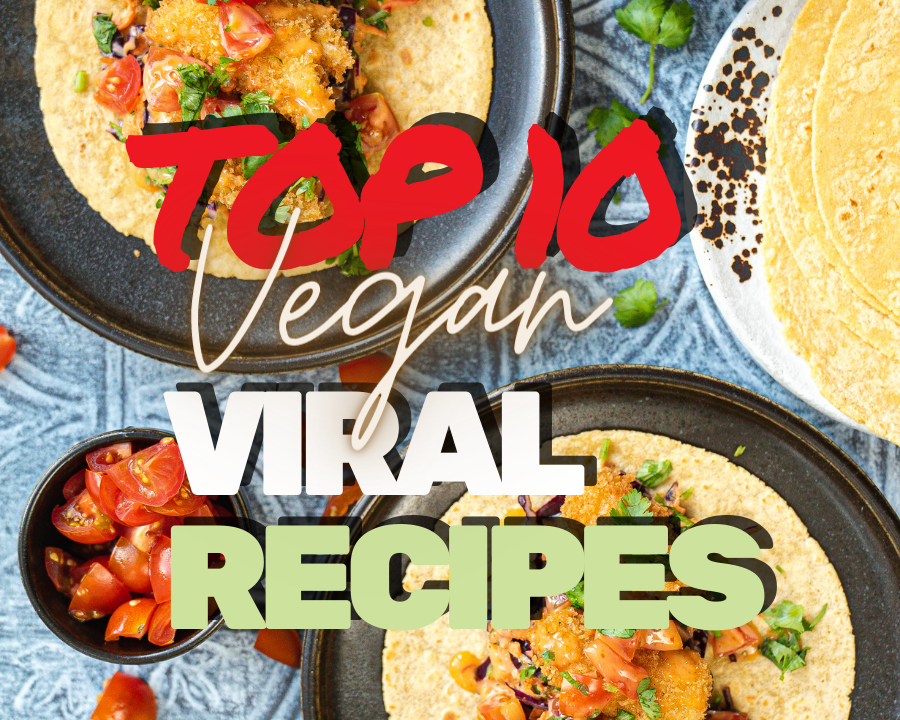 My Top 10 Most Viral Vegan Recipes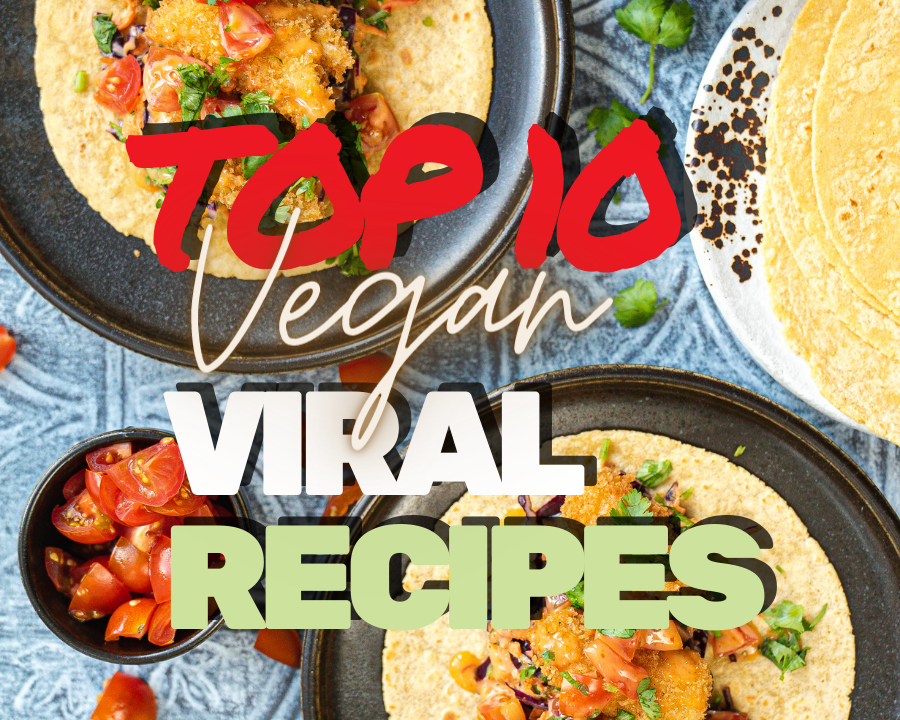 After a decade of building recipes on Edgy Veg, I wanted to share with you my Top 10 most popular recipes that went viral on the internet. I believe that these recipes went viral because of their creative execution and high-quality taste. Vegan recipes are the future of food and I am so excited to be revolutionalizing the way we eat.
I have compiled the list based on the blogs with the highest website traffic and 5-star reviews rated by our blog readers. Over the years, vegan cooking has introduced so many possibilities of recreating many classic meat recipes into vegan versions. These recipes are great for new vegans who are looking into making simple and tasty vegan dishes or want to impress their vegan guests!
My Top 10 Most Popular Vegan Recipes
These recipes are a great segway to introducing ingredients that are commonly used around the world.
Expanding your knowledge and interest in vegan recipes can teach you various types of cooking methods that you can transfer into creating even more recipes. The beauty of vegan cooking is that you can always integrate recipes you already know and love by substituting recipes that are vegan-friendly.
Some of the Vegan recipes on this list are also gluten-free and nut-free in case you're appealing to a diet that requires it.
You may or may not be familiar with this recipe, but this is my all-time most reviewed recipe. It is absolutely fantastic due to its crispy and flavourful seasoning combination. It is also super easy to make and goes on as an add-on for any bacon substitutes. Although I have made small tweaks to this recipe over the years, this recipe contains all the tips and tricks needed to make the perfect bacon texture. This recipe has been shared across all of my social media platforms and people love it. If you need one essential Edgy Veg recipe in your life, this is the one. Get the recipe here!
This is the most perfect replica to Buffalo Wings – using Seitan Chicken! It took me nearly 2 years to perfect the moist and perfectly spiced vegan wings. I promise you they will taste JUST like the meat version. You can create these imitation "bones" using sugar cane or popsicle sticks, or turn these into  "boneless" chicken nuggets! While cauliflower wings are irreplaceable chicken alternatives in the vegan community, these seitan wings are a tough recipe to compete with.  Get the recipe here!
These Instant Pot recipes are the most convenient and taste-worthy recipes to cook when you want homemade food but don't have a ton of time to cook. The instant pot recipes absolutely changed my life by saving me so much more time to cook during my busy schedule. Now you can spend more time with your family and loved ones and worry less about what to cook for dinner (because there are always leftovers for lunch). You can also use instant pot as a pressure cooker (perfect for seitan or making beans without soaking). I hope these 30+ recipes give you more ideas to get yourself an instant pot! Get those recipes here!
Most people recognize my brand due to my recreation of fast-food vegan recipes. These recipes inspire me because I want to help more vegans to have limitless options for meat. By recreating these recipes, you will never have to miss out on family dinner parties or your favourite picnics. My Popeyes Bonafide Chicken recipe definitely hits the spot when you're craving something rich and deep-fried. I have also included my top 3 tips on how to make the best seitan! Get the recipe here!
When you thought I'd stop at rice paper bacon, I have made an even more nutritiously delicious bacon alternative using carrots! This is the perfect junction to add to your next BLT and my vegan scrambled eggs. This easy-to-make, crispy, salty carrot bacon can be made with ingredients you probably already have in your fridge. Get the recipe here!
What if we can live in a world where there were more vegan options at fast-food restaurants than meat options? Let's start with Chick-Fil-A! Unfortunately, Chick-Fil-A doesn't offer vegan options and they do not support the LGBTQ+ community as there have been numerous sources indicating CFA's donation to support anti-LGBTQ organizations. As a result of this profanity, I wanted to help both my vegan and the LGBTQ+ community by re-creating the Chick-Fil-A recipe, so you don't have to support companies like this anymore. Let's reintroduce the hype of "Chik-Fil-A" by making it vegan and LGBTQ+ friendly! Get the recipe here!
FULL YOUTUBE VIDEO
Good things take time. This is the original vegan pancake recipe that I created almost 10 years ago and it has been one of my most popular recipes since then! I have many returning home cooks who have said this is their favorite all-time recipes and they go back to every time. It is one of the most consistent, reliable, and delicious tasting pancakes you have to try. You now have the privilege to add as many toppings as you'd like, chocolate chips are highly encouraged! Get the recipe here!
Homemade "Everything But The Bagel Seasoning" (1 min + Gluten-Free)
Everything But The Bagel Seasoning is possibly the most famous Trader Joe's product because it is loved by everyone. This seasoning is so diverse that you can use it on any food like roasted veggies, nuts and chips, avocado toast and more! This staple seasoning can be made at home by clicking on this recipe here. Let's make food more affordable or accessible.
Jackfruits are a delicious substitute for many pork/chicken recipes. It creates such a stringy and soft texture that can be used for so many delicious vegan and vegetarian recipes! That is why I created this pulled pork taco recipe that just might convert you to going vegan for good. This easy vegan taco recipe tastes so much like the real thing you'll never miss eating pulled pork tacos again! Get the recipe here! If you want even more joy on your table, you can also try my Jackfruit Pulled Pork Sandwiches recipe!
Growing up in Toronto, I had the privilege of trying a diverse set of cultural foods through friends and family. And during the colder seasons, I cannot help but crave Indian food. So I created this Instant Pot Dal recipe, which contains aromatic spices, lentils, tomatoes, and cilantro. The perfect blend that is usually served with basmati rice or naan, or both. This definitely landed on the Top 10 Most Viral list because it is so simple, warming and can be made quickly in the instant pot. Dal is a perfect recipe to get you started if you're new to using an instant pot! Get the recipe here!
My Most Popular Vegan Recipes
Instructions
Plan what vegan recipes you want to make.
Gather all your ingredients.
Choose recipes you can make ahead of time
Enjoy your meal!
Hi! I'm Candice aka The Edgy Veg!  I veganize popular food recipes for vegans, plant-based diets, eco-conscious eaters & people who are trying to eat more plants over… y'know animals or by-products of animals. I hope you enjoy this tasty vegan recipe!
---
Looking For More Vegan Recipes?
Made this recipe? Let me know what you think by leaving a ★★★★★ star rating & comment below. It truly helps me & I really appreciate any support! Feel free to share your food photos on social and tag me @edgyveg so I don't miss it!
Share My Recipe on Pinterest!