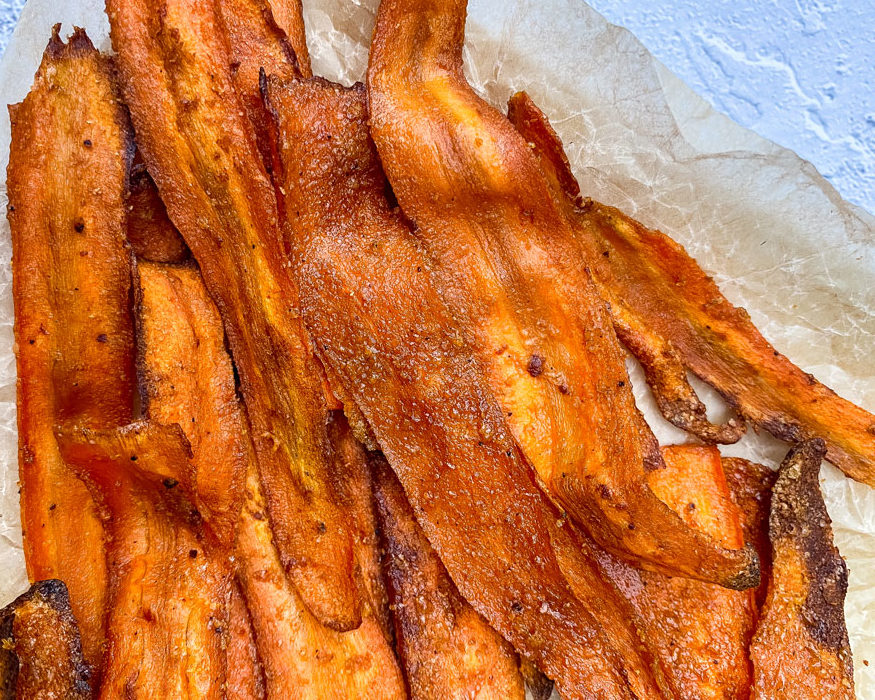 Carrot Bacon | Vegan Bacon Using Carrots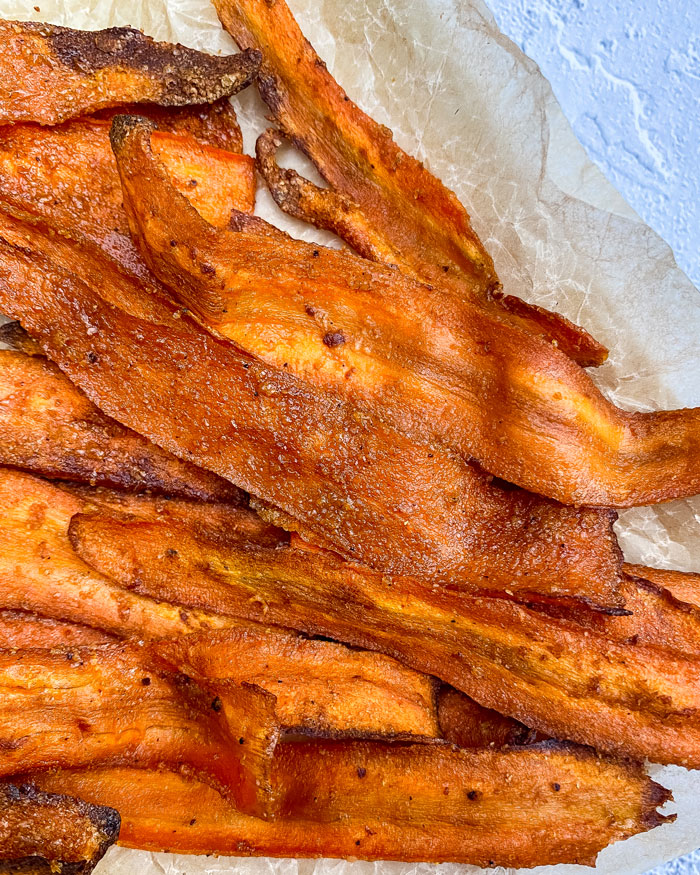 Carrot Bacon? That's right! Healthy carrots turned into vegan bacon using my new rice paper bacon marinade! This carrot bacon recipe can be made in under 30 minutes and is a healthier alternative to bacon!
For years, I've been making vegan bacon substitutes out of many different veggies and fruit! From my popular rice paper bacon recipe to all the vegan bacon recipes in my cookbook (eggplant bacon, mushroom bacon, and coconut bacon!)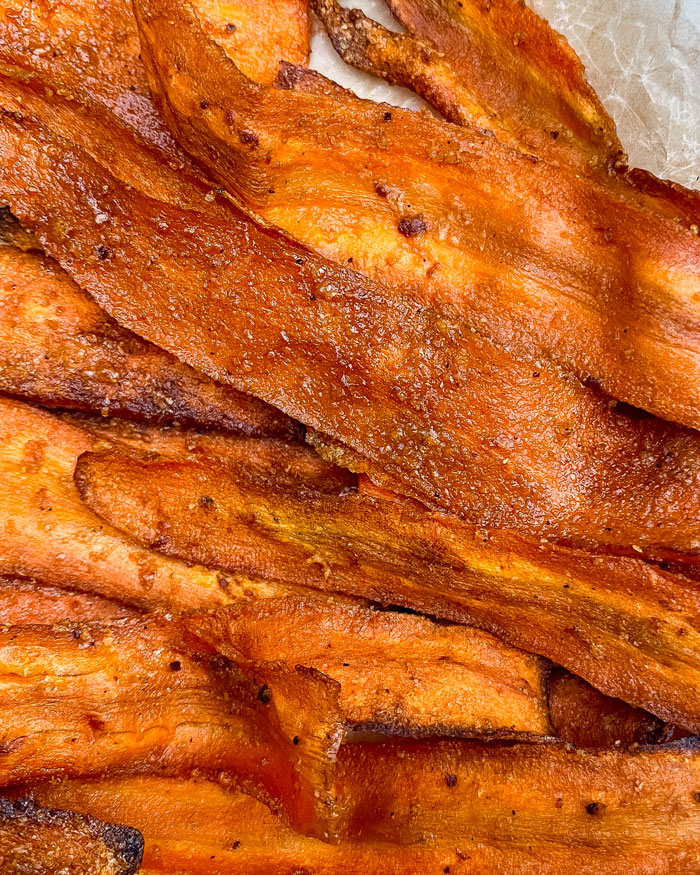 I'm now excited to share my method for cooking carrot bacon! I was first inspired to make this recipe from one of Tabitha Brown's TikTok videos. Tabitha Brown is sometimes known as the mom of TikTok. Her calming and supportive demeanor perfectly accompanies her healthy, easy, whole foods plant-based recipes. So using the carrot idea, I tweaked my popular bacon marinade for this carrot bacon recipe.
Related Recipe: Rice Paper Bacon
CARROT BACON
VEGAN | DAIRY-FREE | GLUTEN-FREE
Carrots are healthy for you, so why not make carrot bacon for your next BLT or even with my vegan scrambled eggs! This easy, crispy, salty carrot bacon is easy and can be made using ingredients you probably have in your fridge. I used my rice paper bacon marinade with some new tweaks I've been experimenting with plus Tabitha's concept to create my own version! Hope you enjoy it!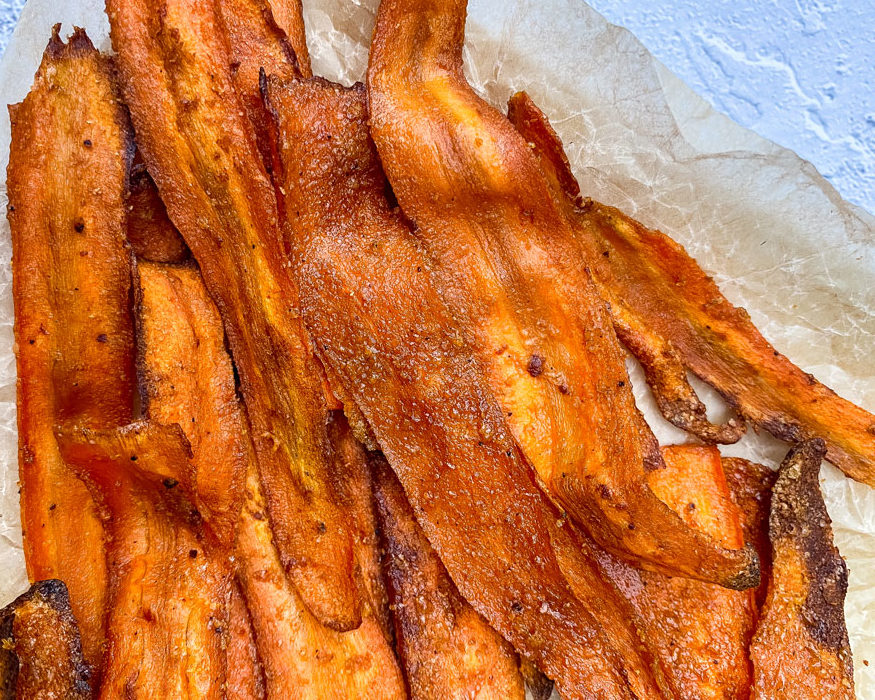 INGREDIENTS FOR CARROT BACON (VEGAN):
ALL MEASUREMENTS ARE IN RECIPE CARD BELOW☺️
KITCHEN EQUIPMENT I USED: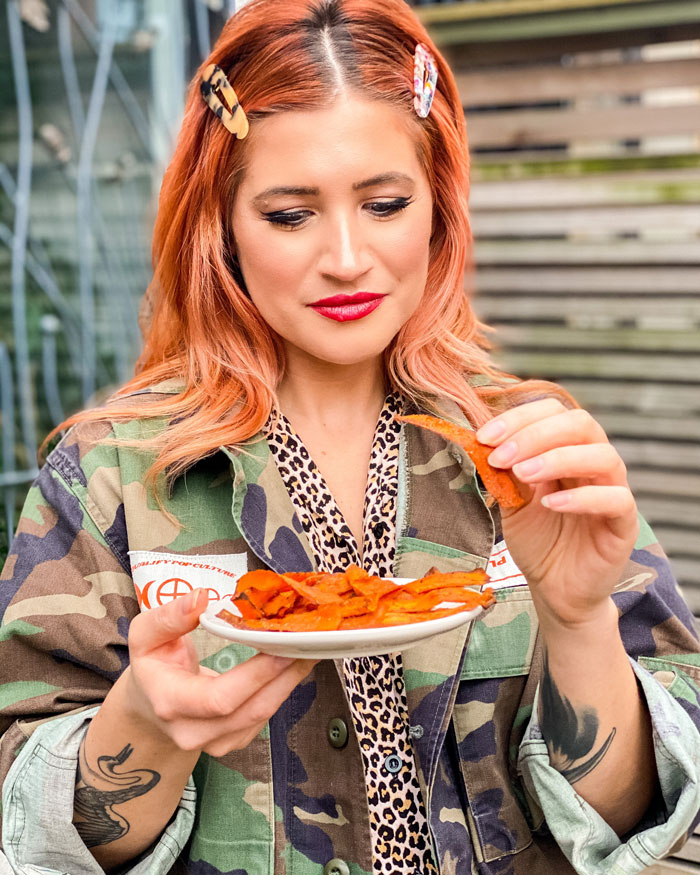 TIPS FOR AIR FRYER CARROT BACON:
I originally made carrot bacon in the air fryer at 380F for 5 mins following Tabitha Brown but didn't find it as crispy like I usually like it. The air fryer made the carrot bacon crispy on the outside and softer on the inside. Depending on your specific air fryer, results may vary as I found out. However, I recommend trying to flip halfway through your chosen cook time.
For my method, I recommend air frying your carrot bacon at 350F instead for 10 mins. Lower temperature but longer time dries out the moisture making it extra crispy.
Some pieces will still look like carrot slices, but some pieces will look like crispy bacon. No matter what it looks like, the taste is unbelievably good. Again, it's a healthy carrot with a marinade that helps it taste like bacon.
If you want crispy carrot bacon, you could try adding salt to the sliced carrot to dry out the moisture as well so that it becomes crispier faster.
Related Recipe: Vegan BLT Sandwich
Carrot Bacon Recipe
That's right! Carrot Bacon! Carrots turned into vegan bacon using my new rice paper bacon marinade! This carrot bacon recipe can be made in under 30 minutes!
Instructions
In a blender or medium-sized bowl, whisk together soy sauce, olive oil, maple syrup, tahini, paprika, garlic powder, pepper and liquid smoke. Set aside the mixture in a bowl.
Use a vegetable peeler, and peel the carrot from end to end, to create bacon-like strips.
Add the strips to the bowl with the marinade, and allow to marinate for at least 15 mins. The longer the better.
To cook in an air fryer: In batches cook at 350F for 10 mins.
To cook in an oven: Preheat oven to 400F. Bake carrots on a lined baking sheet for 10-15 minutes flipping halfway through. Depending on your oven, definitely check on them every 5 mins incase they start to burn or be too well done. The best would be to do them in an airfryer but wanted to give you an oven option as well.
Nutrition Information
Serving size:
½ cup
Calories:
114
Fat:
9g
Carbohydrates:
5.75g
Sugar:
3.25g
Sodium:
687mg
Fiber:
1.6g
Protein:
2.2g
___________
I'm Candice & welcome to The Edgy Veg! I veganize popular food recipes for vegans, plant-based diets, eco-conscious eaters & people who are trying to eat more plants over… y'know animals or by-products of animals. I hope you enjoy this tasty vegan recipe!
Looking For More Vegan Breakfast Recipes?
If you make this recipe, let me know what you think by leaving a
star rating & comment below. It truly helps me & I really appreciate any support! Feel free to share your food photos on social and tag me @edgyveg so I don't miss it!
Share My Recipe on Pinterest!