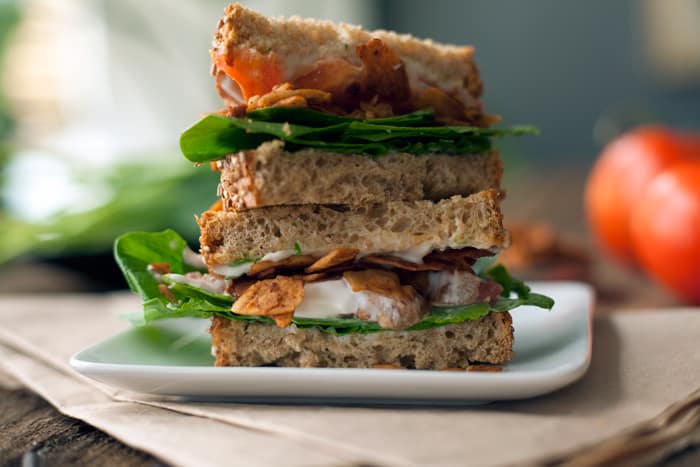 Best Vegan Sandwich Ever! The TLC (vegan BLT)
When I was younger I loved fresh tomato and mayo sandwiches with a sprinkle of pepper and salt. I don't know what it was about that sandwich that was so satisfying but it absolutely gave me the fresh and salty fix that I so often crave. Over time my simple sandwich grew into something that resembled more of veggie BLT and became my go-to office lunch and lazy evening snack. The joys of sandwiches are that they are rule-breakers by nature, sure, I am still calling this thing a BLT (even though there is no B and often I replace T with spinach or sprouts) but you can use any suitable greens you love and any vegan bacon of your choice!
If you want a B for your vegan BLT, try my making my popular Rice Paper Bacon recipe or even my recipe for Carrot Bacon, if you have carrots in your fridge!
I love love love coconut bacon, it's smoky, salty and slightly sweet flavor is perfect with some homemade vegan mayo and fresh tomato. I once tried this with seaweed bacon and that was just as satisfying but added a slightly saltier flavor and was lighter than the coconut. So like I said, you can stick with the recipe, or break your own rules and use avocado instead of vegan mayo, or arugula instead of lettuce—I guess then it would be called a CAT with avo? Sure…
The bread, more than the "meat" of the sandwich, to me, is what holds everything together, not just literally, but also in terms of flavor. I like to buy really good whole grain breads with crusty edges and soft fluffy (but hearty) centers. A great European rye is also a badass bread option that kicks it up a notch. Vegans are foodies too, you know!
So, not matter how you like to construct your sandwich, I hope you enjoy this simple but satisfying recipe!

Best Vegan BLT Sandwich
Do I really even need to say anything else? Crispy coconut bacon with cashew mayo or mashed avocado, fresh tomato and crispy greens? This vegan BLT sandwich satisfies all my salty and fresh cravings at the same time!
Instructions
Smoky Coconut Bacon
Preheat your oven to 325F.
In a large mixing bowl whisk all of your liquid ingredients together until well combined to create a marinade.
Add the coconut into the marinade mixture and lightly toss to coat evenly.
Line a large baking sheet (or two medium size) with parchment paper and spread out the coated coconut.
Bake for 15-20 mins, flipping the coconut every 5 mins to ensure it does not burn.
Remove from the oven when the coconut is lightly golden brown and "toasted".
Remove from sheet right away and place it into a large bowl, add a small sprinkle of salt and allow to cool completely.
Once cooled, store in an air tight container or jar.
Build the Sandwich
To serve, spread the vegan mayon on each slice of toasted bread.
Top bottom slice with greens, tomatoes, and a generous amount of cocout bacon.
Top with the other bread slice, cut in half and serve immediately.