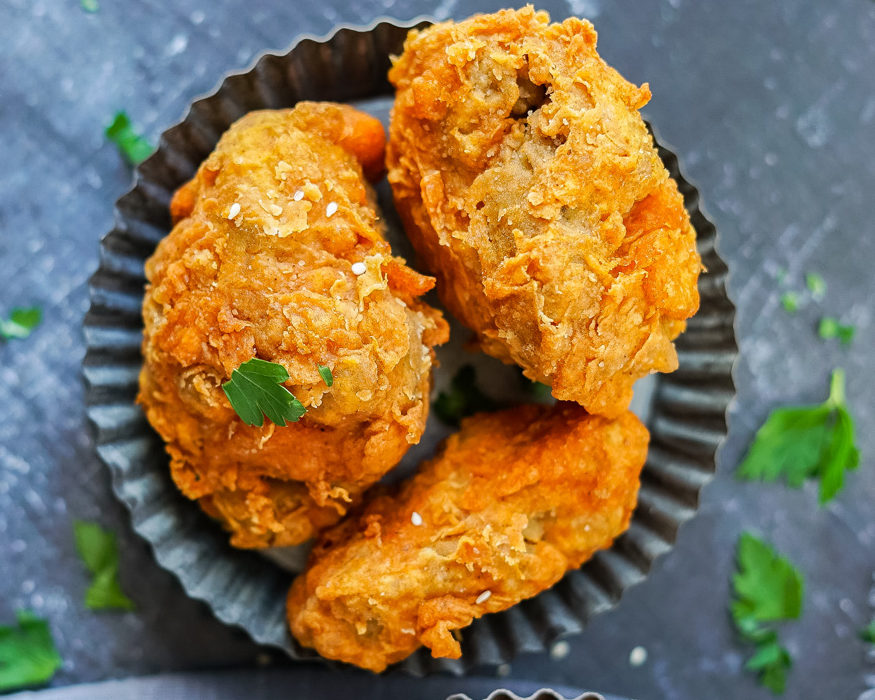 Vegan Popeyes Bonafide Chicken (Vegetarian)
Junk food reverse engineering has become my "thing" hasn't it? I spend a lot of time checking in with my carnivore pals and harassing them about the food they are into, trying, and craving. During one of these chats, the mention of good ol' Southern fried chicken came up. It had dawned on me, I have not yet created any home-grown, deep-southern, finger-lickin' good, tried and true vegan/vegetarian fried chicken recipes!
I guess it's time to add Popeyes Chicken to the list of vegan fast food menus I am going to tackle on this journey to vegan-deliciousness. I started with a modified version of my chicken seitan recipe, and the rest just blossomed from there. The finished product was actually super easy to re-create and ended up being unbelievably moist, seitan covered in a thick, crunchy, spicy batter. I ate them next to a pile of buttery biscuits, hot sauce and gravy, making my afternoon experiment a delicious delight.
There is no reason to head out for fried chicken when you can make this amazing recipe at home without harming any animals!! You'll love this vegan copycat Popeye's chicken recipe, I am sure of it.
Tips to Make the Best Seitan Possible:
When cooking the seitan pieces in broth, keep the pot at a simmer DO NOT BOIL or they will fall apart in the liquid.
After the simmering stage, allow the seitan pieces to sit on a wire cooling rack before coating and frying, allowing them to dry off a little bit will result in the coating sticking to them more evenly.
Once the dough is ready, rip it into small pieces, about the size of your palm. Twist each piece then tie it in a knot, tucking in the ends. This will create the best fibrous texture.
Vegan Popeyes Fried Chicken (Vegetarian)
There is no reason to head out for fried chicken when you can make this amazing vegan recipe at home without harming any animals!! You'll love this vegan Popeye's fried chicken recipe, I am sure of it.
Ingredients
"Chicken"
Coating liquid
Dredging
Instructions
"Chicken":
In a mixing bowl, mix together wheat gluten, nutritional yeast, onion powder, salt, and poultry seasoning.
In a stand mixer or larger bowl, combine 1½ cup Franks and tahini and whisk until smooth.
Mix the dry ingredients with the wet, on a low setting with the paddle attachment, or with your hands, until well combined.
Knead the dough at a low speed, with a dough hook until it is elastic but not dry. no more than 5 mins. Sprinkle additional gluten flour if your dough is too sticky.
Divide the dough into pieces half the size of a chicken breast. The dough will grow to about twice its size when cooked.
Twist and tie the dough in knots, this will create fibres in the dough, making the chicken very realistic in texture.
Bring 6 cups of broth to a boil. Place the knotted seitan, ensuring they are covered completely.
Reduce heat to a rolling simmer, and simmer seitan pieces in broth for 1 hour, stirring every 15 mins. It is very important that you do not boil the seitan or it will fall apart.
Remove seitan from broth and place on a wire baking rack until cool to the touch. Give them a little squeeze to remove any excess liquid.
To Coat:
Combine the hot sauce, egg replacer and mustard in a small bowl. This is your coating liquid.
for your dredging, combine flour and all spices in another shallow bowl, and whisk until well combined.
Working with one piece of seitan at a time, coat each piece with the flour, then dredge it in the hot sauce mixture, and coat again in the flour mixture.
Set aside until the rest of the seitan is breaded.
Heat up plenty of oil in a deep pot, or heat up your deep fryer.
When hot (350F) fry the coated seitan for 3-5 mins or until they are light brown and crispy.
Remove the seitan and place it on a wire cooling rack, or paper towels.
Serve with biscuits and pickles, or your favourite dipping sauce. I like Buffalo Sauce, Habenero Ranch, or Vegan Honey Mustard Sauce.