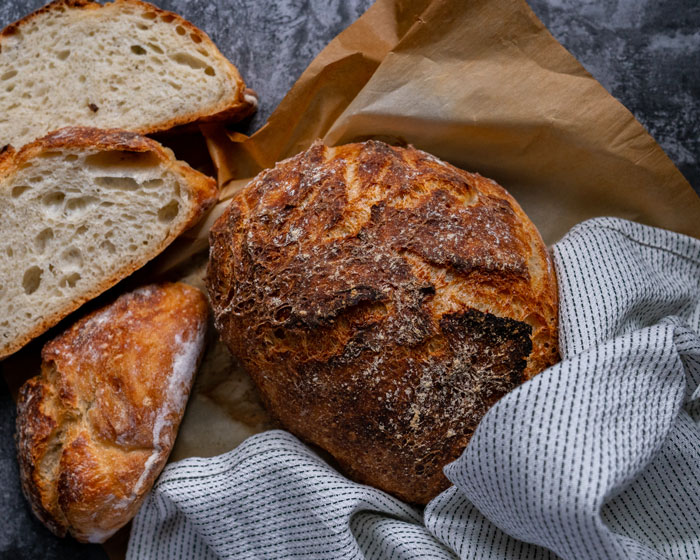 Easy Vegan No Knead Bread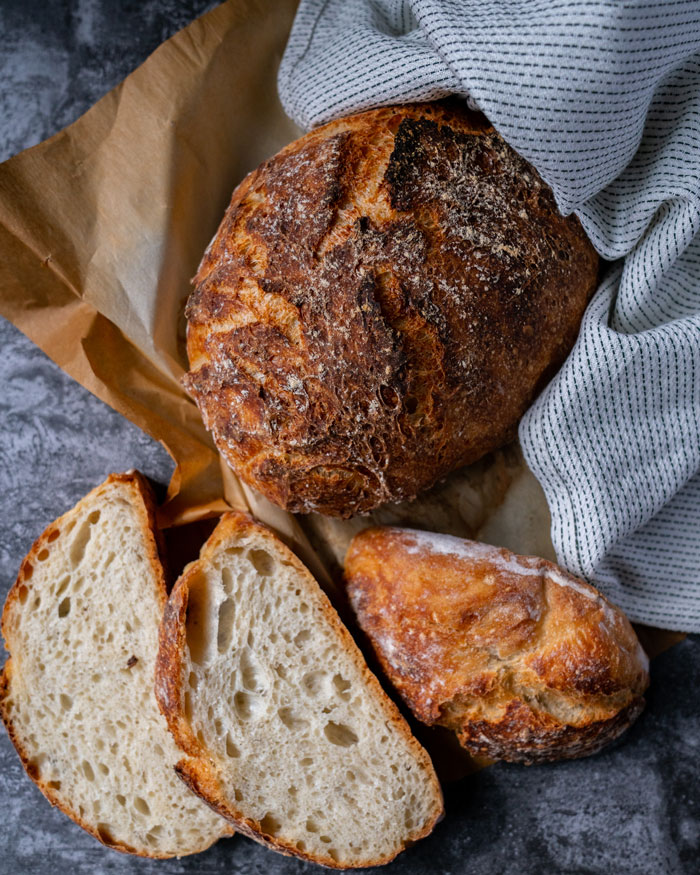 This easy vegan no-knead bread recipe uses 3 simple ingredients with water: flour, yeast, and salt. It's one of the easiest loaves of bread to make with 5 mins to mix the ingredients while you allow it half a day to rise before baking it in the oven.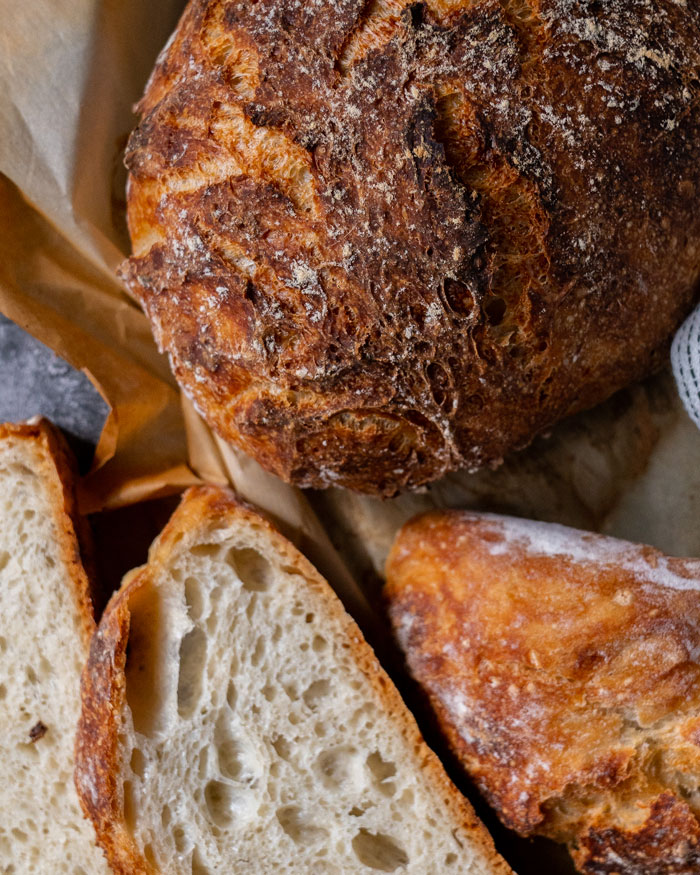 This bread recipe is so simple and takes very little attention. It makes a beautiful, crusty and soft loaf that you'll have a tough time not finishing the day it comes out of the oven. Feel free to also make my vegan butter recipe while you wait for the dough to rise.
Luckily, most traditional classic bread recipes are already vegan since they don't use eggs or dairy. Feel free to bake a few of these and drop them off to cheer up a friend or relative! Whether they are vegan or not, they'll love it.
As we're staying home, it seems there's a trend on the internet of many people trying new trendy recipes like whipped coffee, or even chocolatey banana bread and sourdough… but this is a no-knead bread recipe I hope will stay with you when the world begins to get back to a new normal.
Today's recipe yields one loaf, making it perfect to prepare every few days for consistent fresh bread in the pantry and the aroma of fresh-baked bread flowing through your house like a dream. You'll think you're living upstairs from a classic French bakery.
NO-KNEAD BREAD
VEGAN | DAIRY-FREE | EGG-FREE
Today I'm sharing with you my favourite, easy, low-maintenance bread recipe. This recipe is only 4 ingredients, and they're all shelf-stable staples you probably already have. This bread is a perfect first step for those of us who aren't master bakers… yet.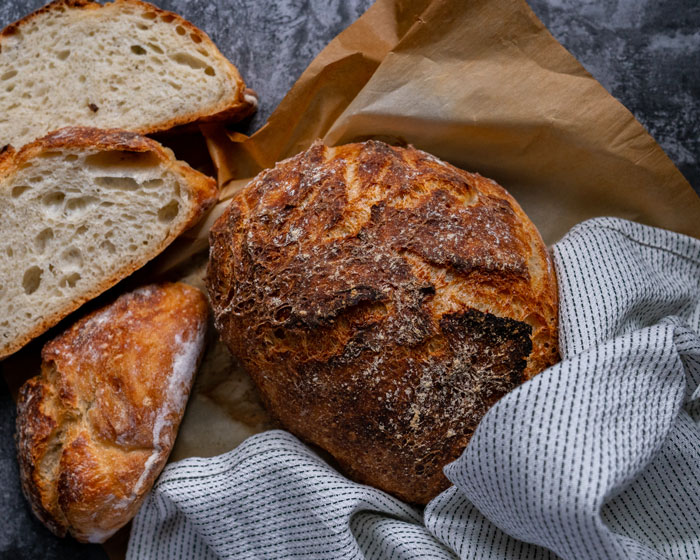 INGREDIENTS FOR NO-KNEAD BREAD:
KITCHEN EQUIPMENT I USED:
No Knead Gluten-Free Bread (Vegan) Recipe:
Replace All-purpose flour with gluten-free flour to make a no-knead gluten-free bread.
Most yeast is gluten-free but some kinds of yeast do contain gluten. Dry active yeast is commonly gluten-free which is what I use in this recipe.
No Knead Whole Wheat Bread (Vegan) Recipe:
You can try replacing flour with whole wheat flour to make a no-knead whole wheat bread.
3-Ingredient No-Knead Bread
This easy vegan no-knead bread recipe uses 3 simple ingredients with water and can be made into a gluten-free or whole wheat no knead bread.
Instructions
In a large bowl whisk together flour, yeast, and salt.
Stir in hot water with a wooden spoon, until well combined. The dough will be sticky and that's what you want.
Cover the bowl with plastic wrap or a plastic shower cap (a fun bread baking hack) and let it sit at room temperature for 12-18 hours. We are going to do a slow, long rise.
After 12-18 hours the dough should be expanded, puffy, with bubbles.
Preheat your oven to 450F, with a dutch oven inside (with the lid). You need the dutch oven to be nice and hot.
Meanwhile, clean and lightly flour your countertop and form the dough into a ball.
Transfer the dough to a large piece of parchment paper and sprinkle it with a tiny it of flour. Cover it loosely with a clean dish towel, and let rest as the oven preheats.
When the oven is nice and piping hot, carefully remove the dutch oven (with oven mitts). Lift the parchment paper and dough and place it into the hot dutch oven.
Cover with the lid and place back into the oven and bake for 30 mins. After 30 mins, remove the lid from the dutch oven, and bake for another 10-15 mins, until the loaf has browned.
Remove from the dutch oven and wrap in a clean dish towel and allow to cool on a wire cooling rack for at least 15 mins before slicing.
Nutrition Information
Serving size:
1 slice
Calories:
136
Fat:
0.4g
Carbohydrates:
27.4g
Sugar:
0.1g
Sodium:
293mg
Fiber:
1.7g
Protein:
3.9g
Cholesterol:
0mg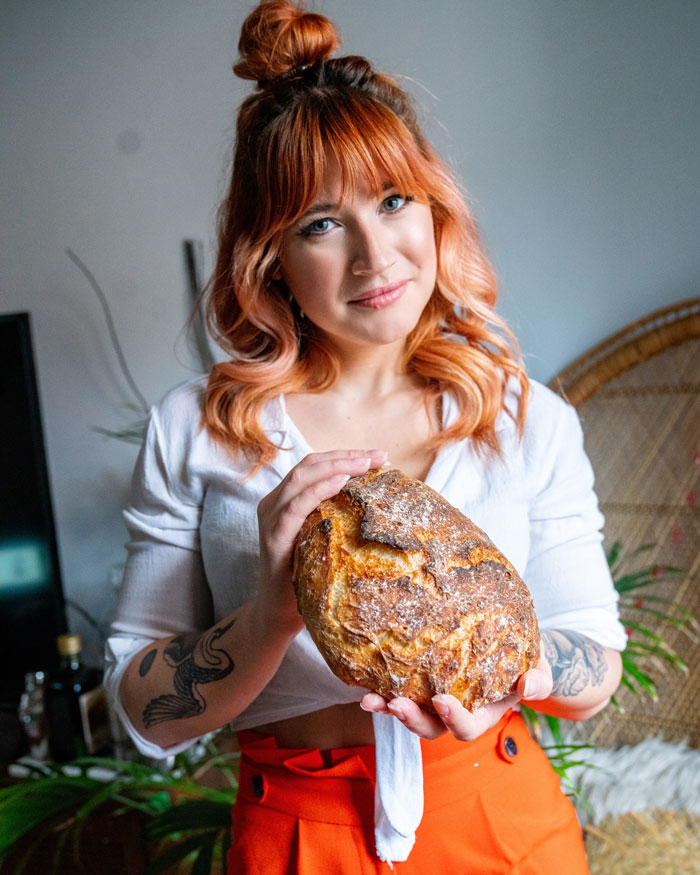 I'm Candice & welcome to The Edgy Veg!
 I veganize popular food recipes for vegans, plant-based diets, eco-conscious eaters & people who are trying to eat more plants over… y'know animals or by-products of animals. I hope you enjoy this tasty vegan recipe!
___________
Looking For More Vegan Baking Recipes?
If you make this recipe, let me know what you think by leaving a 
 star rating & comment below. It truly helps me & I really appreciate any support! Feel free to share your food photos on social and tag me @edgyveg so I don't miss it!
Share My Recipe on Pinterest!