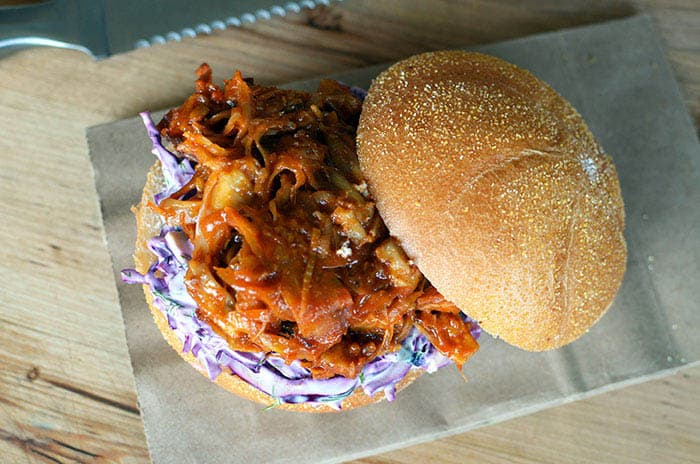 Jackfruit Pulled Pork Sandwich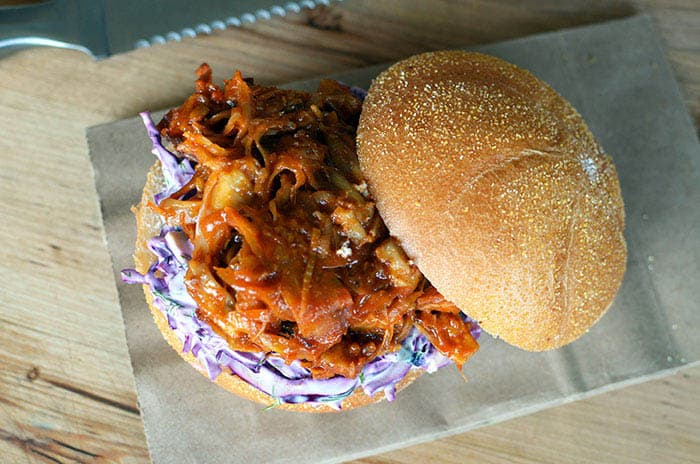 Summer is just around the corner, and at our place that means that it's time to throw some weekend get-togethers. Being the foodies of the group, but also the couple with the largest handicap (…not my words) I tend to turn to crowd-pleaser-meals to get everyone excited about my animal-free cuisine. My favourite meal to trick the guests is this saucy, pulled pork sandwich! Delicious Jackfruit pulled pork piled high on a soft bun with tangy red cabbage coleslaw. This sandwich is pure heaven. I have successfully tricked carnivores from all walks of life with this one. It is delightfully messy, but since it is mostly all fruit and veg- you don't have to feel much guilt when you indulge! Bonus! I like to think of this guy as an adult vegetarian Sloppy Joe, a little bit classier than the traditional but in the end the same type of ooey-gooey mess.
Chefs Tip: Prepare the coleslaw a few hours in advance so it has time to chill and the flavors have a chance to mingle.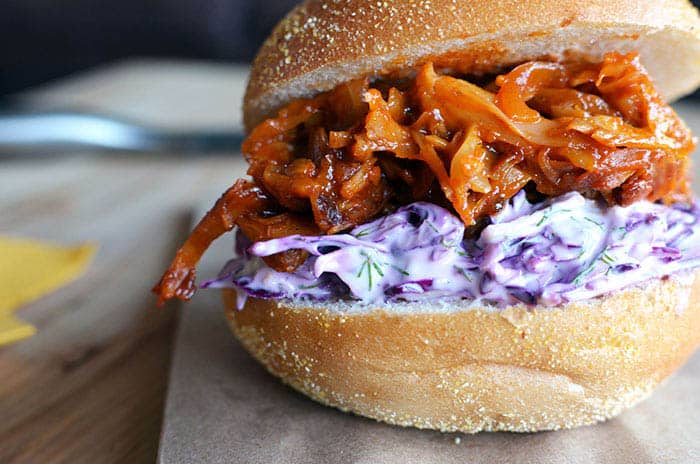 I used to use TVP or shredded seitan to make the meat in this recipe, but when I discovered the magic of jackfruit– it was game over. Never again can I use anything other than jackfruit to pull off this recipe. Make sure you get young jackfruit in water or brine and not in syrup. The young jackfruit has almost no taste at all, so it takes on the flavour of whatever you cook it with– sort of like tofu. Then, when you slow cook it or simmer it, you can break it apart with a fork or potato masher for the same pulled pork effect you would get from actual pork! I love food magic! I mean honestly, who doesn't love succulent pulled pork, most of us used to eat meat and it was not the dis-like of the meat that turned us vegan, right?! Now we can stand up for our love of animals, but still eat all the great food we loved before making the transition! Yay!

Jackfruit Pulled Pork
The days of sucky vegan meats is over. This vegan pulled pork recipe looks and taste so much like the real thing you could food omnivores. Seriously. The best part, this vegetarian pulled pork recipe is easy and quick to make! Delicious.
Ingredients
1 Tbsp coconut oil
1 small onion, finely sliced
3 cloves garlic, minced
2 tsp paprika
2 tsp chili powder
1 tbsp maple syrup
2 cans of Jackfruit in water or brine, drained and rinsed well
½ cup water
¾ cup vegan BBQ sauce
Instructions
In a large freezer bag add coconut oil, paprika, chili powder, and maple syrup and mix well.
Add jackfruit to the marinade and allow to marinate for a minimum of 2 hours either on the counter, or if marinating overnight, place in the fridge.
When the jackfruit has marinated and is ready to go, place a pan on medium heat, and heat some coconut oil.
When your oil is hot, add onion and garlic to the pan. Cook and mix until onions are clear.
Add water and jackfruit, mix well, and bring to a simmer for about 20 mins, covering halfway through to avoid drying out the meat.
After 20 mins, break up the jackfruit using a a masher or a fork, and reduce heat even more.
Cover and continue to cook on low for another 15-20 minutes, stirring often to break up large pieces of jackfruit.
Cook until all liquid has evaporated and remove from heat.
Add BBQ sauce to pan and coat jackfruit, add more if you like your pulled pork really messy and gooey.
Vegan Coleslaw
Ingredients
½ purple or green cabbage, shredded
1 large carrot, peeled and grated
½ small white onion, finely chopped
1 tablespoon apple cider vinegar
½ cupvegan mayo
½ tablespoon maple syrup
¼ teaspoon salt
1 tsp fresh dill, finely chopped
¼ teaspoon ground black pepper
Watch me make this recipe by watching this free video below! Bon Appetit!