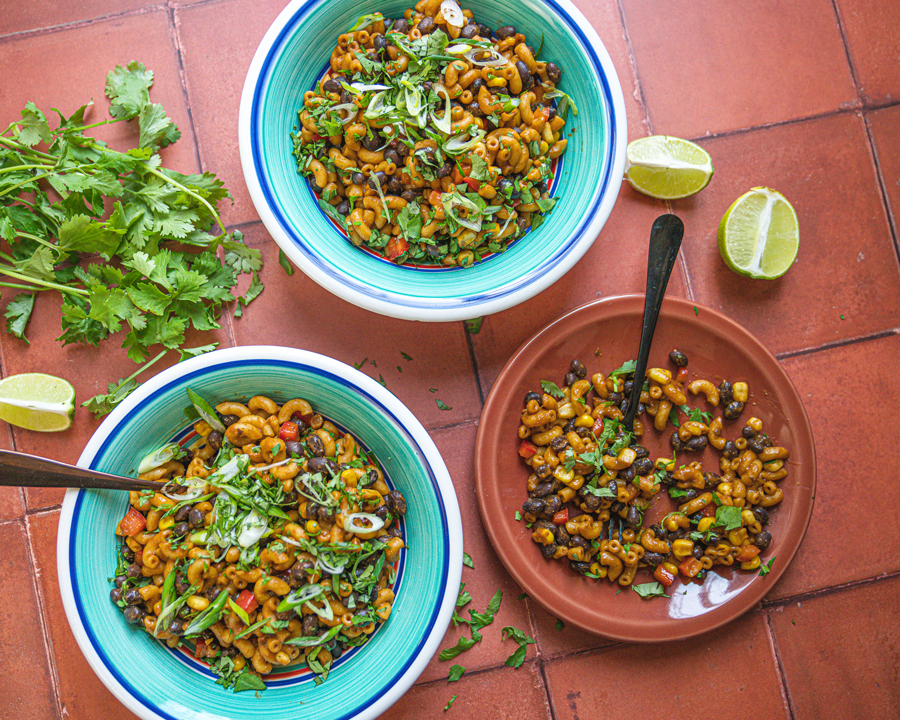 The Best Vegan Mac and Cheese Recipe (Southwest Inspired)
Vegan Southwest Mac&Cheese Recipe
Mac and Cheese is one of the most versatile recipes that you can customize to fit your taste palettes. You can make so many variations where you can come up with an entire restaurant menu just using Mac&Cheese. For this Vegan Mac&Cheese series, I was inspired by the southwestern flavors where food is made with lots of spices and fresh herbs like cilantro and green onions. The combination of earthy ingredients like corn, beans, and bell pepper makes Southwestern flavors so delicious and healthy. If you enjoy simplicity, affordability, and an easy recipe for lunch this week, you have to try this recipe!
Alternative ways to make this recipe:  
You can transform your boxed mac and cheese by using any spices and veggies that are readily available to you. Mac&Cheese does not restrict ingredients! Feel free to add your favorite pre-made seasoning mix (fajita spices), any canned beans (try maple glazed navy beans for a sweeter taste) and veggies you have.

Southwest Mac&Cheese
Boxed mac and cheese is the base ingredient to many untapped dishes. There are over 350 different pasta recipes in Italy, and I believe that we can create just as many different recipes using Mac&Cheese too. Its amazingly cheesy and savory flavors are the perfect meals to have when you are craving comfort food. Who knew that such a simple recipe can create a big impact? Since the evolution of Kraft Dinner, you can now find Mac&Cheese ingredients that are gluten-free, dairy-free and uses plant-based ingredients like soy and oat milk! Boxed Mac&Cheese uses much healthier ingredients than it did many years ago due to food allergies and vegan substitutes. The best part is that there is no other prep-time invested aside from cutting&washing vegetables and boiling water. I hope you enjoy making this recipe as much as I do!
How many servings does this make?
This recipe yields 2 larger servings or 4 smaller ones. It's great for kids, busy adults or people who are new to cooking.

INGREDIENTS FOR SOUTHWEST MAC & CHEESE (VEGAN):
KITCHEN EQUIPMENT:
Vegan Southwest Mac and Cheese
We all need a little boost sometimes. In this recipe, I'm boosting the nutrition and flavor of boxed mac and cheese with Southwest-inspired flavors
Instructions
Bring a medium pot of generously salted water to a boil.
Add the macaroni and cook 2 minutes less than the package instructions.
When 1 minute is left on your timer add in the frozen corn.
Remove ½ cup of cooking liquid & drain the pasta.
In the same pot, add the plant milk and butter amounts as directed on the box, along with the cheese packet and fajita mix. Whisk to create a sauce.
Stir in black beans and red pepper, pasta, and corn, until everything is combined. Bring back up to a boil, add in the reserved pasta cooking water as needed to get a creamy dish, and immediately remove from the heat.
Serve with green onion and chopped cilantro.
Nutrition Information
Serving size:
1 serving
Calories:
260
Fat:
9g
Carbohydrates:
31g
Sugar:
4.5g
Fiber:
4.4g
Protein:
10.6g
Hey, welcome to The Edgy Veg
– we veganize popular food recipes for vegans, plant-based diets, eco-conscious eaters & people who are trying to eat more plants over… y'know animals or their by-products. We hope you enjoy this tasty vegan recipe!
---
Looking For More Vegan Convenience Recipes?
Made this recipe? Let me know what you think by leaving a ★★★★★ star rating & comment below. It truly helps me & I really appreciate any support! Feel free to share your food photos on social and tag me @edgyveg so I don't miss it!