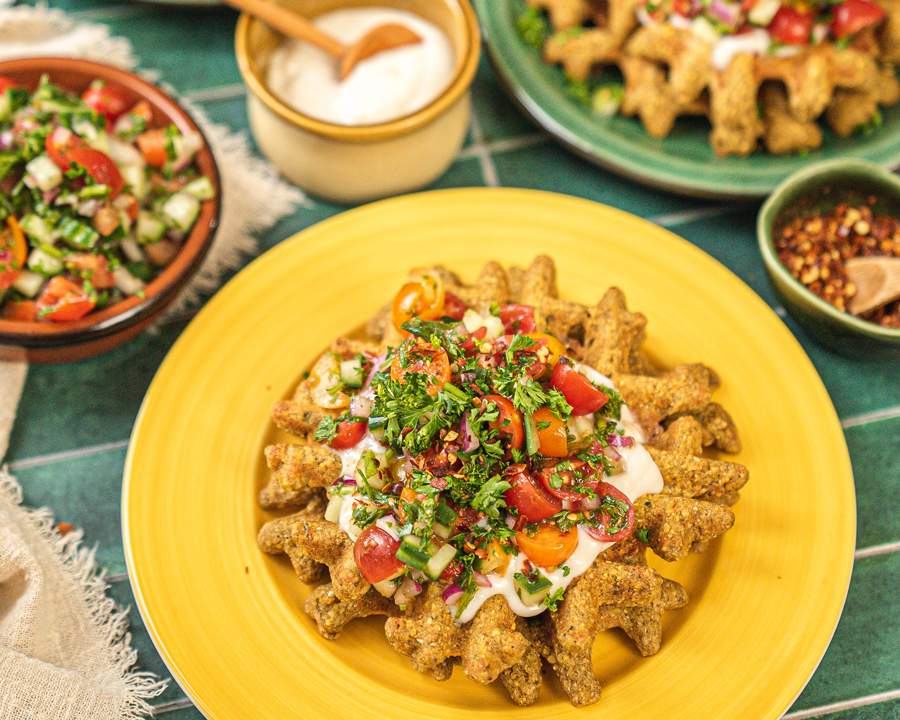 15-minutes Falafel Waffles Recipe – Vegan

Falafel waffles are the perfect simple breakfast meal you have been looking for. This is a very flavourful, yet savory treat that is a crowd-pleaser for parties or for simple meal prep ideas. Classic falafel is typically made into bite-sizable balls, deep-fried and served in a pita wrap with veggies, but for this simple and fun twist, we're going to cook the falafel in a waffle maker topped with homemade garlic yogurt sauce. My favorite part of this recipe is that it's completely vegan!
Falafel Waffle Recipe (Vegan)
Falafel can be an intimidating recipe to novice chefs.  The more steps there are, the less motivated you might be to cooking. That is why in this recipe, we will be using a boxed falafel mix with a waffle iron to make it even easier. No food processors or deep fryers are used for this recipe! This recipe is highly addicting, super easy to make, and suitable for every occasion.
Are there other ways to make it? 
Absolutely! You can add any fresh herbs and veggies you'd like! Pickled or seasoned veggies with homemade sauces and roasted chickpeas would be all great options here! If you are feeling adventurous, you can substitute the falafel as a patty on a sandwich or a burger.

Falafel Waffles with Garlic Yogurt Sauce
If you like both "falafel" and "waffles", this recipe is the perfect combination to satisfy both crispy and fluffy textures. This recipe only takes less than 15 minutes If you have a waffle iron laying around. With minimal preparations required with pre-made salad and yogurt dressing, this recipe is a delicious meal you can enjoy all week.
This is a healthy and tasty snack for your protein-heavy vegan lifestyle.

How many servings does this make?
This recipe makes 4-6 servings, but it's easy to double or even triple the recipe if you're serving more guests or saving some for later.
Can I make it ahead of time?
You can make both the salad and yogurt sauce a day ahead and cook the falafel waffles before you plan to eat them. Warm-up leftover waffles in a toaster oven, air fryer or regular oven.
Related Post: Homemade Falafel Recipe

INGREDIENTS FOR FALAFEL WAFFLES (VEGAN):
Garlic Yogurt Sauce
Middle-Eastern-Style Salad for Topping   
Falafel Waffles
Optional Toppings:
KITCHEN EQUIPMENT:

Falafel Waffles with Garlic Yogurt Sauce
Ingredients
Garlic Yogurt Sauce
Middle-Eastern-style salad for topping
Waffles
Optional toppings:
Instructions
Make the Yogurt sauce:
In a small bowl combine 1 cup Silk Plant-Based Oat Yogurt, 2 grated garlic cloves, 1 tsp lemon juice, and salt to taste, place in the fridge until ready to serve.
Make the Salad:
In a medium-size bowl combine tomatoes; cucumber, drained red onion, parsley, 2 tbsp olive oil and vinegar. Place in the fridge until ready to serve.
Make the Falafel Waffles:
In a large bowl, stir together; falafel mix, then add ¼ cup olive oil, water according to package instructions, and Silk Plant-Based oat yogurt. Add the flour and baking powder, and mix until well combined.
Preheat waffle maker.
Spray waffle maker with nonstick cooking spray and add ½ cup falafel mix. Close the waffle maker and cook until waffles are crisp and golden brown, about 3-5 minutes. Repeat with remaining falafel mix.
Serve waffles with a dollop of hummus (optional), some Salad (optional) and drizzle with garlic yogurt sauce.
Hey welcome to The Edgy Veg
– we veganize popular food recipes for vegans, plant-based diets, eco-conscious eaters & people who are trying to eat more plants over… y'know animals or their by-products. We hope you enjoy this tasty vegan recipe!
---
Looking For More Vegan Breakfast Recipes?
Made this recipe? Let me know what you think by leaving a ★★★★★ star rating & comment below. It truly helps me & I really appreciate any support! Feel free to share your food photos on social and tag me @edgyveg so I don't miss it!