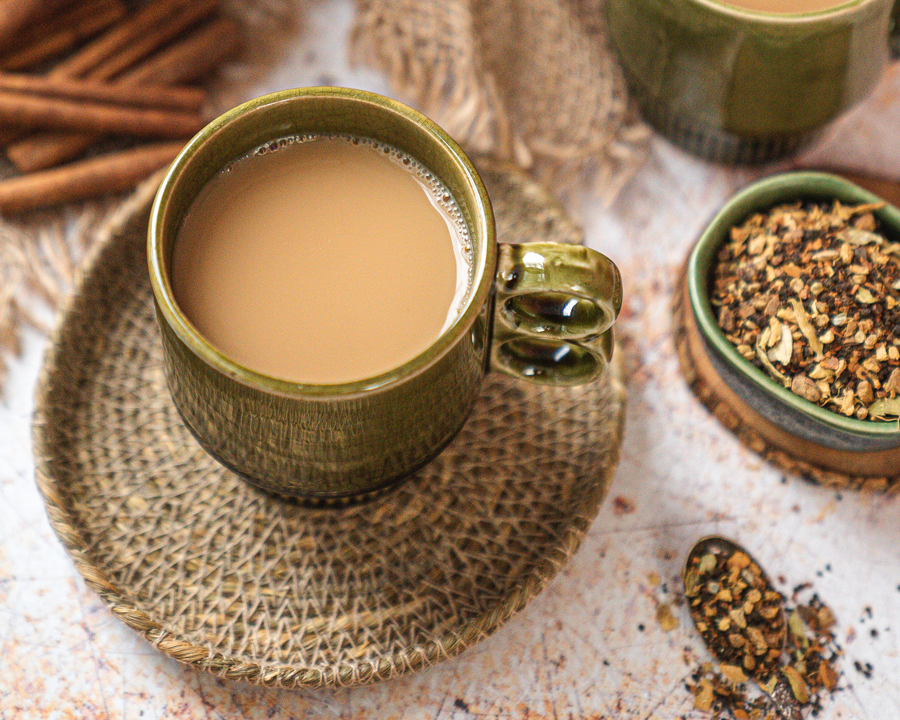 Best Vegan Chai Latte Recipe

Vegan Chai Latte Recipe
In North America, you often hear people order a "chai tea latte", from popular cafes like Starbucks. However, in India, "chai" really means "tea", they also use less milk to taste more of the spices. This recipe is a simplified and non-traditional version that uses a pre-made chai masala spice mix that you can get at the local Indian/Asian grocery stores. You can also make spices from scratch by grinding the spices together for a more traditional spin.
Are there other ways to make it? 
You can substitute the milk to soy or even cashew milk and swap sweeteners for any natural sweeteners (i.e. dates, honey, agave) you have in the kitchen!
This is a simple vegan recipe that I know you and your loved ones will really love!
Chai Latte
This is a great dessert drink to unwind with. On a chilly day, I love to curl up on the couch with a nice hot cuppa and my sleepy dogs. It is my favorite way to treat myself after a long day at work. Since this only takes 5 minutes to make, you can enjoy this drink warm, spiced, creamy beverage any time.
This recipe is so easy to make, and although the traditional version is richer and more flavourful, this simplified chai latte hits the spot. All you need to do is boil water and add spices, then add the tea and milk, finally the sweetener, then pour and enjoy!

How many servings does this make?
This recipe makes 2 servings, but it is easy to double or even triple the recipe if you're serving more guests.
Can I make it ahead of time?
You can make a batch of chai and keep it in the fridge for either an iced latte for later, or warm on the stove on low heat until warmed and ready to enjoy again.
INGREDIENTS FOR CHAI LATTE (VEGAN):
KITCHEN EQUIPMENT:
Chai Latte
Instructions
In a small to medium-sized pot over medium heat, bring water to a simmer.
When the water is simmering, add the spices and ginger.
Bring the water to a boil, and add the tea leaves.
Reduce the heat to medium and boil for 1 minute.
Stir in oat milk and sweetener of choice and bring to a boil again, then immediately remove from heat.
Cover and allow to sit for 1-3 minutes.
Strain the chai into cups and add more oat milk and/or sweetener to taste.
Nutrition Information
Serving size:
1 serving
Calories:
132
Fat:
3.5g
Carbohydrates:
23g
Sugar:
17g
Fiber:
1.1g
Protein:
1.4g
Hey welcome to The Edgy Veg
– we veganize popular food recipes for vegans, plant-based diets, eco-conscious eaters & people who are trying to eat more plants over… y'know animals or their by-products. We hope you enjoy this tasty vegan recipe!
---
Looking For More Vegan Beverage Recipes?
Made this recipe? Let me know what you think by leaving a ★★★★★ star rating & comment below. It truly helps me & I really appreciate any support! Feel free to share your food photos on social and tag me @edgyveg so I don't miss it!