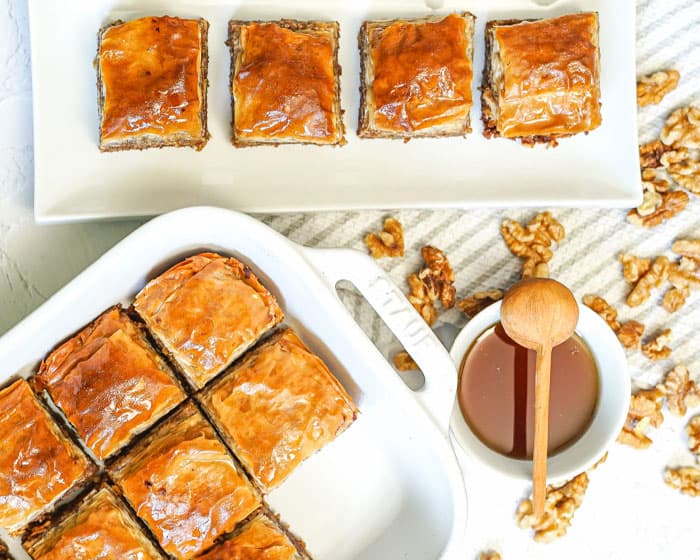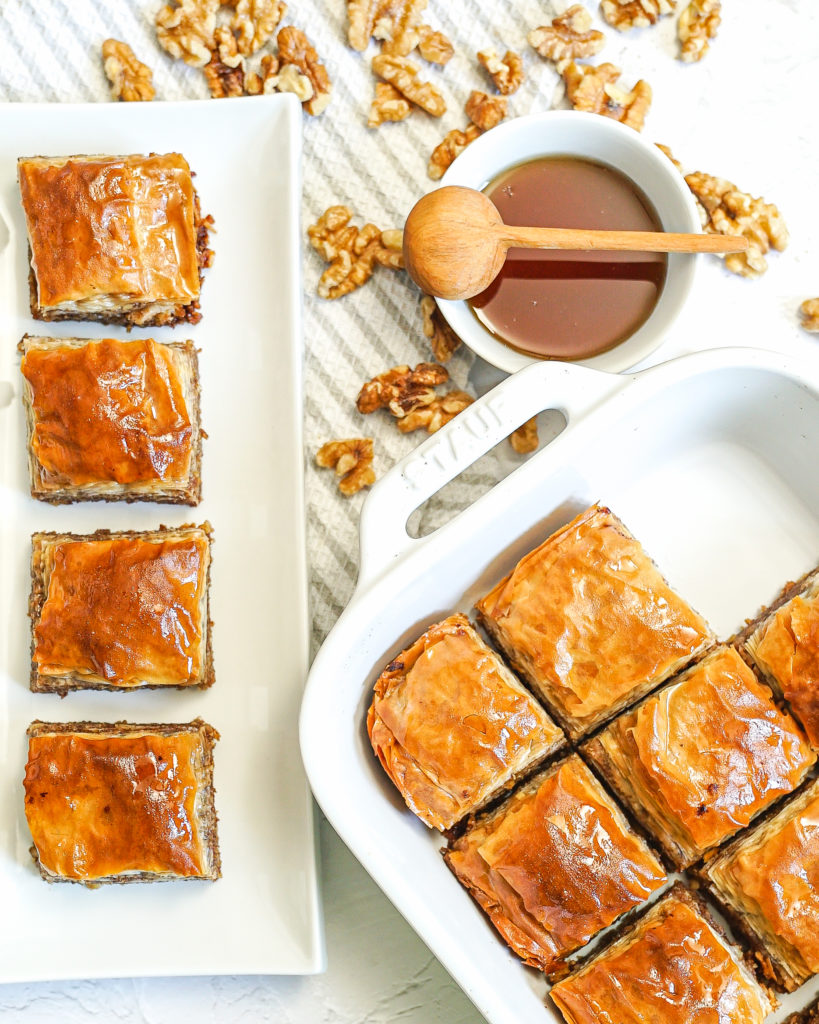 I'm going to show you how to make vegan baklava with no honey in 30 mins! This vegan take on a classic Baklava dessert recipe can be made ahead and served to anyone who loves a sweet and flakey dessert.
This is one of my favourite desserts. This version is based on the greek versions I've had that use walnuts and cinnamon, but you can use pistachios or a combination of both, as well as adding orange blossom or other signature flavour aromas of Lebanon or Turkey, depending on the type you are making. All you have to do is pulse together the filling in a food processor then layer the phyllo sheets and the filling then bake and pour over the syrup then set it in the fridge. 
Related Recipe: Vegan Spanakopita
Vegan Baklava
NO HONEY
Most baklava recipes use butter and honey. In order to make this recipe vegan, I used vegan butter and switched the honey to agave-based syrup. The rest of the ingredients are already vegan, including most store-bought phyllo pastries. Check the ingredients and try to look for the store brand as they typically use oil in place of butter. 
Layering from Bottom to Top:
Grease the pan
1 sheet folded in half with melted butter on top 
Repeat with 3-5 sheets
1/5 of filling
2 folded sheets with butter between
Repeat 5 times
1 folded sheet with butter on top
Repeat with 3-5 sheets until package of phyllo is finished
Butter on top
Related Post: Greek Salad Dip
INGREDIENTS FOR BAKLAVA (VEGAN):
KITCHEN EQUIPMENT I USED:
Vegan Baklava
I'm going to show you how to make vegan baklava with no honey in 30 mins! This is a vegan take on a classic Baklava dessert recipe!
Instructions
Heat oven to 350F.
To a food processor add walnuts, ½ cup sugar, and cinnamon and pulse a few times to chop into a small crumb texture and combine.
Cover phyllo with a damp towel.
Grease a 9'x13' baking dish with cooking spray, or vegan butter and place a folded in half sheet of phyllo on the bottom and brush lightly with melted butter. Repeat until you've used about ⅓ of the phyllo, roughly 3-5 sheets folded in half to fit the pan.
Spread about ⅕ of the nut mixture over the phyllo dough.
Add 2 more folded in half phyllo sheets, buttering each one, then another layer of nuts. Repeat four more times.
Finally, place 3-5 folded in half sheets of phyllo on top, again buttering between each one, ending up with the last sheet being butter on the top.
Using a very sharp knife, cut the pastry into 24 square or diamond-shaped pieces and bake for about 35-45 mins, or until golden brown and a tester inserted comes out clean. Keep an eye on it so it doesn't burn.
Meanwhile, in a medium saucepan add ¼ cup sugar, water, and agave and bring to a boil over medium-high heat. Stir constantly. When sugar is dissolved, reduce heat to medium and simmer for 10-15 minutes. Set aside to cool, and stir in lemon juice.
Remove baklava from the oven and immediately pour syrup over the piping hot pastry, and let it cool completely, uncovered and at room temp.
Allow it to sit for 4 hours minimum or overnight.
Serves garnished with some chopped nuts and cinnamon.
Nutrition Information
Serving size:
1 piece
Calories:
273
Fat:
18g
Carbohydrates:
23g
Sugar:
16g
Fiber:
1.5g
Protein:
3.6g
---
Hey I'm Candice aka The Edgy Veg – I veganize popular food recipes for vegans, plant-based diets, eco-conscious eaters & people who are trying to eat more plants over… y'know animals or their by-products. I hope you enjoy this tasty vegan recipe!
---
Looking For More Vegan Dessert Recipes?
Made this recipe? Let me know what you think by leaving a ★★★★★ star rating & comment below. It truly helps me & I really appreciate any support! Feel free to share your food photos on social and tag me @edgyveg so I don't miss it! 
Share My Recipe on Pinterest