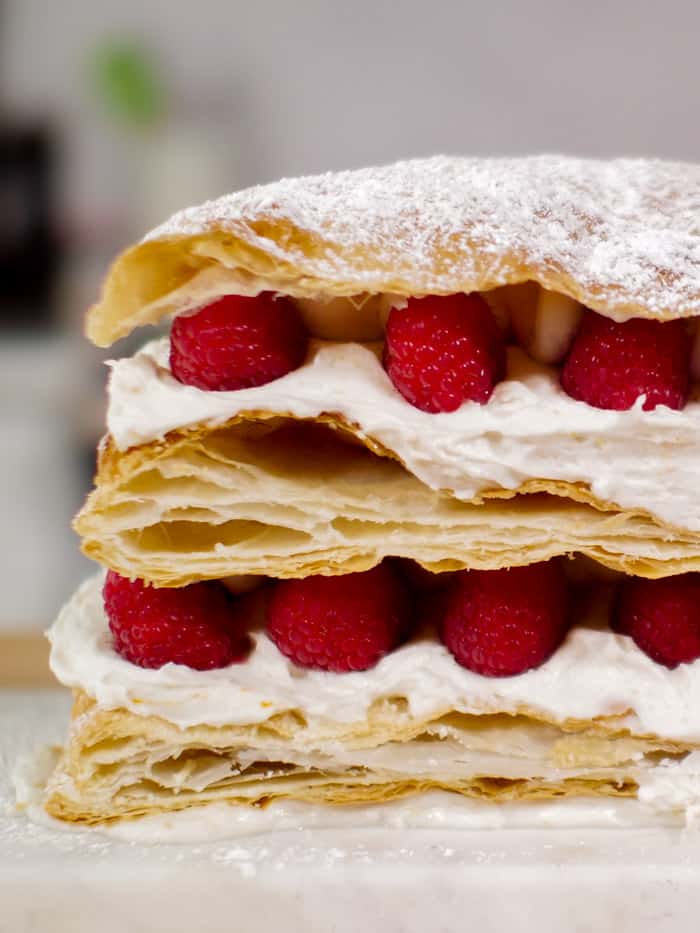 Easy Vegan Mille Feuille Recipe | Inspired by Gordon Ramsay
This easy vegan Mille Feuille is inspired by Gordon Ramsay's Traditional French Raspberry Mille Feuille recipe. This vegan version of Mille-Feuille is somehow so light and soooo creamy at the same time! It's very delicious and perfect for a romantic dinner dessert or if you want to WOW your friends with a fancy dessert. Feel free to view and print my recipe to make your own easy vegan Mille Feuille, or watch me on YouTube show you how to make it!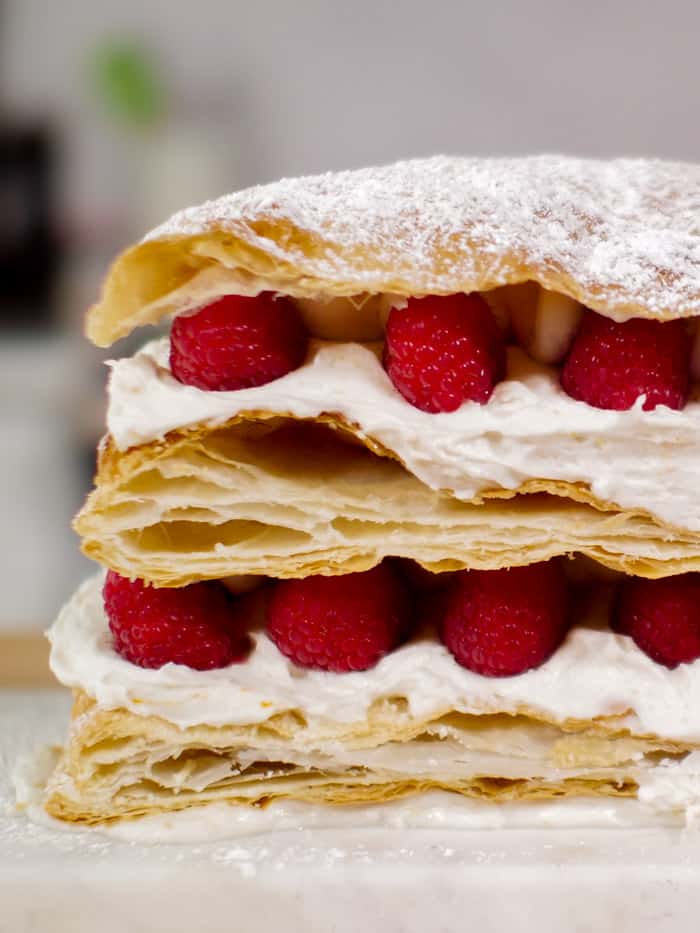 I'm continuing my monthly series to veganize popular celebrity recipes! You guys told me on my YouTube channel to turn one of Gordon Ramsay's recipe vegan, and so I went with his Mille Feuille! And oh boy, my vegan version turned out almost identical! As you guys know- I don't share a lot of dessert recipes, because I am not a huge fan of baking. I'd rather, be an artist, than a a scientist!
Related Recipe: Veganizing Chrissy Teigen's Pad Thai Carbonara 
This Mille Feuille is basically a vegan pastry layered with fresh fruit and decadent coconut cream. Traditionally, this rich french pastry is made from three layers of puff pastry and layered with heavy cream and jam or sometimes, fruit and whipped cream. Instead of jam, we're going with fresh raspberries, but you can add whatever fruit or jam you'd prefer.
FUN FACT: A lot of store-brand/off-brand puff pastries are accidentally vegan due to their use of oil instead of butter. This minimizes cost for them and makes it vegan for us! Read your labels!
I tried veganizing this recipe with vegan puff pastry and coconut cream, instead of double cream, to see if I could get it to look and taste like the original but totally plant-based. Watch the video below to see how it turned out.
Watch How To Make Easy Vegan Mille Feuille
Never miss a video by clicking here to Subscribe to my Channel!
If you want to view or print the recipe card, just scroll down for the full list of ingredients and simple instructions on how to make this vegan Mille-Feuille.
This recipe only needed a few swaps. The puff pastry and the double cream. For a vegan puff pastry, many puff pastry's are accidentally vegan! Instead of using butter, many brands use oil instead because it's cheaper, and therefore, many are often vegan. Just look at the ingredients of any in your grocery store. For the whipped cream, I swapped double cream with the cvream separated from canned coconut milk & my not-so-secret ingredient, tapioca starch. When it comes to helping coconut milk keep the shape of whipped cream, it's best to add a tbsp of tapioca starch to stabilizes the cream.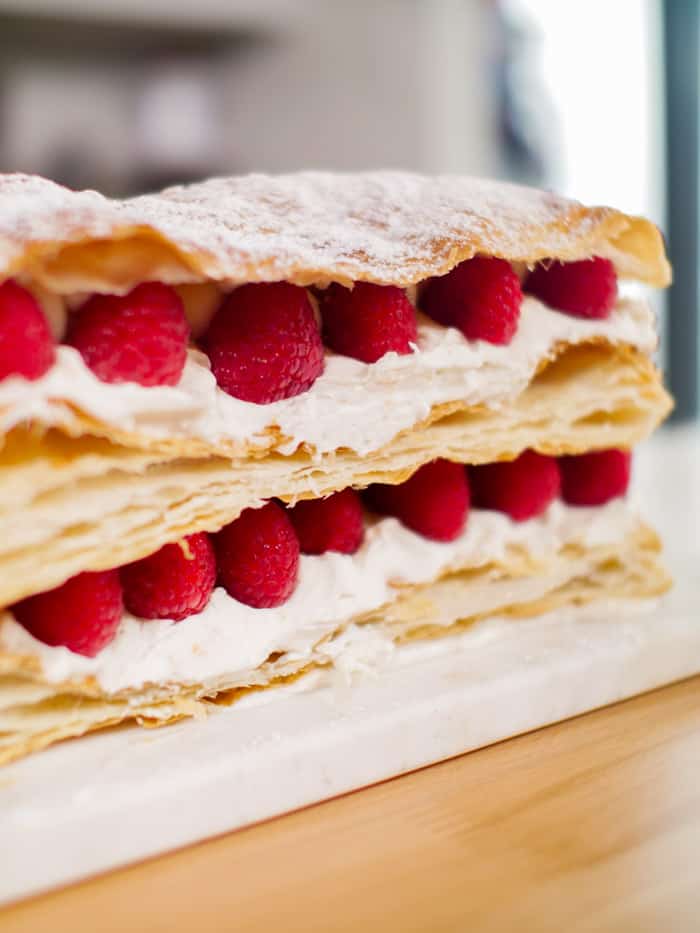 Save This Easy Vegan Mille Feuille Recipe
Easy Vegan Mille Feuille Recipe | Inspired by Gordon Ramsay
This vegan raspberry Mille-Feuille is a perfect pastry dessert if you miss enjoying a delectable french pastry with layers of decadent cream and fruit. All you need is 8 ingredients to make this delicious vegan pastry for a loved one or to WOW your friends with this vegan Mille-Feuille recipe.
Instructions
Prepare the coconut whipped cream (see notes):
Open your chilled cans of coconut milk and scoop out the thick, white cream, leaving the water. You can use this in smoothies- don't toss it!
Add the coconut cream, 3 tbsp of icing sugar, tapioca starch and vanilla to a stand mixer or a large bowl with a hand mixer and whip until it forms thick peaks and is well incorporated.
Add orange liqueur and orange zest and mix until incorporated.
Spoon the cream into a piping bag fitted with a plain nozzle, twisting slowly to move the cream to the pointed end. Chill cream until ready to use.
Prepare the pastry:
Preheat the oven to 425°F.
Unroll the pastry and place on a non-stick baking tray, silicone mat or parchment paper-lined tray.
Dust the pastry generously with icing sugar and bake for 8 minutes.
Reduce the temperature to 375°F for another 7–12 minutes or until the pastry is golden and glazed. The time will vary depending on the brand of pastry. Keep a close eye on it!
Remove the pastry from the oven and transfer to a wire cooling rack to cool.
Assembling the Mille Feuille:
Assemble the Mille Feuille just before serving.
When the pastry has cooled, slice it very gently into 3 equal-sized lengths with a bread knife.
Add a dollop of coconut cream to whatever serving dish you're using to act as a 'glue' and place your first layer of pastry on top.
Pipe a layer of coconut cream over the pastry and add a border of raspberries around the pastry.
Pipe another layer of cream inside the raspberry border, then top with another layer of pastry and repeat the cream and raspberry stages.
Finish with a top layer of pastry.
Dust with icing sugar and serve immediately.
Notes
Coconut Whipped Cream
1. Make sure you are refrigerating your cans of coconut milk for at least 24 hours. To ensure that the cream is fully separated from the liquid. I have 2 cans of coconut milk in my fridge at all times- just in case the mood to bake strikes!!

2. You want your coconut cream to be thick like a traditional whipped cream, so I recommend making the cream the night before. I find it's the easiest way to ensure it has enough time to set.
You guys must try this Easy Vegan Mille Feuille recipe & let me know what you think! Once you try it, come back and leave me a comment below with your feedback and star rating! If you make this, let me see on social! Tag @edgyveg in your food photo & add the hashtag #theedgyveg in your caption so I don't miss it!
______________________________
Pin this Vegan Mille Feuille Recipe to Pinterest