Easy Vegan Mille Feuille Recipe | Inspired by Gordon Ramsay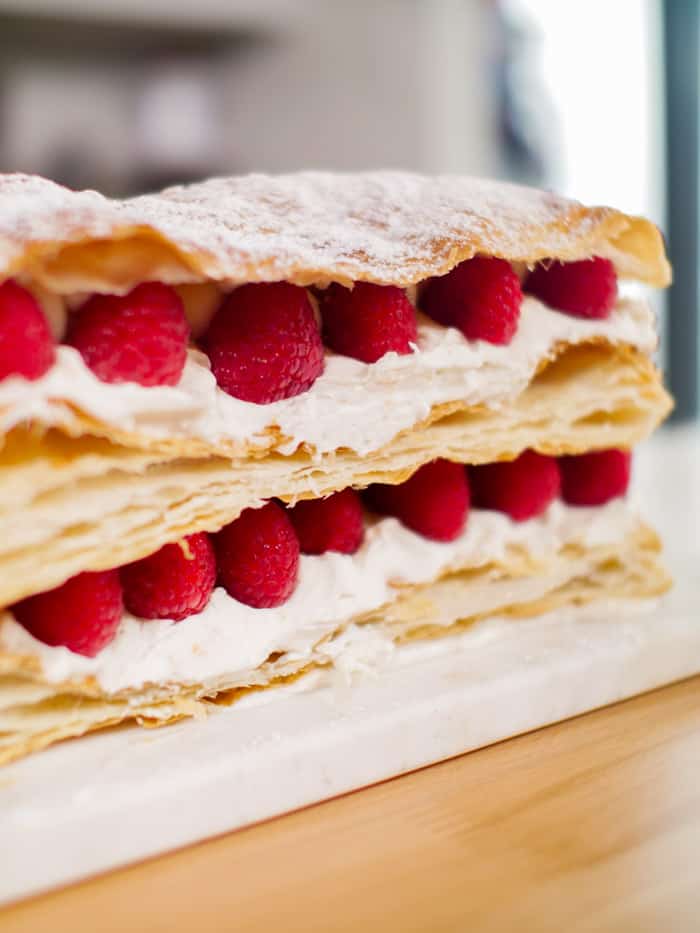 Open your chilled cans of coconut milk and scoop out the thick, white cream, leaving the water. You can use this in smoothies- don't toss it!
Add the coconut cream, 3 tbsp of icing sugar, tapioca starch and vanilla to a stand mixer or a large bowl with a hand mixer and whip until it forms thick peaks and is well incorporated.
Add orange liqueur and orange zest and mix until incorporated.
Spoon the cream into a piping bag fitted with a plain nozzle, twisting slowly to move the cream to the pointed end. Chill cream until ready to use.
Preheat the oven to 425°F.
Unroll the pastry and place on a non-stick baking tray, silicone mat or parchment paper-lined tray.
Dust the pastry generously with icing sugar and bake for 8 minutes.
Reduce the temperature to 375°F for another 7–12 minutes or until the pastry is golden and glazed. The time will vary depending on the brand of pastry. Keep a close eye on it!
Remove the pastry from the oven and transfer to a wire cooling rack to cool.
Assemble the Mille Feuille just before serving.
When the pastry has cooled, slice it very gently into 3 equal-sized lengths with a bread knife.
Add a dollop of coconut cream to whatever serving dish you're using to act as a 'glue' and place your first layer of pastry on top.
Pipe a layer of coconut cream over the pastry and add a border of raspberries around the pastry.
Pipe another layer of cream inside the raspberry border, then top with another layer of pastry and repeat the cream and raspberry stages.
Finish with a top layer of pastry.
Dust with icing sugar and serve immediately.
Coconut Whipped Cream
1. Make sure you are refrigerating your cans of coconut milk for at least 24 hours. To ensure that the cream is fully separated from the liquid. I have 2 cans of coconut milk in my fridge at all times- just in case the mood to bake strikes!!

2. You want your coconut cream to be thick like a traditional whipped cream, so I recommend making the cream the night before. I find it's the easiest way to ensure it has enough time to set.
Recipe by
The Edgy Veg
at https://www.theedgyveg.com/2019/02/12/easy-vegan-mille-feuille-recipe-inspired-by-gordon-ramsay/