Vegan Baklava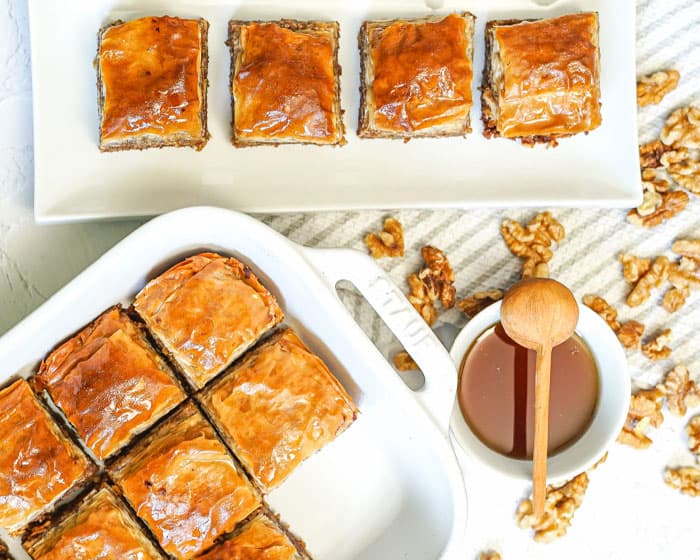 Heat oven to 350F.
To a food processor add walnuts, ½ cup sugar, and cinnamon and pulse a few times to chop into a small crumb texture and combine.
Cover phyllo with a damp towel.
Grease a 9'x13' baking dish with cooking spray, or vegan butter and place a folded in half sheet of phyllo on the bottom and brush lightly with melted butter. Repeat until you've used about ⅓ of the phyllo, roughly 3-5 sheets folded in half to fit the pan.
Spread about ⅕ of the nut mixture over the phyllo dough.
Add 2 more folded in half phyllo sheets, buttering each one, then another layer of nuts. Repeat four more times.
Finally, place 3-5 folded in half sheets of phyllo on top, again buttering between each one, ending up with the last sheet being butter on the top.
Using a very sharp knife, cut the pastry into 24 square or diamond-shaped pieces and bake for about 35-45 mins, or until golden brown and a tester inserted comes out clean. Keep an eye on it so it doesn't burn.
Meanwhile, in a medium saucepan add ¼ cup sugar, water, and agave and bring to a boil over medium-high heat. Stir constantly. When sugar is dissolved, reduce heat to medium and simmer for 10-15 minutes. Set aside to cool, and stir in lemon juice.
Remove baklava from the oven and immediately pour syrup over the piping hot pastry, and let it cool completely, uncovered and at room temp.
Allow it to sit for 4 hours minimum or overnight.
Serves garnished with some chopped nuts and cinnamon.
Serving size:
1 piece
Calories:
273
Fat:
18g
Carbohydrates:
23g
Sugar:
16g
Fiber:
1.5g
Protein:
3.6g